Fact or Fiction: Detroit Lions Offseason Edition
June 20, 2012

Leon Halip/Getty Images
There's a lot to discuss when you look at the NFC North teams and a lot of media debate and conjecture rolling about. So we're here to cut the fact from the fiction and make sure we can all tell what's real and what's fantasy.
Matthew Stafford is overrated
Before we get into specifics, let's nail down what people mean by "overrated." When people say Matthew Stafford is overrated, they are talking about taking him as a great quarterback off one season.
If that were what everyone was talking about, perhaps this would be fact. In the defense of everybody on both sides, having only been in the league for three years—most of which was spent on injured reserve—well, it can be hard to really point at any one fact or figure definitively.
So let's look at what we do have: a player who, when he is on the field, is tremendously effective.
It's unlikely Stafford will throw the ball 663 times. It's not unlikely he could top 600 again—Drew Brees has done it four times in the last five years. Even with Mikel Leshoure and Jahvid Best healthy, this is a team that will throw the ball.
Even with a dip in attempts, expect Stafford to play well. He always looked good in previous years—the single biggest issue was health. As the offensive line has come up and Stafford has received better blocking, we've seen more of his talent. We'd seen it before, but just glimpses because he was on a stretcher too often.
Watching him last year, you could see something click—he always saw the field pretty well, but he then seemed to let the game flow in a different way.
It's that change, as well as the general talent level we'd seen in the past, which leads me to say that while not elite, Stafford is very good and far from overrated.
FICTION
Calvin Johnson is the only weapon among the receivers
I'm seeing this one a lot lately.
Calvin Johnson is a freak of nature, an almost unstoppable force who is the best at what he does, and what he does is damned pretty.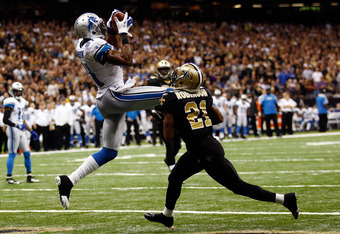 Chris Graythen/Getty Images
That talent tends to overshadow other guys on the team, but he's not the only guy on this team. While the others may not be Megatron level talent, there is talent there nonetheless.
First of all, Johnson didn't catch 5,000 yards last year. In fact, he didn't come close. He had a tremendous year. He saw the most targets. He would—he's Calvin Johnson.
However, ignoring what Nate Burleson and Titus Young did last year just isn't right.
Burleson caught 62 percent of the balls thrown his way for a very solid 757 yards. He played tough , stayed healthy and was able to take the room he got when Johnson was double-teamed and made something happen.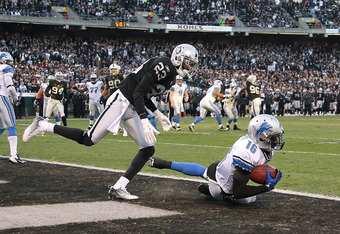 Ezra Shaw/Getty Images
Titus Young has issues, that's for sure. He also has boatloads of talent. If he can control his temper, he looks like he could be poised for a breakout year. He already notched six touchdowns in his first year and with some renewed focus post-slugfest, he could surpass that and his 607 yards this season.
Focusing on Calvin Johnson also ignores Brandon Pettigrew's great season at tight end. Pettigrew caught 63 percent of his passes for 777 yards and five touchdowns. His fellow tight end, Tony Scheffler, didn't have a ton of yards but had six touchdowns, becoming a significant red-zone threat.
Clearly, while Johnson is the best of the bunch, he's not all by himself.
FICTION
The Lions are out of control both off and on the field
As with the Stafford question, "out of control" is a relative term. What does it mean?
In this case we're talking about it in two parts: on-the-field mistakes and off-the-field distractions.
The Lions were one of the most penalized teams in the country. As the chart below shows, there was only one other playoff team in the bottom portion of the list of penalties per game.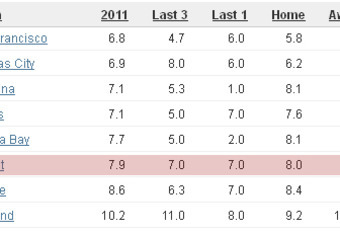 The San Francisco 49ers actually boggle my mind with that stat—at least the Lions had tremendous offense to overcome it. What did the Niners have?
If you look at the chart, you will notice that the Lions actually had fewer penalties in 2011 than 2010, and by a pretty significant margin. While they had some boneheaded moments—Suh-Stomp, anyone?—they were actually in control more than the year prior.
Also, the simple fact is that with the aggressive defense they play, there will be penalties—and I'm talking more about the offsides or neutral zone-infraction type than the personal-foul type.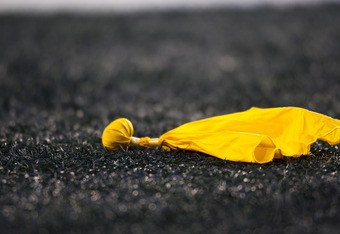 Jay Drowns/Getty Images
There will be plenty of penalties as the defense tries to time the snap to get a jump on things. That isn't a sign of a team out of control—it's a sign of a hard-charging defense.
This is not to say this is a bunch of choir boys, or that some of the players don't need to control their tempers better. What it does mean is that when you look at the penalties, things might not be as bad as they first appear.
So, FICTION  , but...
The off-field shenanigans need to be dealt with. When you have three players from the same draft class arrested for possession (and DUI) and a fourth punching a teammate, there are some issues to be dealt with.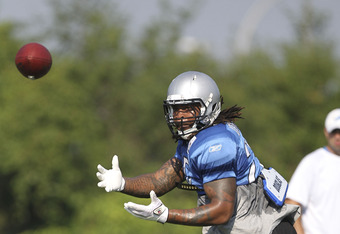 Leon Halip/Getty Images
Right now it's costing them Mikel Leshoure for two games and, in all likelihood, Nick Fairley for at least that much, if not more.
Some will say that it doesn't matter, that Leshoure and Fairley didn't do much (or anything) in 2011, so why worry about 2012? However, that's short-sighted.
First off, the running game was a disaster last year. You don't think a healthy Leshoure wouldn't have helped that out? You don't think a guy who runs hard in between the tackles, has speed outside and can catch would help things?
As for Fairley, he had a foot injury early on and never really got on track. The Lions expect a significant contribution this year, so losing him for however long hurts.
Add to it that both players are on the "one and done" list now. A slip and they will miss significant time.
Dismissing them or their actions because they didn't contribute in 2011 is foolish.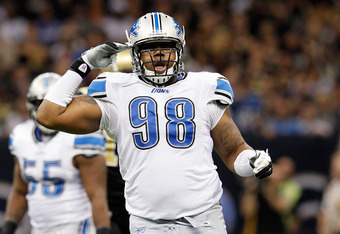 Kevin C. Cox/Getty Images
The question is, do the actions of a few players mean the whole team is out of control? Further, when you couple it with the penalties, do you see problems?
There are problems, no doubt. I can't go so far as to say it's out of control, though. A few guys, sure. And Jim Schwartz needs to take a long look at both his team and himself, given some of his antics post-game last year.
That said, I won't paint the whole team with the same brush. I have concerns, but right now they're just concerns.
So I give it a hedging FICTION.
The secondary had just two bad games in 2011
On the whole, yes, the secondary had just two awful games. Otherwise, it usually kept the opposition close.
On the other hand, you can easily argue that at least a percentage of its success was because the front seven were pressuring the quarterback.
The Packers will tell you how vital a pass rush is and how hard it is when you don't have it. In their case, they have a pair of the best cornerbacks in football and some good safeties as well.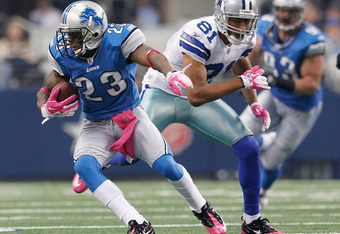 Tom Pennington/Getty Images
The Lions have Chris Houston and some question marks.
However, yes, it was just a handful of really awful games.
And yet the defense ranked 22nd against the pass, gave up the 11th most yards through the air and allowed the 10th most touchdowns.The Lions also allowed the 11th most yards per game as well and the 10th most overall points.
They were able to generate the fifth most interceptions, but looking at the defense as a whole, it wasn't a great year.
Some of that goes on the whole defense, but large portions of it fall on the secondary. The Lions desperately need to improve at safety and cornerback if they want to win a Super Bowl.
So, yes it's FACT that they only had a pair of bad games.
However, it's also a FACT that they are far from a rock-solid unit.