Detroit Red Wings: Latest Trade Rumors, Free-Agent News, Post-Draft Analysis
June 21, 2012

With free agency approaching, the giddiness in Hockeytown is palpable. While there are no forgone conclusions about who will sign where, the Red Wings have an expensive grocery list and deep pockets fit for spending.
The Detroit fanbase has a wish list that has a former captain of the New Jersey Devils and former alternate captain of the Nashville Predators at the very top. Keep the faith folks, Ken Holland has been here before.
"Welcome to Bourbon Steak Mr. Suter, your table is ready. We've put your group next to the Parise party." This salutation would be music to the ears of the MGM Grand Detroit steakhouse faithful. It's nice to think about, and it's also very feasible.
The Red Wings are hardly in a rebuilding stage, but they certainly have some glaring holes to fill. Regardless of the actual depth chart on the ice, the biggest area of concern is the void in leadership left by retiring captain Nicklas Lidstrom. Parise and Suter are seasoned but still young, and each has held a significant leadership role with their previous employers.
GM Holland isn't somebody to put his one or two eggs in a single basket though. In short, Parise and Suter aren't the only options. There are other big names available in case the two biggest eggs decide against coming to Hockeytown.
Alex Semin, Dennis Wideman, P.A. Parenteau, Justin Schultz and Matt Carle would be consolation prizes for sure, but could still excel with the winged wheel on their chest.
Speedy centerman Darren Helm took a tad over $2 million out of the cash hopper, but he has become as valuable a player to the Wings' roster as almost anyone. With Helm's deal done, the Red Wings now have 19 players under contract with $24.1 million in available salary cap room.
It's hard to conceive that a Detroit offer designed to entice either or both players wouldn't rival anything that either player could see from another franchise.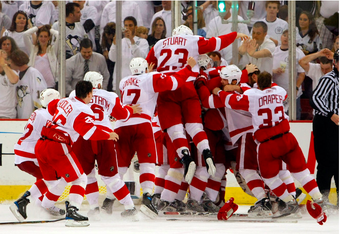 Detroit hasn't been mentioned much in trade rumors, but there are some big names floating around out there. Bobby Ryan's name has been mentioned recently as possibly being available. He could be a great fit on Henrik Zetterberg's wing, and Detroit probably wouldn't have to give up too much to get him.
Of course, Rick Nash from Columbus is out there, but the division rivals are unlikely to make a deal of that magnitude.
The NHL entry draft, starting on Friday should provide the Red Wings with an opportunity to restock their prospect pond with some up and coming talent. With six picks overall, none before the middle of the second round, Detroit will seek the late bloomers that have helped make the franchise so successful.
The downside to the Red Wings' success is that they don't ever get a shot at a blue chip prospect. The trade off, of course, is 21 consecutive entries into the Stanley Cup tournament, something that any hockey fan would much prefer. Holiday cheer will come in July for Hockeytown and their faithful. Big changes have been requested by the coach, and promised by the general manager.
The last time Detroit was asked to leave the Stanley Cup party this early was in 2006. Ken Holland promised changes and an iconic captain retired. Two years later, Lord Stanley was lifted in Detroit for the 11th time. I'd say the Red Wings have a lot to look forward to.