College Baseball World Series 2012: Why Arkansas Should Be Feared
June 20, 2012
Arkansas didn't come into the NCAA Division I Championship as a favorite to win it all, but the Razorbacks should be feared right now.
Arkansas has the pitching to win the College World Series, and is doing just enough on offense to pull it off.
According to NCAA.org, Arkansas is hitting .226 as a team in the tournament, but has the second-best team ERA (1.75). And the Razorbacks, despite hitting poorly overall, have found ways to scrap for victories against higher-ranked teams such as Kentucky, Baylor and South Carolina.
Starters Ryne Stanek (2.82 ERA), DJ Baxendale (3.07 ERA) and Randall Fant (3.00 ERA) have been fantastic for the Razorbacks all season long, and so has the bullpen. Arkansas had a 2.84 team ERA coming into the tournament, fifth in the nation.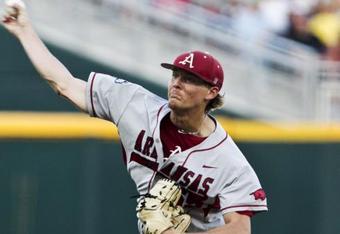 If you're looking for an MLB comparison, think of the 2010 San Francisco Giants, a motley crew with an outstanding pitching staff who came up big on offense when it mattered most. The Razorbacks have two stars on offense (2012 MLB draft picks Matt Reynolds and Tim Carver), but beyond that they need various contributions throughout the team on offense to get it done.
Case in point: Reynolds and Carver went a combined 0-for-6 against Kent State on Saturday, but the team still compiled 10 hits, scoring eight runs.
If Arkansas continues finding ways to score like this and keeps pitching like this, Arizona and Florida State may be the only teams who have enough offense to outscore them.
Given the Razorbacks wouldn't play Arizona or Florida State until the CWS Finals, there's a good chance they will be one of the final two teams in the tournament since 1979.
Follow me on Twitter. We can talk about baseball together.