Arsenal Transfer News: Olivier Giroud Will Be Gigantic Upgrade for Gunners
June 20, 2012

Ian Walton/Getty Images
There is no question that Robin van Persie is the main man on the mind of Arsenal fans right now as the transfer window quickly approaches, but don't discount how much better the Gunners will be with the imminent addition of Olivier Giroud.
The Daily Mail is reporting that Arsenal will pay £12.8 million to sign Giroud from Montpellier once the transfer window is open. He is expected to sign a four-year contract that will pay him £45,000 per week.
This is a steal for what the 25-year-old brings to the table.
He scored 25 goals for his club last season and was a major reason Montpellier won the Ligue 1 title. At 6'3'', he has incredible heading ability and a very physical style of play that the Gunners could certainly use.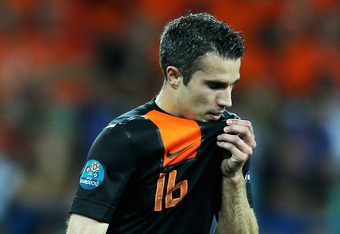 Ian Walton/Getty Images
With RVP's status still undecided, the striker position was shaping up to be rather weak. There was a growing concern that the Gunners would have to rely far too much on Marouane Chamakh and Park Chu-Young, two players who clearly have fallen out of favor with Arsene Wenger.
In a 4-4-2 setup, Giroud can be RVP's replacement if he were to leave and would be the first substitute otherwise. This would give the Gunners the sort of depth at the striker position that would rival any other team in Premier League.
Barring some unforeseen change, Giroud is going to be a member of the Gunners and he is coming over at a very reasonable rate. Fans should take solace in the fact that even if RVP decides to pack his bags, there is going to be plenty of depth at striker.
Giroud has the ability to be one of the big game-changers for the Gunners this upcoming season.