Rashard Mendenhall: Should Pittsburgh Steelers Extend RB's Contract?
June 20, 2012
Christian Petersen/Getty Images
The Pittsburgh Steelers do not often spend their cap dollars in free agency, but they do like to take care of their own. They have a very significant player who will be a free agent after the 2012 season, and he will just be entering the prime of his career.
In four seasons, three as a starter, Rashard Mendenhall has accumulated 3,966 yards from scrimmage and has 30 touchdowns in the past three seasons.
However, team president Art Rooney II said that the Steelers would take a "wait-and-see" approach to a contract extension.
It is clear that Mendenhall's status with the Steelers beyond this season is very murky.
Mendenhall has been a bit of an enigma while in Pittsburgh. He has demonstrated tremendous playmaking ability on the field, but also has been hesitant against physical defensive fronts.
Last season, Mendenhall seemed to take on a greater leadership role with the younger running backs, but as a rookie he was not around the team facilities while rehabbing and got himself into a little bit of trouble with some Twitter comments in 2011.
You could say that Mendenhall is hard to figure out, but maybe not as hard as what the Steelers should do with him beyond this season.
For the second time in his career, Mendenhall has suffered a major injury, this time a torn ACL that will likely keep him on the PUP list to start the season, according to general manager Kevin Colbert.
Even before the injury there was no sure answer on signing Mendenhall beyond his rookie deal.
He had a strong season in 2009-10 when he rushed for 1,108 yards and seven touchdowns. He had the best average of his career at 4.6 yards per carry and averaged 10.4 yards per reception on 25 catches.
Mendenhall rushed for 1,273 yards and 13 touchdowns in 2010-11, both career bests, but averaged only 3.9 yards per carry.
Last season his numbers fell to 928 yards and nine touchdowns in 15 games before he injured his knee in the season finale against the Cleveland Browns.
Now Mendenhall is in danger in being phased out of the lineup as Todd Haley seems content with going with several specialized backs instead of one workhorse.
"We have a good, diverse group. You kind of have all the parts you like as a coordinator," Haley said (via the Pittsburgh Post-Gazette). "You have big backs who can run it hard up the middle. You have some quicker, faster backs who can play outside for you. I'm excited about the group in general."
Just imagine how excited Haley would have been with a healthy Mendenhall. He would have had a back with speed and great hands. In fact, Mendenhall's entire style would have been a much better fit for Haley's offense as opposed to Bruce Arians' offense.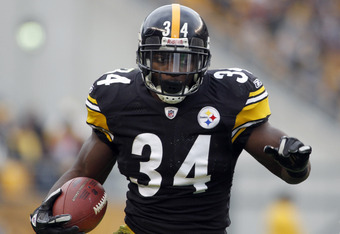 Justin K. Aller/Getty Images
Pittsburgh's offensive line is revamped with the addition of rookie linemen David DeCastro and Mike Adams, as well as Willie Colon transitioning from tackle to guard.
Haley also plans on having a fullback in the offense who could take on blocks, meaning that Mendenhall would not have to dance around in the backfield looking for a hole.
Unlike Isaac Redman, Mendenhall does not look for contact and runs better in space. He doesn't make his own yards like Redman can.
There isn't a problem with this style, but it just didn't work with the old offense. It should now.
Where the Steelers will miss Mendenhall this year is his ability as a receiver out of the backfield. Haley wants to get the backs more involved with the passing game, and Mendenhall is the ideal running back for this.
Despite the fit, we will never have an opportunity to see what Mendenhall could do this year. Even if he returns to play this season, he will not be at full strength until 2013.
So that raises the question, should the Steelers invest in a talented but underachieving back coming off an ACL injury?
If the price is right, absolutely.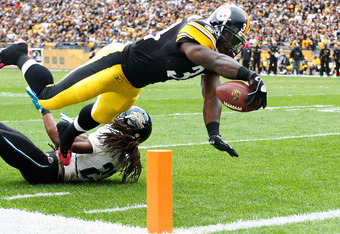 Jared Wickerham/Getty Images
Pittsburgh will need two or three backs to do what Mendenhall can do by himself. He would greatly benefit from the upgraded line and offensive scheme.
More importantly, Mendenhall should not cost a lot. Unlike other backs from the 2008 draft class, Mendenhall has not reached a superstar level and should not demand top dollar.
That is important as the Steelers will need to reserve their cap dollars to signing Mike Wallace, Antonio Brown and Emmanuel Sanders to long-term deals as they will continue to be a pass-oriented team with Ben Roethlisberger under center.
If those receivers command too much money, the running back position will be the area of the offense that will suffer.
But if there is cap room, there is no doubt that Mendenhall would be the best option and should get an extension.
The ground game has been devalued, but that does not mean it should be ignored, and Mendenhall, when healthy, is the Steelers' best option.
Follow me on Twitter @ChrisG_FC