Detroit Red Wings: What Does Darren Helm's Contract Mean for Other UFA Targets?
June 19, 2012

Richard Wolowicz/Getty Images
The Canadian Press reports that the Detroit Red Wings re-signed Darren Helm on Tuesday. Helm, a key bottom-six forward and grinder, will be with the Red Wings for the next four years and will make $8.5 million over that time span.
Detroit now has about $24.1 million in cap space (per CapGeek.com), but that is pending the new CBA (collective bargaining agreement) in September.
So what does this mean for the Red Wings' free-agent situation?
If there is some kind of roll back with the new CBA, Detroit should obviously not spend to the cap limit, as they could be forced to dump salary or send players to the minors if they cannot comply with the new cap.
Detroit's No. 1 priority right now should be getting a top-tier defenseman, a need that could be filled by getting Ryan Suter of the Nashville Predators through free agency (via The Detroit News).
Suter could cost an arm and a leg. Even though he makes just $3.5 million currently, he would be due for a big raise.
That raise could almost double his salary if he chose money as the deciding factor.
Right now, with the temporarily raised salary cap, Suter's market value is in the $6.5-7 million dollar range (give or take) and this would be the cap hit number at which Detroit would hope to sign Suter.
Then there's Zach Parise, the captain of the New Jersey Devils. Parise had a stellar season with the Devils and they lost in the Stanley Cup Finals to the Los Angeles Kings.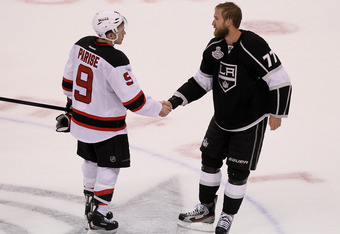 Jeff Gross/Getty Images
Parise is the top forward on the free-agent market this offseason, but has expressed interest in staying in New Jersey, telling the New York Times, "I've said all along I love playing here. I've always appreciated everything that this organization has done for me. My feelings have never changed."
As much as the Devils want Parise to stay, financial difficulties may deter them from re-signing him (per NewJerseyNewsroom.com).
Enter the Detroit Red Wings.
Parise's net worth on the open market is anyone's guess, but as the top free-agent forward, he could be offered anywhere from $7-8 million per season.
So is Detroit willing to spend $14 million of their $24 million in cap space on two free agents?
Detroit has Kyle Quincey and Justin Abdelkader, who are restricted free agents.
The Wings would likely tender both of these players or else risk losing them to UFA status on July 1 with no compensation.
Abdelkader must be paid a minimum of 105 percent of his previous contract as it was under $1 million (per CapGeek.com), while the Red Wings must pay Quincey 100 percent of his previous contract because he makes over $1 million (per CapGeek.com).
There's also the question of whether to re-sign unrestricted free-agent foward, Jiri Hudler. Hudler hit a career high in goals this season (25) and will likely be looking for a raise from his $2.875 million cap hit of his last contract (per CapGeek.com).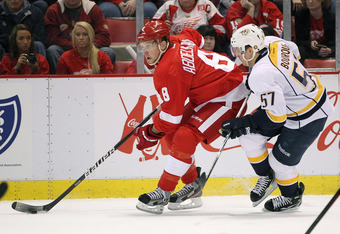 Gregory Shamus/Getty Images
Tomas Holmstrom (UFA) could end up retiring if the Red Wings don't offer him another contract.
So bringing you up to speed:
After the Darren Helm contract, I will draw up a rough estimate of how it could work.
Ryan Suter, 10-year deal, $6.8 million salary cap hit.
Zach Parise, 11-year deal, $7.4 million salary cap hit.
Kyle Quincey tendered at $3.125 million.
Justin Abdelkader, 4-year deal at $1.2 million (why would the Wings tender him when they can just re-sign him to a new contract?).
All together, that would be $18.525 million, leaving the Red Wings with almost $5.6 million in cap space in event of a salary cap roll back.
For more article updates, Follow @isaacesmith91