Lakers Rumors: How the Lakers Can Trade Pau Gasol for Future Franchise Stars
June 19, 2012

Brett Deering/Getty Images
Lakers general manager Mitch Kupchak is committed to moving forward Pau Gasol (via New York Daily News), after he has been made the scapegoat for all of the Lakers' postseason struggles.
While moving Gasol's remaining $38 million is a must in order for the Lakers to compete, it is more important for Kupchak to get young talent in return. Kupchak likely knows he will not get equal value for Gasol, considering his contract, but moving that contract is a win for the Lakers going forward.
Teams like Memphis Grizzlies have shown interest, but if the Lakers cannot pry Rudy Gay or Mike Conley Jr. away from them, which is not likely to happen according to The Commercial Appeal, then there really is not much value here for the Lakers.
No, instead Kupchak has to look at the draft and get the Lakers into the lottery.
In a very deep draft, acquiring a decent young player, a lottery pick and a possible expiring contract could be their best bet.
Several teams, according to Alex Kennedy of HoopsWorld are looking to move out of the draft and the Lakers need to capitalize off of that.  
Kennedy says the Charlotte Bobcats, Milwaukee Bucks, Golden State Warriors, Portland Trail Blazers, New Orleans Hornets (the No. 10 pick), Houston Rockets and plenty more teams are looking to deal one more more picks in this draft.
There are several possibilities out there for Kupchak, although as I have written before, I still believe shipping Gasol to Houston in a deal that would center around point guard Kyle Lowry and a pick makes the most sense.
Lowry wants out of Houston if changes are not made and this could be a win-win scenario for both parties.
Could Kupchak get Philadelphia's Andre Iguodala or another star? It is possible but I like two draft scenarios instead.
One involves Portland and a potential package centered around the No. 6 pick along with Wesley Matthews.
The Blazers have the cap space to take on Gasol and could play him at the 4 and move LaMarcus Aldridge to the 5.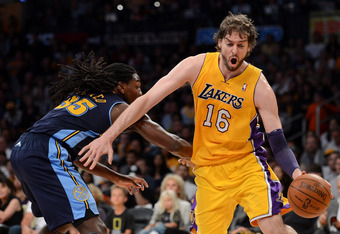 Harry How/Getty Images
The Lakers could pick up Matthews, a couple of depth pieces and the chance to draft Weber State point guard Damuian Lillard.
Another option could be the Bucks, who need a legitimate post threat and could dangle the No. 12 pick along with some nice depth pieces like Mike Dunleavy, Tobias Harris and Luc Mbah a Moute. 
The Lakers get a couple young players, get more athletic and fix their bench, plus with the No. 12 pick they could potentially target North Carolina point guard Kendall Marshall.
While none of those deals are being talked about and is pure speculation on my part, it just illustrates how not only moving Gasol would be big for the Lakers, but doing so to get into the first round.
Mitch Lawrence of the New York Daily News said the sources in the Lakers front office confirmed that they would move Gasol for lesser talent, so do not expect a game-changer for the All-Star forward.
Getting a young player and a lottery pick could be the best deal that Lakers fans can expect.