Park Chu-Young: A Look into One of the Strangest Arsenal Signings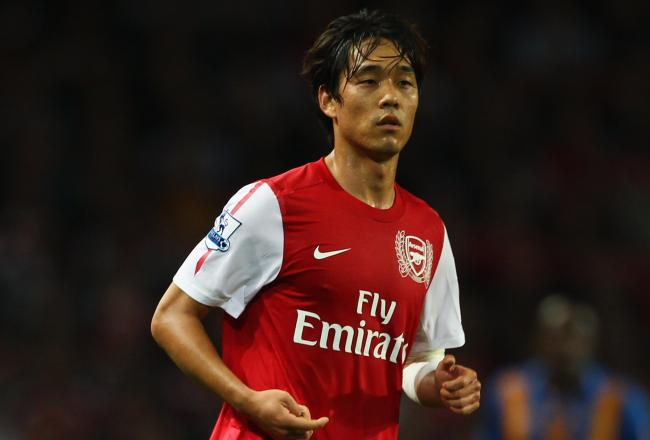 Julian Finney/Getty Images
The article in L'Equipe proffered two ideas about the South Korean striker, which when blended together almost seemed to form a paradox. Or perhaps it was simply an unfortunate fixing of fate.
Park-Chu Young, the striker in question, was enjoying a breakout season with AS Monaco in 2009-10. (He would score nine goals that season after netting six in his debut campaign.)
Had he been home in Korea, he would have been swarmed by fans the minute he set out the door each morning. But bizarrely enough, in one of the most glamorous locales on earth, he remained—and contentedly at that—a bit of an unknown property, by way of his relatively low profile.
That seemed to suit him. The article created an image of Park as "un homme taiseux" (a quiet man), more comfortable in the relative anonymity of Monaco, where he was then plying his trade as a footballer, than in the crucible of Korea.
It was a stirring contrast; the man predisposed toward quiet, who was nevertheless a phenomenon in his home land.
That would appear to pose a problem. A man whose fame inevitably made him a public entity, but who did not take to that recognition like some of his other well-known footballing peers.
But whether or not the fame affected him on a personal level, Park never showed the slightest hint of unease when he took to the football pitch. Maybe it was a sanctuary, maybe it cleared his mind. Either way, he produced moments of untold brilliance for both club and country.
He has a sensational record for South Korea, scoring eight goals in a five-game stretch in the past year, and has 25 goals in 59 appearances since making his debut as a heralded teenager in 2005.
His record at AS Monaco wasn't too bad, either. While the Principality have seen their stature diminish somewhat since their 1980s heyday, when they were one of the most dominant sides to grace the French top division, they weren't pushovers.
Park came into Monaco after the Golden Era was dead and gone. (The last speckles having chipped off after Didier Deschamps led the side on an improbable run to the 2004 Champions League final, where they were thrashed by Jose Mourinho's FC Porto.)
Even one Arsene Wenger led the club to a league title in 1988, and under his tutelage, the likes of Emmanuel Petit, Lilian Thuram and Thierry Henry came surging through the youth ranks, but during his first two seasons at the club, they were a tough opponent who managed to finish in the middle of the Ligue 1 table.
Park was a key contributor to that standard and improved his goal tally each season (all competitions), from six in 2008-09 to nine in '09-10 and finally 12 in his final campaign.
He was a mobile striker with a keen eye for goal and an exquisite quality of finish. Little wonder, then, that he popped up on Wenger's transfer list late last summer when the Arsenal manager seemed to be rushing for any and all stopgaps that could bring Arsenal back from their early-season brink.
Wenger plucked Park from the clutches of Lille president Michel Seydoux, who had all but finalized a deal to bring the Korean in to the northern French side. Wenger signed Park for €5 million.
With Nicklas Bendtner and Carlos Vela out on loan for the 2011-12 season, it was believed that Park would provide necessary cover for the terrific (but historically brittle) Robin van Persie at center forward.
No stranger to leading a line, Park had played such a role under manager Guy Lacombe during his final two seasons at Monaco. While it would take time for him to adapt to the rigors of the Premier League, it seemed only a matter of time before he'd be contributing in a significant manner.
But the games never came for Park. For whatever reason, he remained mired to the bench, finding consistent playing time only in lesser-tier competitions like the Carling and FA cups.
As John Duerden pointed out in a Soccernet article this past February, he enjoyed just seven minutes of Premier League action in his first six months at the Emirates.
Yet still he remained at Arsenal, with Wenger opting not to send him out on loan, where he might get more playing time and stay sharp for the Korean national team, whom he captained.
Wenger even said before the new year that Park "had the quality to play for [Arsenal], and would be needed in January when Gervinho and Marouane Chamakh departed for the African Cup of Nations.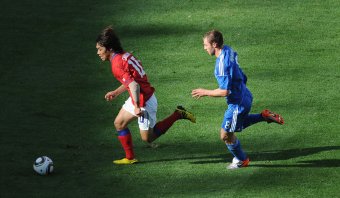 In action against Greece during the 2010 World Cup.
Laurence Griffiths/Getty Images
But no dice. And the lack of playing time began to seep into other aspects of Park's footballing life.
The forward's situation with the Korean national side had become quite tenuous in the past year, for matters both football and non-related.
Park was expected to begin his mandatory military service following the 2013-14 season, but he was able to secure a postponement for 10 years until 2022 this past summer.
Military service in South Korea can be delayed "based on a long-term overseas residence permit," which Park acquired by way of a 10-year Monaco permit.
Park had apparently applied for the extended delay for his military service long before his move to Arsenal and discovered he had successfully secured his postponed deployment on Aug. 29, around the day his move to the Gunners was made official.
Yet, that fact is made all the more intriguing given that stories surfaced during the past year concerning Park's military service.
He never moved to dispel the rumors by pointing to his successful delay, instead fostering belief that he would indeed have to begin serving in 2013. It was very weird.
Park even said on Aug. 30 in an interview with Arsenal Player—one day after he found out about the postponement—that he would be "returning to Korea in 2013 for military service."
This hem-hawing did not go over well back home, where Park saw his stature, once statuesque, chipped away slowly but surely.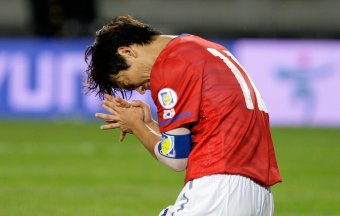 The embattled captain.
Chung Sung-Jun/Getty Images
The lack of playing time didn't help matters, and neither did the military saga.

What now?
After the Arsenal season ended, Park disappeared. He only surfaced days ago, when he organized a June 14 press conference in Korea to address the hot-button issues in which he'd become embroiled.
Military service was the first topic he spoke of. In a prepared statement, he said, "I understand that there was a huge controversy concerning my military service. I would like to apologize for all the trouble this caused and for letting people down."
He was not trying to duck out of it, he assured the audience, and promised to fulfill his term before he turns 35.
Park was left out of the Korean national team for its last round of World Cup 2014 qualifiers. He'd had a chance to be named but would have had to explain to the public his intent to fulfill his military service. Park refused to do so at the time and was thus left off the roster.
(South Korea won both fixtures against Qatar on June 8 and Lebanon on June 12, 4-1 and 3-0, respectively.)
Park is set to feature for his country at the upcoming London Olympic Games, and he was accompanied at his press conference by the Olympic team coach, Hong Myung-bo.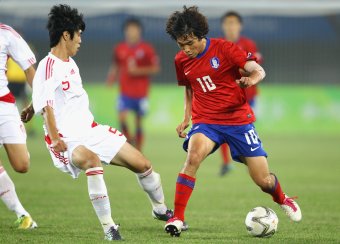 During the 2010 Asian Games.
Feng Li/Getty Images
His long-term overseas residence permit renders him able to spend just 60 days in Korea when he is engaged in income-generating activities. As he receives payment for playing with the national team (even the Olympic edition), Park had already spent 40 of those allotted days.
He traveled to Japan, then, and is training with a J-League side to maintain fitness ahead of the Games.
His Arsenal future is even more murky than his national one, if that can be believed. Arsenal have already signed Lukas Podolski for next season and are believed to have captured Olivier Giroud on a four-year deal as well.
John Duerden, that resident expert on Korean football, called Park's chances of being in an Arsenal shirt next season "slim," as there is "no reason for him to stay," with playing opportunities at a premium even before this glut of summer attacking signings.
So we turn, inevitably, to Park's legacy. Was his signing strictly a commercial endeavor—a foray by the Arsenal brass to tap into a burgeoning Asian market?
Arsenal will take their second Asian preseason tour this July, making stops in Malaysia, Beijing and Hong Kong, after seeing last year's edition enjoy such rampant success.
Strangely Seoul, which had been listed as a potential destination after Park's signing, will not be on the menu. Duerden had said in his article that sentiment toward Arsenal is not exactly glowing at this time, with many Koreans furious at the way their star has been treated.
Therefore, how will Park be remembered, should he indeed fly the Emirates coop this summer?
He was the scorer of one fantastic goal during a Carling Cup match against Bolton. Eerily reminiscent of some of Thierry Henry's finest strikes with the club from 1999-2007, Park latched on to a through ball before opening up his body and dispatching a sublime right-footed effort into the far corner of goal.
It was a hint of his unbridled potential, most of which, regrettably, appears likely to have gone largely untapped.
This article is
What is the duplicate article?
Why is this article offensive?
Where is this article plagiarized from?
Why is this article poorly edited?

Arsenal: Like this team?