NBA Finals 2012: Thunder's Lack of Low-Post Scoring Will Cost Them vs. Heat
June 18, 2012

Ronald Martinez/Getty Images
OKC defines one-dimensional.
Their three-headed perimeter monster of Kevin Durant, Russell Westbrook and James Harden forms the best perimeter trio in the NBA, but it hasn't been enough against the Miami Heat in the Finals. The Oklahoma City Thunder's lack of a low-post scoring threat has been exposed, and it'll cost them the series if they fail to find a way to mask it.
In three games, Serge Ibaka and Kendrick Perkins have combined for just 40 points—that's less than seven points per game for each big. Chris Bosh's offensive production has been hampered by a strained abdominal muscle, and he still outscored them single-handedly up to this point in the series.
In Game 1, they're lack of offensive prowess was masked by Nick Collison's eight points off the bench; but Collison only scored two in the last two games. The result: two losses.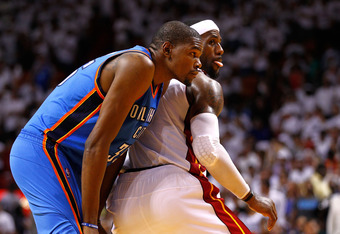 Mike Ehrmann/Getty Images
Oklahoma City's only option is to play small with Durant at the four and Thabo Sefolosha at the three. Ibaka and Perkins can't score, and Durant and Harden can't guard LeBron James. When combining those pair of weaknesses, an undersized lineup becomes the Thunder's only hope.
Perkins is a phenomenal talent and the best post defender in the league, but against the Heat who have no low-post assassin themselves, Perkins' strength is useless. OKC dealt for him so that they could get past the long Los Angeles Lakers, but because of the trade, they're now too big to keep pace with the Heat.
Oklahoma City must fix their problem from within. They don't have the money to give Durant, Westbrook, Harden and Ibaka long-term contracts and find a hybrid four in the mold of a Jeff Green (ouch) to negate their weakness. If the Thunder fail to mask the issue now, they'll never mask it.
David Daniels is a featured columnist at Bleacher Report and a syndicated writer.