Are the Referees Screwing Kevin Durant in the NBA Finals?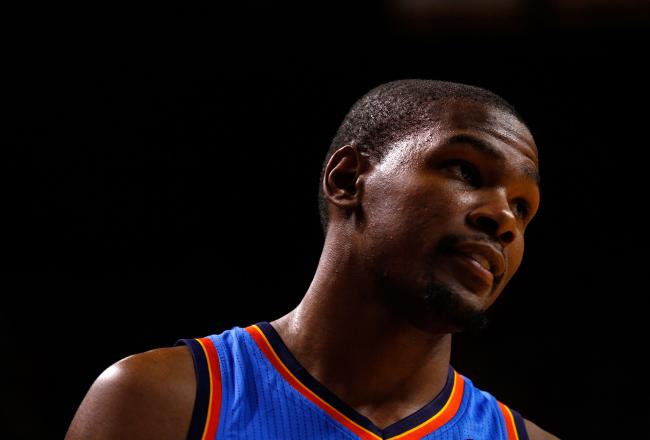 Mike Ehrmann/Getty Images
Kevin Durant isn't what you would call "foul-prone". The high-scoring superstar for the Oklahoma City Thunder isn't exactly known for "bodying up". Rather, his lithe, lanky build and silky-smooth game lend him more to finesse than physicality.
The numbers certainly reflect that. Durant has averaged 1.9 fouls in 38.1 minutes per game in the regular season for his career, including 2.0 fouls in 38.6 minutes in 2011-12. That extrapolates out to 2.5 fouls per 48 minutes, which ranked Durant as the 168th-most foul-prone player (out of 191 qualifiers) in the league this season, per NBA.com. Narrow the field to just forwards, and Durant comes in at 76th...out of 84 who qualified.
Those averages jump to some extent in the postseason, wherein he's picked up 2.7 fouls in 41.5 minutes per game, though he's been noticeably more careful (2.4 fouls in 41.6 minutes) in these playoffs. Even so, his 2012 playoff foul numbers check in at 2.8 per 48 minutes, placing him 115th out of 136 qualified players and 55th out of 62 qualified forwards.
However you slice it, the Durantula isn't usually one to entangle zebras in his web, so to speak.
And yet, Durant has found himself in starkly more foul trouble than usual in Games 2 and 3 of the 2012 NBA Finals against the Miami Heat. He tiptoed through the fourth quarter of Game 2 with five fouls, and found himself on the bench in the third quarter on Sunday, when he could do nothing but sit on his four fouls as his Thunder teammates salted away a 10-point lead.
All of which, in today's NBA, where the word "conspiracy" comes to the fore almost as frequently and as easily as the "LeBron James As Choker" debate, can prompt only one question:
Are the referees squeezing Durant?
If anything, one might expect the men in stripes to go easy on a guy who's emerged as the second-best player in the league, by way of three straight scoring titles/All-Star appearances/First Team All-NBA selections.
But Durant doesn't seem to be getting the "superstar calls" at all. If anything, the refs would appear to be calling KD closer than usual. Just look at how he picked up his first four fouls in Game 3:
The first comes on a weak-looking shove to clear space on offense with just over four minutes in the fourth quarter. The second, on a shadowy swipe at the ball on a drive to the basket by LeBron late in the second quarter. The third, on a hold on LeBron early in the third, for which Chris Bosh could've been whistled for a moving screen.
And the fourth, for a tap on Dwyane Wade under the basket at the 5:41 mark of the third.
None of the four were particularly demonstrative or egregious. Had the refs decided to swallow their whistles on any (or all) of the plays in question, they might not have endured as much backlash from the Heat as would normally be expected in The Association.
More importantly for the Thunder, Scott Brooks wouldn't have had any reason to pull Durant from the game. OKC managed to build its lead a bit even after the Durantula went down, but soon saw its offense come apart without its top playmaker as the Heat parlayed a 10-point deficit into a two-point advantage at the end of the third.
On the other side of the same coin, Durant would be justified if he were at all fumed about the way he hasn't gotten calls at times. Case in point: this seven-foot jumper at the end of Game 2:
The contact that LeBron makes on that play may well be judged comparable, if not greater, than anything Durant lays him or Wade in Game 3. Had the refs made the call, Durant would've gone to the line with the opportunity to tie the score at 98-all.
Then again, James' push isn't exactly devastating there, particularly at that point in the game, when refs are often loath to make game-changing calls (for better or worse). Also, it wouldn't be fair or worthwhile to compare calls my by different crews in different games under different circumstances.
And, if we really want to be consistent about criticizing the officiating, then what do we make of this call from the fourth quarter of Game 2?
The refs could potentially have called Durant for a charge there, seeing as how Shane Battier appeared to be in position to take one when Durant made contact. Had they done so, Durant would've been relegated to the bench with his sixth foul.
But a slight slide to his right after Durant took off seemed to seal the block for Battier.
So, if we're honest in our evaluation, we could say that Durant was just as lucky to get that tough call in his favor as he was unlucky to hear the whistle on any number of other plays. The punitive pendulum swings both ways, and Durant appears to have caught it on each end.
None of which exonerates the officials but rather suggests that their perceived ineptitude isn't limited to one player or another, one team or another.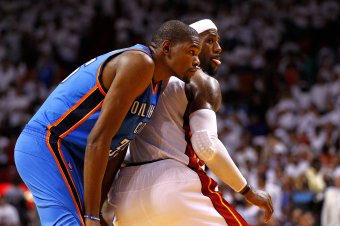 Mike Ehrmann/Getty Images
Could it be possible, then, that the uptick in Durant's foul numbers in these Finals is due to his having to guard two of the NBA's biggest stars in LeBron and Wade? Whether he's actually fouling or not, it's possible that the refs might be inclined to favor those two over Durant in the "superstar" ledger based on seniority.
And while that makes some ethereal sense, it doesn't totally hold up. According to Basketball Reference, Durant has averaged 1.8 fouls per regular-season game against LeBron and 1.9 against Wade.
Of course, the NBA Finals are an entirely different animal. Perhaps the pressure and magnitude of the games has precipitated a spike in superstar favoritism. Perhaps Erik Spoelstra, with the benefit of extra prep time, has figured out how to compromise Durant's on-court eligibility. Or, perhaps Durant has simply been in the wrong place at the wrong time more often than not.
Are the refs screwing Durant?
Whatever the case may be, one thing remains clear: Durant and the Thunder would be wise to tweak their approach to each other and the Heat if they're to turn this series around. Either Durant will have to play more carefully, in light of the quicker whistles and closer scrutiny from every angle, or he'll realize that if he's going to be penalized for any and all contact, he might as well come down harder.
Or, maybe he, his teammates and his head coach will learn to do what the greats of the game (most notably, Phil Jackson) have always done: set aside the "no excuses" script and engage in a bit of media manipulation. That is, jab at the officials a bit and "encourage" them to stay silent.
Or, Durant could simply got about playing the way he usually does and hope the refs regress back to the mean along with him.
Unless, of course, "foul-prone" really is a new style Durant's decided to try on in front of a national audience, along with hipster glasses and Urkel-esque attire.
Which, if so, would make Kevin's ideal response to any call all too obvious.
This article is
What is the duplicate article?
Why is this article offensive?
Where is this article plagiarized from?
Why is this article poorly edited?

Oklahoma City Thunder: Like this team?