Cleveland Browns Film Study: Why Did Greg Little Drop That Pass?
June 18, 2012

Tyler Barrick/Getty Images
We all know what went on with Cleveland Browns wide receiver Greg Little last season—he dropped passes. Fourteen of them, to be exact, which had him tied for the second-most drops in the league last year despite having the 17th-most targets (in comparison, the league-leader in drops, Roddy White with 15, was also the NFL's most-targeted receiver).
There are many reasons a receiver drops passes, ranging from a lack of concentration to strong coverage and everything in between. Little himself had a lot going against him last season, considering he didn't play in his final year of college and then was brought onto the Browns as their No. 1 receiver without a full offseason to prepare.
Let's take a closer look at just why Little was dropping so many passes last season. A good case study is the Browns' Week 12 contest against the Cincinnati Bengals, a game in which Little had six drops (some say four, but I'm going with six).
I'm going to break down each drop from this close contest and find out what caused Little to not pull those passes down.
Drop No. 1
This first drop is clearly all on Little. This is a quick passing play, Little is exactly where he should be—and in space, thanks to some soft zone coverage—and Colt McCoy gets the ball right to him.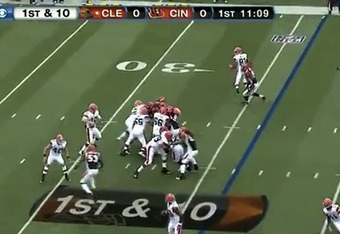 The problem here is one that many receivers face, even veterans: turning to run before the ball is secure. Little didn't keep his eyes on the ball, he broke his concentration and he didn't grab the pass.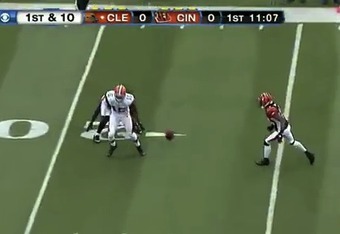 He was thinking of ways to beat out the coverage after catching the pass and simply forgot the most important part of the equation: securing the ball. Perhaps it was a rookie mistake, but it's something that needs correcting immediately. 
Drop No. 2
The second drop is another that's the fault of Little. Little gets away with a bit of uncalled offensive pass interference as he tries to shed cornerback Nate Clements' coverage, does break free and is wide open for an on-target throw from McCoy.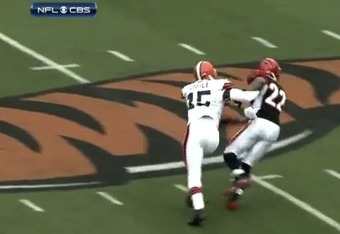 But as you can see here, yet again, Little turns upfield to run before securing the football, and the pass bounces off his hands and onto the ground.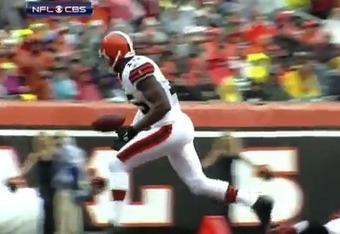 Perhaps that extended period of contact managed to break his concentration, but again, I think he saw yet another open lane into the end zone and was eager to turn toward it before actually catching the pass.
For this to happen twice before the first half ends has already made this a bad game for Little, but unfortunately, things get worse.
Drop No. 3
This drop is solely on Little yet again. This time, instead of turning to run upfield and thus not paying as much attention to securing the football, he just can't get his hands around the pass.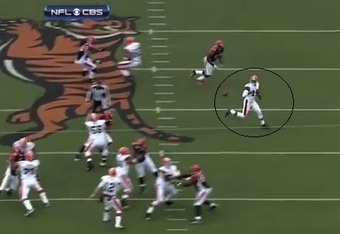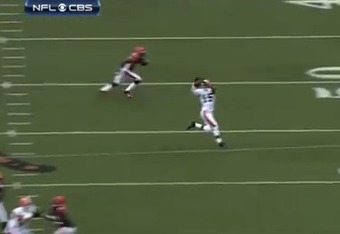 It's another short-yardage throw from McCoy that could have resulted in some major gains had Little pulled down the pass, but instead, it bounces off his hands. He simply didn't secure a ball that was, clearly, perfectly thrown directly to him.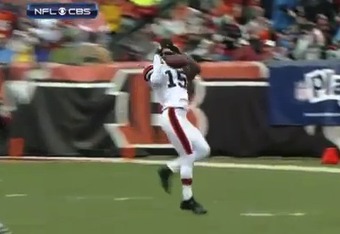 Concentration is key, and Little clearly has more on his mind—timing, most likely—than just the act of getting his hands on the football.
Dropped passes like these clearly show how important preparation is for rookies in the NFL, especially ones like Little, who didn't play a down in 2010 as he sat out his final year in college under NCAA suspension.
Drop No. 4
Here's a dropped pass that is decidedly not Little's fault. The Bengals manage to get some serious pressure on McCoy, the pocket collapses and McCoy targets the decidedly open Little under duress.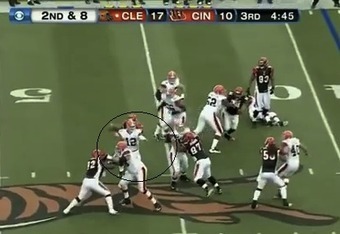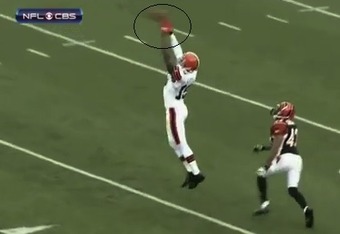 McCoy hasn't had a chance to get set, and though Little is anticipating the pass, McCoy throws the ball just a shade too high for Little to catch.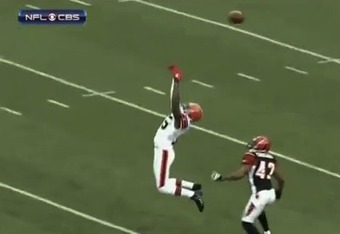 The announce team admonished Little for not pulling that one down. Though he does have a markedly impressive vertical leap, that ball was simply thrown too high, and it bounds off Little's hands. For once, Little is not to blame.
Drop No. 5
Little is somewhat responsible for his fifth drop of the game. McCoy was again under pressure, this time facing a blitzing Bengals defense, but he did get the ball out in time to avoid being sacked. Again, he sees Little, this time covered man-to-man over the middle by Clements (yet again).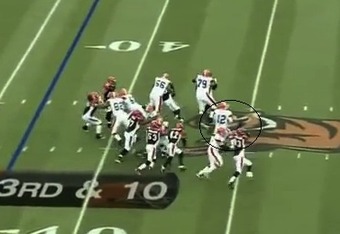 With the close coverage, Clements is able to get his hands on Little (perhaps with an uncalled interference penalty of his own), is able to throw Little off his concentration and the pass was incomplete.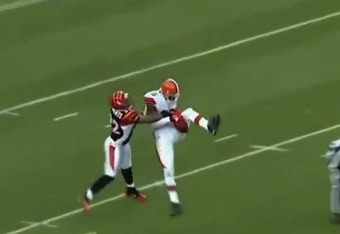 However, it's not a foregone conclusion that Little could not have caught that pass. He could certainly have fought more for it, but generally, it was coverage to blame for him not grabbing the pass and not because of any error he made.
Drop No. 6
This is easily the most disappointing drop of the game for Little and for the Browns. With 25 seconds remaining in the game and down by three points, the Browns need to quickly and efficiently march down the field in hopes to at least tie, if not win, the game.
Luckily for the Browns, McCoy finds a fairly wide open Little crossing in the middle of the field, well beyond the first down line.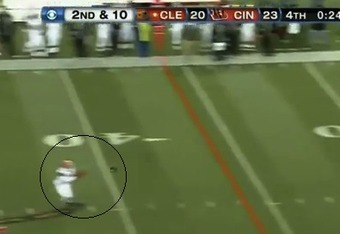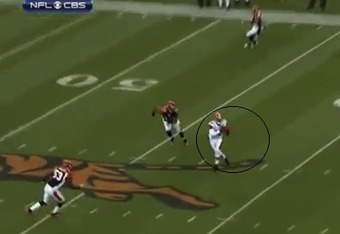 The pass is thrown perfectly—right on Little's hands—but there are defenders closing in. Little needs to think about what he's going to do, where he's going to go after the catch. If he goes down immediately afterward, they have the first down but the clock keeps running.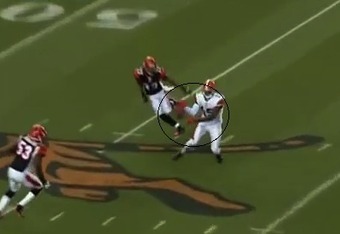 All of these things are running through Little's mind, and again, he turns, he looks elsewhere, and he doesn't secure the pass, dooming the Browns to another loss.
Conclusion
Clearly, at least in this game (and it's easy to surmise that in many others in which Little dropped passes), Little's biggest weakness is concentration.
I've often speculated that many of Little's rookie-year struggles had to do with getting his footwork and timing right and being more concerned with all of the intricacies of each play rather than the fairly simple task of catching the pass, and it seems like this speculation is grounded in reality. 
With more time to click with his quarterbacks and more time to understand and absorb the playbook, and more time to shake off the rust he inevitably dealt with last year, he should reduce his drops this season.
He needs to concentrate on the act of the catch and less with the mechanics of the play, and with a full offseason to work on this, he should improve markedly in his sophomore season.