Chicago Bulls: 2-Year Plan for Rebuilding the Bulls for Run at 2013-14 Title
June 18, 2012

Jonathan Daniel/Getty Images
With Derrick Rose's knee surgery successfully in the rearview mirror, Chicago Bulls ownership and management have a lot of work to do before next season as their superstar begins his road to recovery.
The Bulls front office not only needs to find a way to win next season without Rose, but it has to do so considering the long-term impact of any short-term moves made to achieve that goal. After two years of lofty playoff expectations resulting in zero championships, difficult decisions need to be made this offseason regarding the future of the team over the next three to four years.
Many will argue that making drastic changes to a team who owns the best regular season record for the past two seasons is ill-advised and unwarranted. Others, however, argue that the exact opposite is true and that a complete overhaul is necessary to give Chicago its best chance of hanging championship banners in the rafters of the Madhouse on Madison during the Rose era.
I, for one, believe that Chicago management needs to make a couple of big changes this offseason accompanied by a series of smaller moves over this offseason and next to ensure the team is poised to make a series of championship runs when Rose returns for the 2013-14 season.
2012-13 Offseason Moves

Step 1: Amnesty Carlos Boozer (PF). Boozer has not and will never live up to the massive contact he signed with Chicago. More importantly, his anchor of a deal will prevent the Bulls from surrounding Derrick Rose with more talent over the next few years and ultimately stunt the growth of the team. Management needs to realize its time to admit failure and move on. Overall, this amnesty cut will save Chicago more than $15 million for each of the next three years and give Chicago the financial flexibility to make changes over the next two offseasons.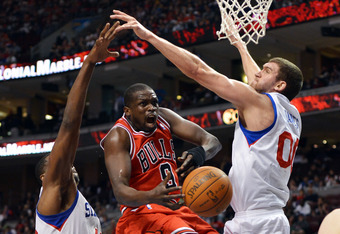 Drew Hallowell/Getty Images
Step 2: Do not pick up the team option on C.J. Watson (PG). He is an unrestricted free agent in 2013-14 even if the Bulls picked up the team option for next year, so there is no need to spend the money for a temporary player during the 2012-13 season, which is probably a rebuilding year.
Step 3: Trade Loul Deng (SF) and 29th pick in the 2012 draft for Tyreke Evans (G) and fifth pick in 2012 draft. Deng is owed $13.3 million next year and $14.3 million in the final year of his deal. Evans is owed $5.2 million next year and will be due a restricted qualifying offer of $7 million in 2013-14. The move saves the Bulls $8 million next year and $7 million the following year. It also frees more money now to address the rebuild while Rose in his rehab season.
Step 4: Let Omer Asik (C) walk in free agency and draft UConn's Andre Drummond (C) with fifth pick in 2012 draft. Although Asik took some steps backwards last season, a defensive-minded seven-footer is always a hot commodity, and the Bulls probably will not match the amount of money the market could dictate. If Chicago can pull off a trade with Sacramento, then the No. 5 pick can be used on Drummond, who can operate as Noah's backup and the team's second seven-footer. Drummond can be had on the rookie scale contract ($3-4 million annually) and would locked in for the next couple years while he matures to take over for Noah one day.
Step 5: Sign Gerald Wallace (SF). Wallace has opted out of his $9.5 million player option with the Brooklyn Nets, and the belief is that he made that decision seeking a long-term deal. There is a good chance he will re-sign with the Nets, but if they do not offer him the length of deal he wants, then his services can be had by a title contender willing to give him a multi-year deal.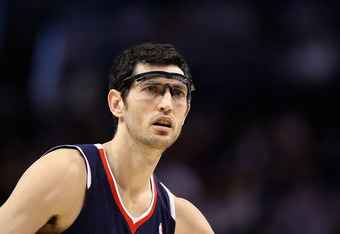 Christian Petersen/Getty Images
Wallace is not the youngest small forward available (love the idea of going after Jeff Green if he is fully healthy), but he brings the type of up-tempo game and defensive intensity that Chicago loves. Wallace would probably sign a three-year deal at around $7-$8 million per year (hopefully, the third year is a team option). Wallace would replace Deng's defensive prowess and guard the likes of Carmelo Anthony and LeBron James at a more reasonable salary.
Step 6: Sign Kirk Hinrich (G) or Chauncey Billups (G). With Rose potentially out the entire 2012-13 campaign and the Bulls forgoing picking up Watson's team option, there is a huge void at the point guard spot. The ideal candidate would be a veteran player who can run the point while Rose is out and then shift to combo guard when Rose returns. The best fit would also have to play above-average defense and shoot a good long ball.
Those parameters leave two clear options: Hinrich and Billups. Both veteran guards would be a great fit since both are team players, strong defenders, shoot a solid percentage from behind the arc and can play either backcourt spot. The team should look to use some of the money not spent re-signing Watson and sign either player to a two-year deal with a team option for the third year for around the MLE (similar to the contract given Hamilton last year).
Step 7: Sign Ersan Ilyasova (PF), Brandon Bass (PF) or Kris Humphries (PF). After amnestying Carolos Boozer, the Bulls would be in the market for a power forward. Yes, Chicago already has Taj Gibson, and yes, cutting Boozer will free cap space to re-sign Gibson after this year. However, Chicago still needs a power forward to pair with Gibson as a one-two punch. The ideal candidate would be more offensive minded and offensively gifted than Gibson.
Ilyasova, Bass and Humphries have all shown the ability to score in bunches and do it efficiently. Though none are terrific defenders, all represent an upgrade over Boozer on the defensive side of the floor and will come more cheaply. All three players should be looking for a three to four-year deal at an average salary of between $7-$10 million annually.
Step 8: Sign fifth big man. If Chicago makes all the suggested moves, it will only be carrying four bigs like it did last year (I dont count Brian Scalabrine). Without Rose, the team will need to rely on the play of the frontcourt, and injuries or foul trouble could be a big problem. The Bulls need to bring in a veteran who can defend both big spots and potentially create some mismatches. Players Chicago should target to fill the fifth big spot are guys like Chris Wilcox, Louis Amundson or Ronny Turiaf.
2012-13 Roster
Starters: Hinrich/Billups (G), Tyreke Evans (G), Gerald Wallace (SF), Ilyaosva/Bass/Humphries (PF) and Joakim Noah (C).
Bench: Derrick Rose (PG), Ronnie Brewer (SG), Richard Hamilton (SG), Kyle Korver (SF), Jimmie Butler (SG/SF), Taj Gibson (PF), Wilcox/Amundson/Turiaf (PF) and Andre Drummond (C).
2013-14 Offseason Moves
Step 1: Do not re-sign unrestricted free agent Kyle Korver (SF). Though there could be a roster spot open for Korver's sharp shooting skills, the likelihood of his return is almost zero, especially if Evans and Hinrich or Billups are on the team.
Step 2: Do not pick up the team option on Richard Hamilton (SG). Hamilton's services could be useful, but he seems to be breaking down very fast physically and will probably not be worth $5 million per year after another season of wear and tear.
Step 3: Re-sign restricted free agents Taj Gibson (PF) and Tyreke Evans (SG) to long-term deals. The long term money saved by trading away Deng and amnestying Boozer can be used here, along with the money saved not resigning Korver and Hamilton (and potentially Brewer). Both Gibson and Evans will be key to an extended run of championship contending seasons, as they are predicted to be cornerstones of the team.
Step 4: Re-sign unrestricted free agent Ronnie Brewer (SG) if the price is right to continue serving as an energy guy and defensive specialist on the roster.
2013-14 Roster
Starters: Derrick Rose (PG), Tyreke Evans (G), Gerald Wallace (SF), Ilyaosva/Bass/Humphries (PF) and Joakim Noah (C).
Bench: Hinrich/Billups (G), Ronnie Brewer (SG), Jimmie Butler (SG/SF), Nikola Mirotic (SF), Taj Gibson (PF), Wilcox/Amundson/Turiaf (PF) and Andre Drummond (C).
The Time is Now
If Chicago Bulls management and ownership are truly committed to an extended championship run, then they must look to rebuild the team during Derrick Rose's recovery year. Amnestying Boozer and trading Deng seem like drastic steps, and they might be, but they are necessary steps in light of the circumstances. Freeing cap space and creating more financial flexibility will put Chicago in the best position to challenge for the NBA championship every year for the next half decade.