St Louis Rams: Monday's Rams News and Notes at Noon
June 18, 2012

Welcome to Monday's St. Louis Rams "News and Notes at Noon," the quintessential destination for all major Rams headlines and updates of interest for Rams Nation.  I hope every dad out there had a Happy Father's Day as well. 
St. Louis Rams Kick Off Rookie Week 
The St Louis Rams kick off "Rookie Week" today and stlouisrams.com senior writer Nick Wagoner posted a nice preview of what Rams fans can expect to see in that regard in this blog post for stlouisrams.com. 
The week is jam-packed with a variety of events, classroom sessions and community service work.  
Some highlights of the week include today's youth football camp at the ContinuityX Training Center in Earth City, a trip to tornado ravaged Joplin to take part in the "Governor's Joplin Challenge" and the building of five homes, a tour of the city and various St. Louis landmarks and participation in the Komen Race for the Cure with Sam Bradford and thousands of others downtown.  
Gregg Williams Currently In Second Place in Most Hated Sports Figure Poll
Out of a group of 20 sports figures selected by NBC Sports that fans may vote for at nbcsports.msnbc.com,disgraced Rams defensive coordinator Gregg Williams, who has been suspended indefinitely by the NFL for his role in the New Orleans Saints bounty program, is currently ranking second among all candidates in the aforementioned website's most hated sports figure poll.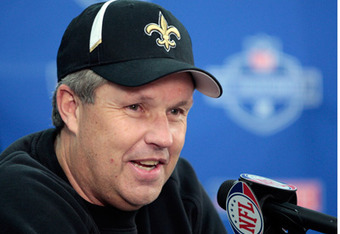 When looking at all that transpired in Bountygate and the apparent disdain that a good portion of the public has for Williams, it continues to make any possible return to the league that employed him for 22 seasons unlikely, at least in the near future. 
However, NFL Commissioner Roger Goodell left the door for his potential return at least slightly ajar this Spring, as you can read here. 
The Rams and Williams' long-time friend and coaching comrade, Jeff Fisher, have not revealed any decisions regarding the theoretically possible return to the Rams by Williams. Nothing new has been said in that regard since these comments by Fisher on March 21 and then in April. 
Perhaps the organization is waiting to see if there will even be a decision to be made at all, as a continued league suspension would make a decision by St. Louis unnecessary and will keep the burden of choosing to retain or fire an old friend off of Fisher.  
Rams Could Call Defense By Committee in 2012
In an article by R.B. Fallstrom for the Associated Press posted at stltoday.com, it looks as if St. Louis may call its' defense by committee in the coming season in the absence of their suspended defensive coordinator. Fisher seems comfortable with that scenario:
The most difficult part of the week is putting the plan together. Calling the defense and those kinds of things is not as difficult as putting the plan together and being right and adjusting. We're more than capable of doing all three of those things.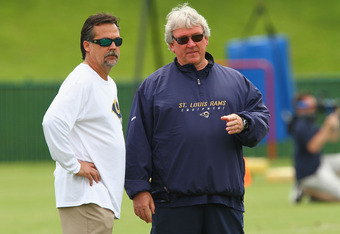 Dilip Vishwanat/Getty Images
The Rams have two former NFL DC's on staff (Dave McGinnis and Chuck Cecil) as well as Gregg Williams' son, Blake.  All three know the Fisher system well and McGinnis, for one, feels that it does not matter who calls the plays on game day: 
That's up to Jeff, but believe me, we will get that handled. You've got enough experience on this staff and enough expertise, and with Jeff's leadership that's covered.

I don't think it's unique. I mean, we're going to call a defense and make them punt. On your mark, get set, go.

 
Chris Long Learning Yet Another Defensive System as He Enters His Fifth NFL Season
According to an Associated Press article posted at columbiamissourian.com, Rams defensive end Chris Long is learning yet another defensive system in five NFL campaigns.  Long, however, does not seem phased by it: 
This is like my fourth system I've learned. The fourth time around in a new system, I know how to study and get things done and figure it out.

I'll be on top of these details. It's a lot of learning.
Head coach Jeff Fisher is impressed with what he has seen of Long and his leadership thus far: 
He's really done a good job. He's a quiet leader. He leads by example. He brings young guys along nicely. He's always here and he's dedicated. He understands the importance of pushing yourself. He's clearly one of the better ones I've been around.
Long, who had a breakout season of sorts last year, posting 13 sacks, simply wants to get better, regardless of what numbers he ultimately ends up with: 
I just want to get better. I don't know if that would entail having better numbers, but I know what it would look like to be a better football player on the field and that's more what I'm shooting to be. Whatever shows up on paper will show up on paper.
For much more from Long and some interesting quotes from rookie defensive tackle Michael Brockers, please read the above-linked piece in full. 
One on One With Ben Guidugli 
Patty Hsieh recently caught up with St. Louis tight end/fullback Ben Guidugli and shared a great deal of the conversation in this piece for 101sports.com. 
Guidugli is currently one of nine tight ends on the Rams roster vying for no more than four active roster spots. However, Guidugli's ability to play both fullback and TE (at 6'1", 248 pounds) is something that could aid his chances of sticking with the team this Fall.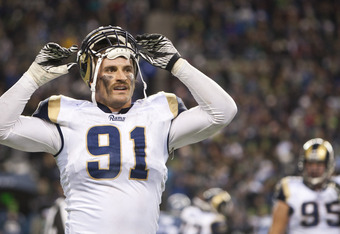 Jay Drowns/Getty Images
Nick Wagoner Assesses The St. Louis Linebacker Situation
Late last week Nick Wagoner of stlouisrams.com assessed the St. Louis linebacker situation in this piece. 
The Rams currently have 10 LB's on the roster including newly signed former Washington Redskins veteran Rocky McIntosh. 
Wagoner takes a look at every linebacker on the roster in the above-linked piece and particularly focuses on the outside linebacker spots (due to the fact that incumbent middle linebacker James Laurinaitis has the MLB spot locked up.) 
Mini Camp in Pictures
Finally, for a look at the recently completed Rams mini camp in pictures, please click this via the St. Louis Post-Dispatch and photographer Chris Lee.  
Have a great day as always, STL Rams Nation. 
Shane Gray covers the St. Louis Rams daily as a Featured Columnist for Bleacher Report. You are encouraged to check out the rest of his work here. Gray also owns and operates stlramscentral.com.