Chicago Blackhawks: Latest Trade Rumors, Free Agent News, Pre-Draft Buzz
June 21, 2012

Jonathan Daniel/Getty Images
The NHL draft is a day away, and one can only imagine what is going on in the mind of Stan Bowman. The General Manager of the Chicago Blackhawks will certainly be under a microscope as the most anticipated offseason day to date approaches.
So what can we expect on or just before draft day? It's tough to tell. Many think not much. The 'Hawks will go about their way, select someone with the 18th pick, and Bowman and company will make more moves as the free agency period begins on July 1.
That may be, but if you flash back a year ago, few could have predicted Bowman dealing both Brian Campbell and Troy Brouwer on draft day. That certainly had an impact on the 2011-12 season—and perhaps not the impact 'Hawks hoped for. 
Heading into the draft, there are some trades to consider, a few free agents that are on the radar screen and last and certainly not least, what the 'Hawks will do with their picks.
Trade Scenarios 
Niklas Hjalmarsson's name continues to circulate, and there is a good chance that Stan Bowman is sizing up what he can get in return for the stable blueliner.  
While it would be nice to open up some cap space and get a solid forward in return, there has to be something else in Bowman's pocket in order to trade a top-four defenseman. If Steve Montador is as unhealthy as some believe he is, then it gets even more dicey.  
If the Swede is unloaded, it will mean for a player and/or prospect with much less of a cap hit. The 'Hawks will need to be sure that they can then make a run at Ryan Suter or a player like Jason Garrison of the Florida Panthers.
The return you are looking to get for 'Hammer? Hopefully some help at the center ice position and/or a pick. Don't look for much flash out of the move as the idea is to create cap-breathing room to take a run at a hot commodity.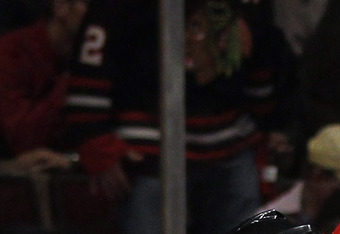 Jonathan Daniel/Getty Images
As for the story with restricted free agent Evander Kane, it was alarming to hear the rumblings coming out of Winnipeg that the explosive 20-year old is not interested in furthering his career as a Jet and may be on the market (h/t ProHockeyTalk).
If his rights are to be dealt, a player of Kane's caliber is certainly worth a phone call to Jets General Manager Kevin Cheveldayoff. Call me crazy, but if Winnipeg asks for it, send Hjalmarsson, Viktor Stalberg and a first-round pick for E. Kane.
Seem like too much? It's not. If the 'Hawks truly do have so many quality prospects in the system, then the mentioned players, plus a first-round pick should be expendable for the likes of E. Kane.
Kane is young and has a rare package of tools. He is tough as nails and fast, and he buries the puck. Players like that do not come along that often. Again, you will need to fill Hjalmarsson's spot, but if you do and have Kane as well, look out for the 'Hawks next year.
Signing him won't be cheap and it may be a minimum $4-5 million-a-year cap hit, but the juice would be worth the squeeze. Keep in mind the salary cap may be increasing, which could further support such an initiative.
Speaking of Viktor Stalberg, some readers were rather perturbed that I would suggest not extending No. 25 and putting him on the trading block. Sorry, but I'm still going to stick to my guns.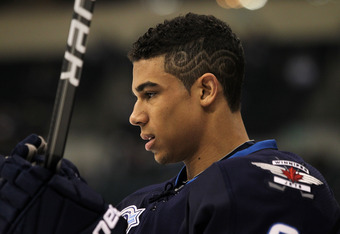 Marianne Helm/Getty Images
If Stalberg has another 20-30 goal season, and the 'Hawks suffer defensively and again experience an early playoff exit, someone will still pay Stalberg $3 million for him for 3-4 years.
I certainly would not want to the 'Hawks to be that club unless they make it to the finals and Stalberg is a huge part of that. Someone will pay him, though, and the reality is, based on the type of player he is, it's not what the 'Hawks need right now to be successful.
Considering the entire makeup of the 'Hawks, a $3 million-a-year contract for a fast, defensively poor and non-physical winger should not be in the cards.
I may be completely wrong, and you may see Stalberg come into his own and become a great two-way hockey player. But I don't think so, and his value may never be higher as a hockey player than it is right now. Yes, it's a gamble to be rid of him, but no more than dealing any member outside of the core group. Keep him if the offer is not right, but right now listen to all calls.
Free Agents
Moving on. While everyone is interested in free agents that come with star power, there are plenty out there that Stan will think about. They may not be the big splash, but they can certainly help.  Below is a list of names to consider.
Jason Garrison, Defense, Florida Panthers
Next to Ryan Suter, Garisson may be the most coveted free agent at the defense position. He has good size and strength and moves the puck well. It would be great to nab him if Hjalmarsson is on the move as he would be a great fit in the top four and could also log time on the power-play and penalty kill units. Someone may overpay for his services, but it's worth looking into.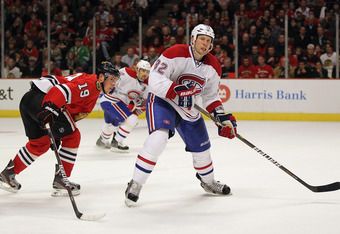 Jonathan Daniel/Getty Images
Bryan Allen, Defense, Carolina Hurricanes
He's 32 and stands 6'5", 226 pounds. Allen is a stay-at-home defenseman and perhaps one the 'Hawks could pursue without having to trade a member of the top four.
Allen just came off of a $2.9 million-a-year contract, and he should be expected to make something in that range again. While he is not ideal for your top-four pairings, having Allen in your top six could be huge for this club.
Travis Moen, Left Wing, Canadiens
The 30-year-old Moen could be a perfect fit for his second stint in Chicago. He's big, physical and could provide a terrific role on the third line. He may only cost $2 million or so a year, and it would be nice to have him to the left of Dave Bolland for an entire season. 
Daniel Winnik, Center, Sharks 
Daneil Winnik seems to be a bit of a consolation prize if our beloved Stan decides to sit on his hands. That very well may be the case, but Winnik is still a nice player to add for depth at center and would come cheap.
Another UFA center from the Sharks to consider is Torey Mitchell.  At the same time, either of these guys would be a depth move and not necessarily solve the 'Hawks second-line center woes.  
Lee Stempniak, Left Wing, Flames 
Lee Stempniak is cut from a similar mold as Travis Moen. Stempy is a player that could be signed a $2 million a pop and would be an asset in both ends of the ice. Another good third-line fit, he knows his in-zone responsibilities well.
Draft
So what will the 'Hawks do with their first overall pick? It comes at the 18th spot, and while there certainly is a talent drop off after the first five picks, there is a lot to like later in the round.
Because the 'Hawks waived Alexander Salak, some, like Jim Matheson of the Edmonton Journal,  believe the 'Hawks are likely to draft Malcolm Subban.
With uncertainties in net for the 'Hawks' future, this may not be a bad idea, but there are players that may still be left on the board that cannot be ignored.
Two players that I would rather see the 'Hawks take a run at if available are Finnish defenseman Olli Maata or Swedish forward Pontus Aberg.
Aberg, though only 5'11" and 195 pounds, plays with an edge and can win pucks anywhere on the ice. He already has professional experience playing for Djurgardens in the Swedish Elite League, and his combination of skill and drive leave a lot to be desired.
The one I would like more is Olli Maata. Maata is a defensive defenseman that has recently discovered his offensive talents. He was huge for the London Knights in their 2012 Memorial Cup run, and his 6'2", 202 frame is close to NHL ready.
His stock has risen in recent weeks, so he may not be there at No. 18, but that may mean that a solid defenseman like Cody Ceci will be. That would be fine with me.
There are much better players in the draft, of course, but if Maata drops to the 'Hawks, they would be fools not to select him. When push comes to shove, flip a coin between Subban and Aberg, but I would be fine taking a goalie in the second round, since many (like the quality Russian netminder, Andrei Vasilevski) may still be available.
Enjoy the draft and hope that Stanny B. can pull a rabbit out of a hat via trade or free agency. Expect a post-draft breakdown from me next week.