Chicago Blackhawks: Why Extending Viktor Stalberg Would Be a Mistake
June 13, 2012

Jonathan Daniel/Getty Images
Since the Chicago Blackhawks won the Cup in 2010, General Manager Stan Bowman has made a number of speculative moves in an effort to improve the club. 
In fairness to Bowman, there was no predicting how the cap-strapped summer of 2010 would turn out.  At the time, resigning Niklas Hjalmarsson to a lucrative deal and parting ways with players such as Andrew Ladd and Dustin Byfuglien seemed absolutely necessary. It was not an easy position to be in and in a lot of ways he did what he had to. 
In the summer of 2011, fans applauded Bowman for being able to rid the organization of Brian Campbell's handcuff of a salary. Although we had no idea how much we would truly miss his play in 2011-12, this seemed necessary. 
Dealing Troy Brouwer and resigning Michael Frolik drew some mixed reviews and ultimately that is looking more and more like a mistake. Sure, Frolik could bounce back this year, but both Frolik and fellow 2011 contract extension Corey Crawford will need to prove a lot in 2012-13. 
Hindsight is 20/20 and we still do not know what Bowman's legacy or lack there of will be in Chicago. At the same time, tough decisions will continue to come up. It is the nature of the business and unfortunately for Stan, a lot of those decisions are forth coming. 
That leads us to Viktor Stalberg.  Stalberg has been as confusing of a player as you can find.  Stalberg, who came over in the 2010 Kris Versteeg trade, is entering the final year of a contract paying him $850,000 per season. 
Those of you that have read my bantering before probably know that I have never really been on the Viktor Stalberg train and I begged for him to be moved in November of 2011.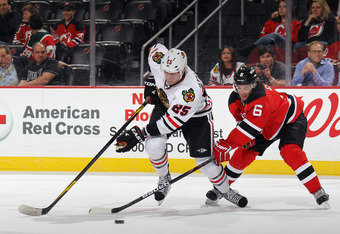 Bruce Bennett/Getty Images
In no disrespect to young Viktor, he is a great guy to have on your squad when you are playing Columbus, as he tallied eight of his 22 goals against that club. Regardless of the opponent, those are games that you have to play and win. At $850,000 a season, many consider him a bargain for a player with 22 notches on his belt.  
Realistically, it's not a bargain in the least. In fact it can/will ultimately cost the 'Hawks dearly if they decide to hold onto him. 
Stalberg turned 26 in January, and while he is good for goals against sub-500 opponents, his playoff performances are more indicative of his current $850,000 price tag. 
In two playoff seasons with 'Hawks Stalberg has a goal and two assists in 13 games. No, this is not terrible (well it kind of is) but if we are happy with this out of a first or second line winger than the bar is being set too low. 
Stalberg is a flier. His top end speed is significant. He is a skill player who has played on the first or second line and like most 'Hawks has played with a variety of different players.  But he is part of the problem in Chicago. He is not aggressive, he does not win a lot of pucks, doesn't crash the net with purpose and is not the kind of player that you want to have to count on come April. 
So right now his current salary is more of a crutch than anything else. It gives us the illusion that he is more of a value-add than he really is. Because of his 22-goal regular season, he and his agent can ultimately make the claim that he is underpaid.  If you throw another similar regular season stat line in the mix, he could be in the market for a three to four year deal at $2-3 million a year when his contract expires in the summer of 2013. Perhaps even higher. 
So I ask you, 'Hawks fans, if Stan Bowman stuck to his guns and made a bid to protect his investments, how would you feel if Victor Stalberg got a contract extension this summer at the mentioned rate? 
I for one am not comfortable with it in the least.
So here are the scenarios. You extend him now to lock him up. You wait to see what kind of year he has and decide whether to keep him or lose him for nothing (that is if you don't move him at the deadline). Finally, you trade him now and get something in return. 
If Stan elects to resign Stalberg for a longer-term deal, I am going to go on the record as saying that is a mistake.  He does not possess the necessary ingredients or the physicality for his size that the 'Hawks need right now. He is decent, I will give him that, but I would rather take my chances elsewhere. 
If I were Stan Bowman, I am inquiring right now as to what you can get your hands on for No. 25. And if it is a top six defenseman, pull the trigger.  
Time will tell what happens, but I get a bad feeling about this one.