Premier League Fixtures 2012-13: 6 Biggest Games for Arsenal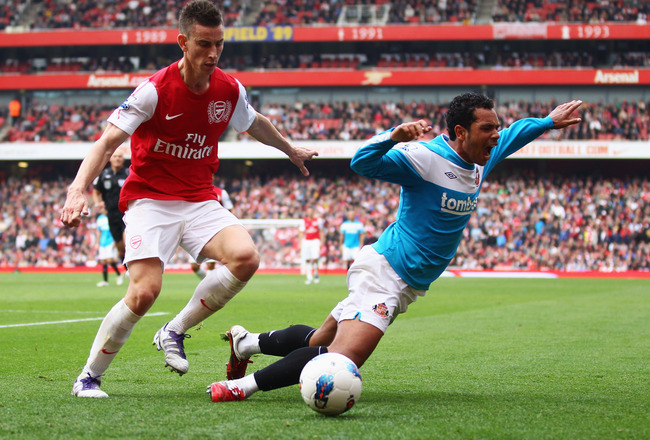 Julian Finney/Getty Images
Sky Sports released the full fixtures for the 2012-13 English Premier League season today. Arsenal kick off their campaign with a home fixture against Martin O'Neill's Sunderland team.
The Gunners' fixtures are marked by difficult away games early on, with consecutive trips to Stoke City and Liverpool, following their opening day encounter with the Black Cats. September also sees a visit to the home of reigning champions Manchester City.
In January, a trip to Chelsea is sandwiched between home fixtures against the Citizens and Liverpool. The season's run-in is highlighted by a home clash against Manchester United on April 27th.
Here is an analysis of the six biggest games of Arsenal's season.
Away vs. Stoke City, August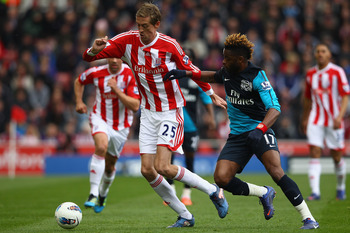 Clive Brunskill/Getty Images
An early trip to their least-favourite ground will provide a hugely significant test of Arsenal's credentials as contenders for the new season.
Arsenal have not fared well at the Britannia Stadium against a Stoke City team that represents the polar opposite of Arsene Wenger's style of play.
In fairness, Arsenal were the better side when they earned a 1-1 draw in this same fixture in late April, 2012.
Tomas Rosicky produced a particularly fine performance, as Wenger's men dominated proceedings for most of the game.
The Gunners' ability to cope with Stoke's rugged physicality will act as a good barometer of the ability of an often mentally fragile team to cope with the tougher fixtures.
However, an early-season mauling at the hands of Tony Pulis' aggressive team will hardly provide a stirring vote of confidence that Arsenal are equipped to end their trophy drought.
Away vs. Liverpool, September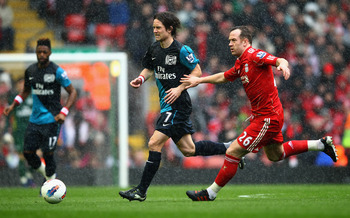 Clive Mason/Getty Images
One week after their visit to the Potters, Arsenal travel to Anfield to take on a Liverpool team beginning yet another fresh era under a new manager.
This time, the man in charge is ex-Swansea City boss Brendan Rodgers.
His Swansea team inflicted one of the most painful defeats of Arsenal's season, when they triumphed 3-2 at the Liberty Stadium back in January.
Although the praise for Swansea's football on the day contained an ever-so-slight element of exaggeration, there is no doubt that Arsenal were not at their best and were made to look off the pace at times.
Rodgers will be hoping to bring the same style of play to Merseyside, and Arsenal will have to be on top form to repeat last season's heroics at Anfield.
The Gunners escaped with a 2-1 win in early March, thanks to a quality brace from Robin van Persie.
They will need to show similar resolve and class in front of goal this time around. If the Gunners can take four points or better from these two difficult away fixtures, it will speak volumes about their ability to seriously compete at the top end of the table.
Away vs. Manchester City, September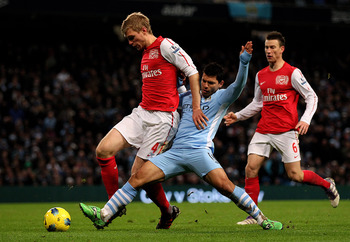 Alex Livesey/Getty Images
Arsenal will get their first chance to humble the new champions three weeks after their trip to Liverpool.
The Gunners were defeated 1-0 at the Etihad Stadium back in December 2011, despite producing one of their best performances of the season.
Arsenal gave Manchester City all they could handle on the day and were desperately unlucky not to leave with a credible result.
This game will show how successful Wenger has been at closing the gap between third and first place.
A heavy defeat would surely destroy confidence about capturing the league title. However, if Arsenal can secure a win at the home of the champions, they will send a clear message that they are legitimate contenders for the crown.
Home vs. Tottenham Hotspur, November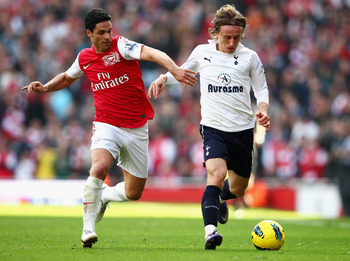 Clive Mason/Getty Images
Arsenal's 5-2 victory over Tottenham Hotspur at the end of February saved the season after an FA Cup exit against Sunderland and UEFA Champions League demolition at the hands of AC Milan.
Defeating their North London foes again, this time in the first half of the season, can reassert Arsenal's superiority of their closest rivals last season.
The two local enemies slugged it out for third place all season long, and an early derby victory can give Wenger's team the boost they need as they prepare for the logjam of fixtures in December and early January.
Away vs. Chelsea, January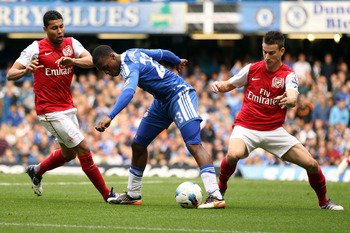 Ian Walton/Getty Images
January's trip to Stamford Bridge provides Arsenal with the opportunity to repeat one of their best performances from last season.
Their 5-3 triumph at the Bridge in October, 2011 was the Gunners' most significant win of the season.
Following a disastrous start to the campaign, Arsenal needed a big win. Despite Chelsea's struggles at the time under Andre Villas-Boas, the victory showed that Arsenal could still win against the elite teams in the EPL.
It was a massive psychological boost, and after Chelsea's revival under Roberto Di Matteo, another win at the home of the UEFA Champions League holders can have the same effect this season.
Home vs. Manchester United, April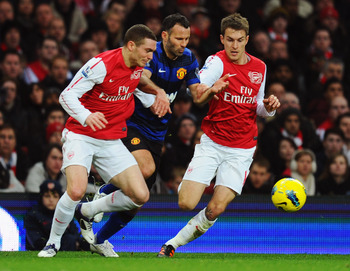 Mike Hewitt/Getty Images
Simply put, if Arsenal are going to win the Premier League title again, then they have to get over their Manchester United jinx.
Since doing the double over the Red Devils in the 2006/07 season, Arsenal have only won two league fixtures against Sir Alex Ferguson's team.
That has to change this season.
Like it or not, United are still the team to beat, and victory over them has huge significance at any time. Last season saw Arsenal humiliated 8-2 at Old Trafford in easily the most painful defeat under Arsene Wenger.
Arsenal fought bravely in the return game in North London and were unfortunate to lose 2-1. It was a match marred by the viciously negative reaction to Wenger's decision to substitute Alex Oxlade-Chamberlain.
Watching Arsenal fans boo Wenger while standing in the very stadium he played a major part in seeing built was one of the most appalling images from last season. Arsenal have had some success against United at the Emirates, claiming three wins and a draw in six league meetings.
United have stolen a march on Arsenal in terms of summer recruitment, with the dual signing of Shinji Kagawa and Nick Powell. Yet victory on the pitch will always prove more significant.
Hopefully when the two teams meet at the end of April, this will be something of a title decider. It is simply a massive three points that Arsenal must take at all costs.
Gunners Must Avoid Another Horror Start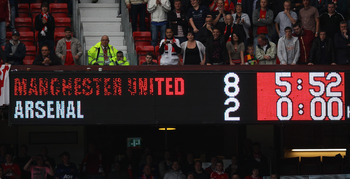 Alex Livesey/Getty Images
Four of the six key games identified here take place in the first half of the season.
These games have more significance because Arsenal have to avoid the kind of nightmare start that derailed last season's hopes for success.
Away games against Stoke City, Liverpool and Manchester City have to be successfully navigated.
If not, then the Gunners will yet again find themselves falling too far behind the pack to be considered serious contenders.
Keep Reading

Arsenal: Like this team?