NBA Mock Draft 2012: Best Fits for Former UNC Players
Streeter Lecka/Getty Images
The 2011-2012 season ended in disappointment for UNC as they were defeated in the Elite Eight by Kansas.
Harrison Barnes, Kendall Marshall and John Henson announced their intentions to enter the NBA draft soon afterward. Tyler Zeller used up all four years of his eligibility, so he too will be among the group of Tar Heels anxiously awaiting to hear their names called to the stage on June 28th.
In the following slides, I will discuss the teams that I think are the best fit for each of these prospects.
Harrison Barnes: Cleveland Cavaliers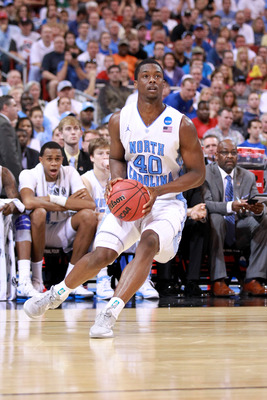 Andy Lyons/Getty Images
During his time at UNC, Harrison Barnes showed flashes of the enormous amount of potential that lies within him. However, there is a reason those "flashes" began to shine once Kendall Marshall took over the starting job midway through the 2010-2011 basketball season.
Simply put, Barnes needs a good, if not great, point guard to succeed in the NBA. When Kendall Marshall missed the Tar Heels' last two tournament games, Barnes averaged an anemic 12.5 points per game while shooting a putrid 26.7 percent from the field.
The Cleveland Cavaliers have one of the best young point guards in the NBA today in Kyrie Irving. If Barnes is drafted by the Cavs, his chances of succeeding in the NBA will be that much better.
Irving is a dynamic scorer and distributor. His ability to penetrate off the dribble and collapse the defense can help open up Barnes on the wings where can spot up and shoot his patented mid-range jumpshot.
Barnes is not a great ball-handler and is not adept at creating his own shot, but if he is drafted by the Cavs, he won't have to worry about that part of his game, considering Irving can do all the work for him.
John Henson: Detroit Pistons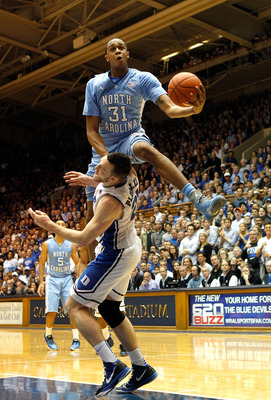 Streeter Lecka/Getty Images
John Henson was a bit of an enigma at UNC. He was a power forward that, at times, wanted to play shooting guard. When he was committed to playing in the post, however, there were few power forwards in the nation who could match his defensive prowess.
Henson would be a great fit for the Detroit Pistons because they already have Greg Monroe, a young, established center. Placing Henson in the frontcourt alongside Monroe would give teams headaches if they attempted to get into the lane.
Henson is skinny, but he stands his ground in the post better than his appearance might suggest. The Pistons need a young, shot-blocking big man who can bring a spark to a position that hasn't created a lot of excitement in recent years.
Henson can do just that.
Kendall Marshall: New Orleans Hornets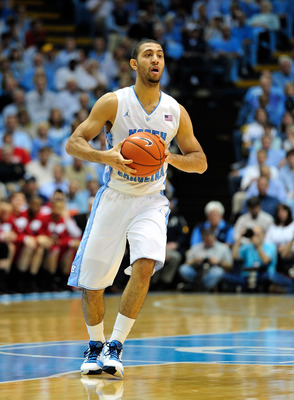 Grant Halverson/Getty Images
Kendall Marshall was, without question, the most important player for the Tar Heels last season. His absence in the NCAA Tournament showed just how valuable a piece he was (and can be) to his team.
Assuming that the Hornets select Anthony Davis, No. 1 in the draft, Marshall would be a home-run pick at No. 10. Marshall has all the tools to be a successful point guard in the league. He's unselfish, reliable (10-assist games became the norm for him at UNC) and possesses off-the-charts intangibles.
With Marshall running the point, Eric Gordon (assuming that he stays put) alongside him in the backcourt and Anthony Davis manning the post, the New Orleans Hornets could contend in a tough Western Conference next season. Marshall would have a field day slinging the ball to Gordon for open three-pointers and lobbing the rock up for Davis to throw down on alley-oops.
Tyler Zeller: Houston Rockets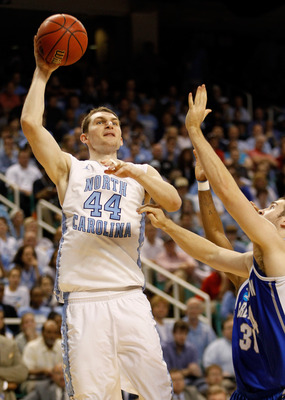 Streeter Lecka/Getty Images
Tyler Zeller was the most consistent player for the Tar Heels last year. He led the team in scoring and was second in rebounding. Although he could be seen as lacking upside, he has the potential to be a good starting center in the NBA.
Zeller is far ahead of the curve when it comes to post offense (just look at Andre Drummond's and Meyers Leonard's post-move repertoire). He also possesses the ability to make mid-range jumpshots. Zeller runs the floor about as well as any current big man in the NBA, which is important considering the up-and-down nature of today's game.
Zeller is a great fit in Houston because he would immediately have the opportunity to start, considering Marcus Camby will be an unrestricted free agent this offseason. The Rockets would fill a need in the middle, and Zeller would provide consistency to a position that has seen a revolving door of players since Yao Ming retired.
Keep Reading

UNC Basketball: Like this team?