NBA Finals 2012: 7 Lessons LeBron James Can Learn from Kevin Durant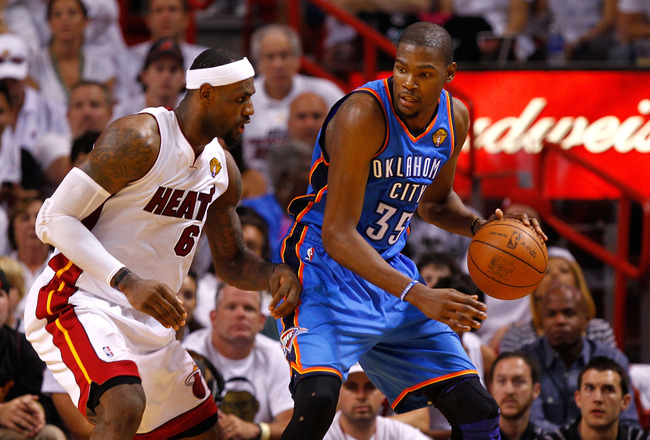 Mike Ehrmann/Getty Images
The NBA Finals are by far the most exciting two weeks of the NBA season. Teams have spent the entire regular season battling for playoff positions and now the opening month of the playoffs are in the books.
This year, the playoffs sent the Miami Heat and Oklahoma City Thunder from the Eastern and Western Conference finals respectively, setting up a dream final in the eyes of many.
Why is this a dream finals matchup?
LeBron James vs. Kevin Durant. Russell Westbrook vs. Dwyane Wade. James Harden's beard and Kendrick Perkins stare-downs and frowns.
Everyone is engrossed by the small forward war between the 2012 NBA MVP LeBron James and the 2012 NBA's leading scorer, Kevin Durant. They are the top two in the NBA today and happen to play the same position.
That, however is almost where the similarities end. LeBron and Durant are two very different characters. One is quiet and unassuming, the other is loud and outgoing.
Good? Bad? You decide. But one thing is for certain: LeBron has plenty to learn from his younger opponent.
7. The Art of the Three-Pointer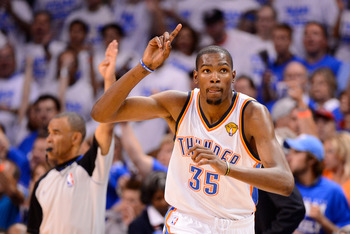 Ronald Martinez/Getty Images
Kevin Durant led the NBA in scoring again this season, scoring from everywhere on the court.
LeBron James is perhaps the best in the league at breaking down defenses in order to get easy points right at the basket.
Although he can hit the three-point shot, LeBron went away from it a lot this season as he tried to develop a more concrete post game.
While that is great, often LeBron has missed threes that could have swung the momentum or even killed off a team.
Durant, on the other hand, seems to only ever hit big shots from behind the three-point line.
His ability to find the bottom of the basket even with the strongest defense right in his face is unparalleled. LeBron would do well to sit back and watch some game tape over this offseason so he can attempt to replicate some of the success the league's best scorer had from distance this year.
6. Signing a Contract Quietly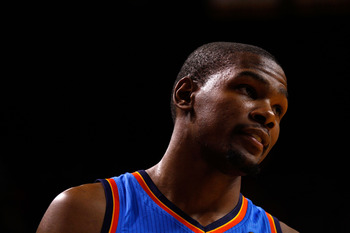 Mike Ehrmann/Getty Images
LeBron James took to the airwaves in July 2010 to announce his decision to leave his hometown Cleveland Cavaliers and join the Miami Heat.
His hour-long ESPN special created a public outrage at the sheer egotistical nature of James' sense of self-importance.
The fallout from The Decision may never be extinguished—that one moment transformed LeBron from everyone's favorite player to the most hated player in the league.
Contrast that to Kevin Durant, who signed a maximum-value contract extension with the Oklahoma City Thunder and announced the big news via his personal Twitter feed.
Hour-long special.
Single tweet.
Do you need to ask which of these guys calls themselves "The King"?
5. Starring in Commercials Without Creating Even More Controversy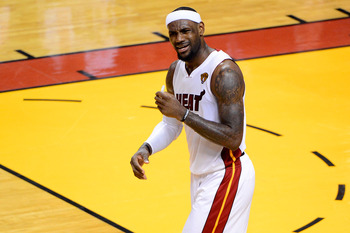 Ronald Martinez/Getty Images
LeBron has featured in many commercials, but none so infamous as his Nike commercial shortly after The Decision took place.
In it, LeBron appeared to address many of his critics in a less-than-subtle manner.
In the end, the commercial just added to the growing list of problems people had with LeBron James.
Again, contrast that to Kevin Durant's Doodle Jump/Sprint commercial. Funny, simple, not forcing Durant's persona down your throat. Everything that LeBron's commercial was not.
4. Postgame Press Conferences
Mike Ehrmann/Getty Images
After last season's NBA Finals defeat to the Dallas Mavericks, LeBron addressed a question from an interviewer in the postgame press conference by seemingly boasting that he would go on living his rich, lavish life while his critics would go back to awful, dead-end jobs.
After the year James had with the media and his public perception, this was just another moment in a long line of fallacies that severely damaged LeBron's image in the public.
Kevin Durant? Has he ever said anything controversial in a press conference?
Besides wearing strange glasses and backpacks, Durant is the perfect communicator in those press conferences, answering tough questions diplomatically and always coming across friendly.
It's not a big lesson, but in the big NBA fame game, the little things all create the overall image.
3. How to Be More Clutch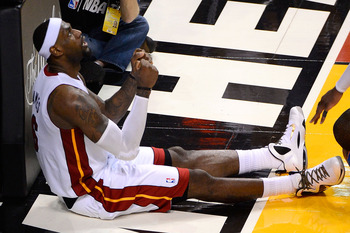 Ronald Martinez/Getty Images
Kevin Durant has hit a lot of game-winners over the past few seasons.
It may just be coincidence that these come during games against vaunted opponents such as the Dallas Mavericks or in conference matchups against teams like the Minnesota Timberwolves.
No matter, Durant is one of the most dependable players in the league when it comes to knocking down a last-second shot to tie or win a close ball game.
LeBron's clutch issues, however, are a different story altogether.
Time and again we see LeBron happily dominate a game for three quarters only to watch him take a back seat in the final period, more often passing than shooting the ball.
LeBron may well have fallen foul of his own press. Listening to the talking heads on television could have caused him to become so aware of his own failings that he wants to pass. Or is he just making the right play?
It's a controversial and hotly contested topic, but Durant seems to always be above criticism. At least he isn't afraid to take that game-deciding shot.
2. Playing as Part of a Big Three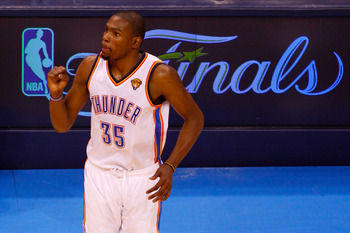 Mike Ehrmann/Getty Images
LeBron has Dwyane Wade and Chris Bosh. They are a fantastic trio, though not always so. They trip over each other and have taken time to jell. They are prone to going stagnant offensively and sometimes appear indifferent on defense.
Durant has Russell Westbrook and James Harden. They are also a fantastic trio, nearly always so. They rarely stumble across each other as all three have different playing styles. Durant knocks down midrange shots, Westbrook drives to the hoop, and Harden is more of a playmaker.
LeBron has to somehow help create a more dynamic Miami Heat offense as right now, its stagnant periods risk the Heat losing NBA Finals games.
Quite how he does this is anyone's guess. Unlike Durant, one of James' partners is aging. Wade's body is not getting younger and his injury list grows every season.
Also unlike Durant, James has to play with both of his Big Three partners for the majority of the game as both start. In Oklahoma, Harden plays big minutes off the bench, but tends to lead the team while the other two rest, allowing the three to each play to their strengths without fear of compromising the other's game plan.
1. Being Popular in the Eye of the Public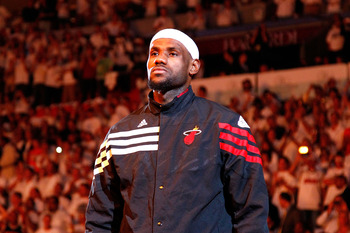 Mike Ehrmann/Getty Images
Today's NBA is much more than just basketball. Modern players have to have the complete package. They have to be media-savvy and personally likable.
LeBron James has the talent, but not the personal popularity.
Pre-Decision LeBron was one of the league's exciting stars. Post-Decision LeBron is one of the most hated figures the league has ever known.
Everything he says and does is scrutinized to the finest detail and even the tiniest fault is picked up by his critics.
Compare that to Kevin Durant, one of the league's rising stars. He is humble, honest and above all likable. He never speaks out about things, never creates a controversy.
James' reputation may be forever tainted by the events of summer 2010 and the creation of the Miami Heat dream team. A player of his caliber shouldn't be known for an offseason decision, but that is the sad truth of today's sports media.
In Durant, the league has discovered a star for the future, one that youngsters should be looking up to wanting to grow to be like. James represents the opposite—leaving his hometown team in search of fame and fortune in a nicer and easier place rather than taking the challenge of winning without much help.
Keep Reading

Miami Heat: Like this team?