6 Encouraging Signs Heading into Cleveland Browns' 2012 Season
Jason Miller/Getty Images
The winds of change are sweeping through the Cleveland Browns training facility in Berea, Ohio. Could the 2012 NFL season be the year the struggling Browns franchise turns around?
I don't know about you, but I'm finally beginning to believe the Browns are headed in the right direction. For too long, pessimistic undertones and doubt have cheapened and even crippled the fun in being a Cleveland Browns enthusiast.
It's sad, but also hilarious, when satirical irony such as local comedian Mike Polk's YouTube videos become the mainstream opinion of Browns fans. I love what Mike Polk has done for the fans in these trying and dark times, but it isn't enough to be able to laugh.
The Browns have consistently been one of the worst teams in the league over the past decade...that is the reality. Why then would I say that those misfortunes are about to change magically this year?
The NFL is a fickle entity. Every season teams rise and fall, the torch being passed. Sure, there are playoff mainstays like the Pittsburgh Steelers, New England Patriots, Green Bay Packers and New York Giants. But the entire thing is cyclical. Teams draft, trade and develop players to new levels at the professional level.
It's what makes the hope of yet another NFL season so real for Browns fans. Maybe this year is our year?
Maybe the Browns won't break our hearts?
Maybe come this time next year we'll be talking about who to add as the missing piece to win the AFC Championship Game instead of barely losing it?
Cleveland, as a city, is due for something big. Who better than its favorite team to inspire and invigorate one of the biggest underdog cities in America?
Chilly in the Booth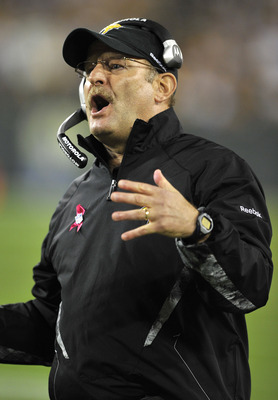 Jim Prisching/Getty Images
Brad Childress comes to the Cleveland Browns after serving as the head coach (and play-caller) for the Minnesota Vikings from 2005 to 2010. "Chilly" did not leave Minnesota on the best of terms; he was released from his contract in 2010 after trading for and then subsequently releasing Randy Moss without the knowledge of the team's ownership.
However, it's important to look at what Childress did in Minnesota and previously in order to gauge the true impact he will bring to the Browns this season.
Previously to his head coaching role, he served under Andy Reid as the offensive coordinator for a Philadelphia Eagles team that went to three NFC Championship games and one Super Bowl appearance. Also, his tutelage and development of Donovan McNabb helped McNabb reach five Pro Bowls.
Like Reid in Philadelphia, Pat Shurmur will be calling the plays in Cleveland.
During his tenure in Minnesota, Childress incorporated a power rushing game into his adaptation of the West Coast Offense. The team succeeded under adequate quarterback play and the skills of star running back Adrian Peterson.
The tough, hard-nosed defense of the Vikings probably didn't hurt, either.
In 2012, the Cleveland Browns look eerily similar to the 12-4 Vikings team of 2009. In 2009, the Vikings added Hall of Fame quarterback Brett Favre into the mix. The team jumped from a solid playoff caliber team to Super Bowl contenders overnight.
With the additions of Weeden, Richardson and Childress, the Browns have the coaching experience and the talent required to reach new heights.
The Freak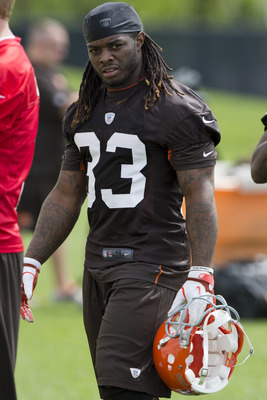 Jason Miller/Getty Images
Trent Richardson is going to create problems for every NFL defense he faces in 2012.
It's been said, said again and repeated, but Richardson has the ability to completely energize the Browns offense. He brings all of the positives of Peyton Hillis and adds another dimension the Browns didn't have before.
He holds onto the football.
Ball security is a key in an offense that is reliant on smart, disciplined and fundamental football. Richardson had previously fumbled merely one time during his entire college career.
Most importantly, though, he's tough as nails and able to handle the beating in store for him at the NFL level. Unlike Hillis, the Browns can take solace in knowing that Richardson will be available for them on virtually every Sunday.
Full Offseason
Matt Sullivan/Getty Images
The 2011 NFL lockout limited the extent to which Pat Shurmur and his staff could install their new offensive and defensive schemes.
Transitional seasons are hard enough on a team, but the odds were definitely not in the Browns favor to succeed a season ago.
Cleveland seemed to be set up for failure.
Many tried to hold out hope that things would just "click" and everything would somehow work itself out.
A rookie quarterback and running back do not exactly bode overconfidence in a complete turnaround in 2012.
The odds of a Super Bowl are painstakingly low for the Brownies this year. Some Las Vegas books currently have them as the least likely team to achieve that feat this season at 200/1 odds.
But what do they know?
If you have a spare $100 lying around and happen to swing by Nevada this summer, make that bet for me, would you please?
High on Brandon Weeden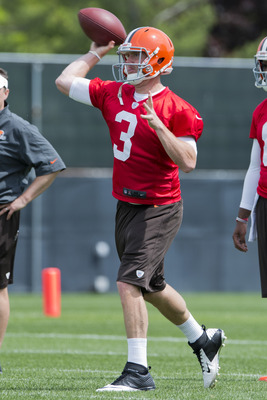 Jason Miller/Getty Images
As a fanbase, Cleveland Browns fans have had to endure some of the worst quarterback play in the NFL since the team's reincarnation in 1999. The struggles date back even further to Bill Belichick's infamous replacement of Bernie Kosar with Vinnie Testaverde.
Since Kosar, no one has measured up. Tim Couch was too panicked, Kelly Holcomb too injury prone, Derek Anderson too inaccurate, Brady Quinn, Charlie Fry and Colt McCoy didn't have strong enough arms, Jeff Garcia is a better backup and Trent Dilfer and Jake Delhomme came for paychecks at the end of their career.
Enter Brandon Weeden.
Forget Weeden will be 29 years old during his rookie season. Forget he quarterbacked a team in the high scoring Big-12 Conference. Forget he took the majority of snaps out of the shotgun formation.
FORGET ALL OF IT.
The average career of an NFL quarterback, specifically a Cleveland Browns quarterback, is nowhere near the amount of time Weeden could potentially contribute to the Browns. A productive 10-year career from a solid quarterback would be the best thing that could ever happen to this team.
Watch the velocity of Weeden's throws and how he hits receivers in stride. He has the ideal skill-set to command this type of offense. An adequate and improving Minnesota Vikings offense (under Brad Childress) drastically improved after the addition of Brett Favre in 2009.
With Adrian Peterson and Favre lining up in the huddle, teams were kept to play honest on defense instead of dictating the scope of the offense.
Can Weeden's strong arm invigorate this West Coast Offense like Favre did in Minnesota?
He has one of the most experienced coaching staffs (of the WCO) in his corner.
Re-Enforced Defensive Line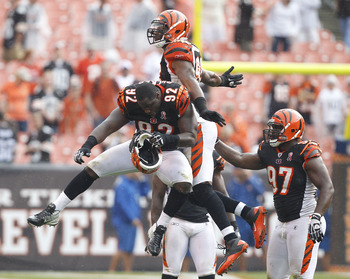 Matt Sullivan/Getty Images
The Cleveland Browns have beefed up their defensive front after another season of struggling to stop opponents' rushing attacks.
Offseason acquisitions Juqua Parker and Frostee Rucker will provide some much-needed relief along the edges of the Browns' 4-3 front.
Additionally, draft picks John Hughes and Billy Winn have been added to the mix in order to provide solid depth and situational strengths. Hughes will likely be a first- and second down player, while Winn favors more as a situational interior pass rusher.
With the unfortunate injury to starting defensive tackle Phil Taylor, these roles will likely be increased.
"Games are won in the trenches."
That's a quote you might often hear and it looks like Tom Heckert believes strongly in that mindset. The two most important things you need to be able to do in the NFL are to rush the passer and protect your own.
Cleveland will improve with the additions of these four big men on their defensive front.
Large Addition to the Offensive Line
It is a strong belief of mine that it does not matter who the quarterback is, if plays are being blown up right after the snap, it is impossible to succeed. Too often the right tackle position failed Colt McCoy and Seneca Wallace in 2011.
A glaring weakness like that needed to be addressed this offseason. It couldn't wait any longer. No more taking chances on aging veterans and injury-prone journeymen. Finally, Tom Heckert went out and procured a young, hungry (no pun intended) and technically skilled tackle to get the job done.
After all, what good are a shiny new running back and quarterback if there is a gaping hole on the offense line that limits their effectiveness?
That hole on the right side has been filled by California Golden Bear Mitchell Schwartz. Schwartz, a former teammate of Browns center Alex Mack during his freshman year at Cal, is expected to start on day one at the right tackle position.
He brings experience and a very strong repertoire of pushing people around with him to the big leagues. While he will not be able to manhandle his competition as easily, he is not likely going to be abused like his predecessors.
Follow Mike on Twitter @BigHoagowski
Keep Reading

Cleveland Browns: Like this team?