Oakland Athletics: 6 Reasons Yoenis Cespedes Is the Face of the A's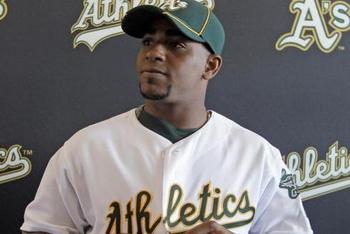 Photo Credit: Usatoday.com
Yoenis Cespedes hasn't even completed his first season in Major League Baseball—heck, he hasn't even been healthy enough to play the last few weeks—but he's already the face of the Oakland Athletics organization.
What does it take to be the face of the franchise?
The first and largest attribute is talent. Longevity helps, but in many cases youth still rules.
Take Stephen Strasburg of the Washington Nationals for example. Ryan Zimmerman is an incredible athlete and has been with the team longer. Still, Strasburg is more widely recognized. The same can be said for Troy Tulowitzki over Todd Helton in Colorado and so on.
Cespedes holds six qualities that put him in a spot to represent the A's better than anyone else on the team.
No. 1: Talent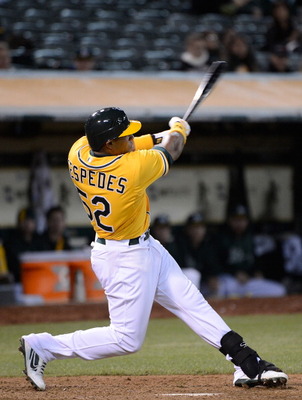 Thearon W. Henderson/Getty Images
Yoenis Cespedes possesses tons of talent.
Though he's played in less games than most of the team's other everyday positional players, Cespedes still has the third most RBI (26) behind Josh Reddick and Brandon Inge.
Cespedes has the third highest batting average and is third in home runs as well.
His fielding isn't too shabby either.
So far, he's committed just one error. He has 90 putouts in 93 tries with two assists.
No. 2: He's Exciting to Watch
Jim Rogash/Getty Images
Yoenis Cespedes has the power to put the ball over the fence—something the Oakland Athletics roster annually lacks. Not only does he hit dingers, he crushes the ball for mammoth blasts.
Plain and simple, it's exciting.
Anyone that can come in and hit home runs and/or steal bases is a fan favorite in Oakland.
Boring players aren't typically fan favorites. Non fan favorites typically don't represent a team.
No. 3: Perfect Mix of Veteran and Youth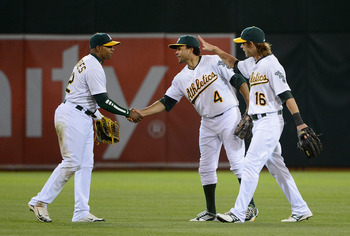 Thearon W. Henderson/Getty Images
At 27 years old, Yoenis Cespedes is in the perfect age range to be a team leader.
Unless you possess ungodly talent (i.e.: Bryce Harper), it's hard to be the face of a franchise under 25 years old.
By the time one reaches 30 years old, there's typically some young, talented kid coming up behind you fast to unseat you.
Cespedes is younger and more talented than many of the veterans (Coco Crisp, Seth Smith, Brandon Inge). It's too late for those guys to become the face of a franchise.
He's also older and more accustomed to baseball than the rookies (Josh Reddick, Jemile Weeks, Tom Milone). It's too early for them to lead.
No. 4: Nationally Known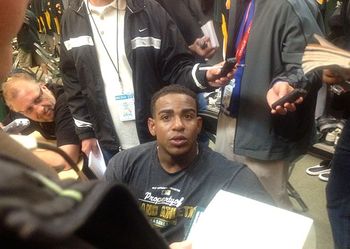 Photo Credit: Sports.yahoo.com
Josh Reddick is just a few years younger than Yoenis Cespedes. It seems as if Reddick is just as talented, if not more so. He's also proven to be healthier.
So why not Reddick as the face of the Oakland Athletics?
Cespedes has national attention.
Many baseball fans will learn Reddick's name in time, but for now, not many outside of Oakland, Boston and fantasy baseball know him.
Outside of maybe Brandon McCarthy, there isn't a player with more spotlight and recognition than Cespedes.
No. 5: High Profile Contract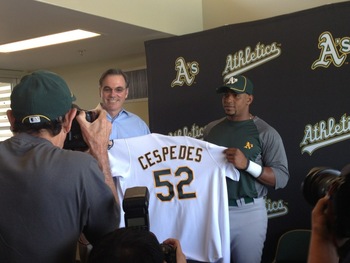 Photo Credit: Hardballtalk.Nbcsports.com
The Oakland Athletics are continually reluctant to dole out high profile contracts.
Hence it shocked many when they gave unproven (in MLB at least) Yoenis Cespedes a four-year deal worth $36 million. He is now the highest paid player on the A's.
A move like this—especially for this club—speaks volumes about the production the A's hope to receive from Cespedes.
Franchises don't make people their highest paid player unless they expect them to be a team leader.
No. 6: The A's Can Build Around Him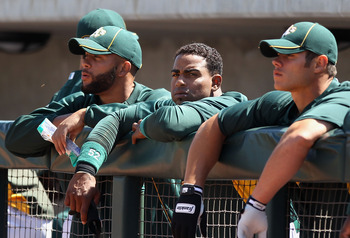 Christian Petersen/Getty Images
Yoenis Cespedes is a 27-year-old, center field playing, powerful four hitter.
He's locked up for four years through his prime and earning legitimate—albeit still not overwhelming—money.
Cespedes has the perfect makeup of a player to build around.
Collin Cowgill, Josh Donaldson, Jarrod Parker, Tom Milone and many of the younger talent still have much to prove.
Josh Reddick must show 2012 is not a fluke. Besides, Nick Cafardo of The Boston Globe speculates that the A's might already be willing to listen to offers for Reddick's services.
Veterans like Brandon McCarthy, Coco Crisp and Brandon Inge won't be around too much longer.
Cliff Pennington, Daric Barton and Kurt Suzuki have had years to prove themselves and haven't shown much more than serviceable talent.
Cespedes is the guy to build around.
Keep Reading

Oakland Athletics: Like this team?