Will Tiger Woods Break Jack Nicklaus' Major Championships Record?
June 18, 2012

Stuart Franklin/Getty Images
It has been 26 years since Jack Nicklaus won his 18th major championship at the Masters Tournament, a record that still stands to this day.
Nothing less than three decades of dominance brought "Jack" to that total. He won at least three major tournaments in the 1960s, 1970s and 1980s to solidify his spot in the annals of PGA Tour lore forever.
The only golfer that can hold a candle to "The Golden Bear" is a man named Eldrick Tont Woods. You might know him as "Tiger."
You know, the guy with his own video game, clothing line, golf equipment, advertising empire, monopoly over the golf industry in the new millennium, etc.
Tiger Woods has notched 14 major championship victories since his meteoric rise to stardom began when he joined the tour in 1996.
The then-22-year-old Woods was unlike any player we'd seen since Nicklaus, and he endeared himself to the hearts of golf fanatics when he won his first major championship at the 1997 Masters, a tournament that he won by a mere 12 strokes.
Woods was the most feared golfer of the 1990s and 2000s before his infamous November 2009 "car crash" ended almost 15 years of triumph, glory, joy and whatever other words you would use to describe his run as the king of the golf world (via ESPN.com).
The car crash led to the revelation that Woods had indulged in infidelity with multiple partners (per NY Daily News). He suffered minor injuries when he backed up into a fire hydrant outside of his Florida mansion, but the physical implications were the least of his problems.
Today marks four years and two days since Woods last finished atop the field at a major championship, a drought brought on first by his 2008 knee surgery (via ESPN.com), and then by the mental disadvantage that was presumably the result of the turmoil in his personal life.
He won the 2008 U.S. Open essentially on one leg (as Kenny Perry told the AP, via The Seattle Times), but it has been mostly downhill from that fairytale victory.
Nicklaus had a drought of his own, but it came from age 40 to 46, when it took him six years to go from 17 majors to 18. That's understandable, though, and it happened at the back end of an illustrious career.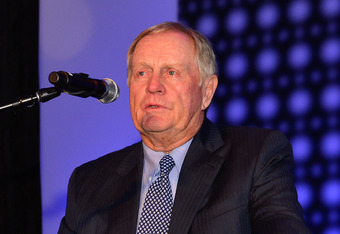 Steve Jennings/Getty Images
It's not as though nobody saw Jack's decline coming. He was well into his 40s and at the mercy of Father Time.
Tiger's demise, on the other hand, has been swift and devastating. His knee surgery turned out to be worse than originally thought, and he missed the rest of the 2008 season after his one-legged U.S. Open victory (via NY Times).
The question has been: Will Tiger Woods break Jack Nicklaus' major championships record?
That will always be the question until he throws in the towel for good. And rightfully so, as that will be when we get the answer to our question.
But does Tiger really have a chance at surpassing Nicklaus? Of course he does, but a chance is far from a certainty.
He's still only 36—not extremely old in golf years—and believes he can win tournaments into his 50s (per 106.7 FM in Washington DC, h/t to Deadspin). That's a stretch, though, as such longevity is hardly ever seen among professional athletes.
We'll never know for sure if Woods found himself at a mental disadvantage after the incidents off the course, but he has lost a lot of time during his current dry spell. In fact, he's lost too much time, which is why he won't ever be able to leapfrog Nicklaus as the best major championship player of all time.
He doesn't have that fire in his eyes that he used to. Sure, we hear the pundits claim that he has his old demeanor back, but he'll never intimidate the field like he did in his younger years.
The look in his eyes isn't the same as it was before his dirty laundry was aired after Thanksgiving in 2009. He spent over a year with that puppy dog look in his eyes, and is now somewhere in between the puppy dog and the pit bull that he once was.
The California native was the picture of clutch on the golf course in the past. As the ultimate closer, he was akin to Michael Jordan on the basketball court, Wayne Gretzky on the ice and Tom Brady on the football field.
He's lost his luster and won't ever be the Tiger we formerly knew. He was previously regarded as a god among men on the links, but we have seen him return to mortal status in the last few years.
To put it plainly, Woods choked in Round 3 of the 2012 U.S. Open. He grabbed a share of the lead after 36 holes, but shot a 75 on Saturday to fall all the way to 4-over par.
Sunday was almost as bad, as Woods went bogey, bogey, double bogey, par, bogey, bogey over his first six holes to effectively remove himself from contention.
Woods' best years are behind him; there's no denying that. Golf is a cruel game, both on the psyche and the body.
All clad in his familiar Sunday red, Tiger failed to obtain the 15th major championship victory of his legendary career at the Olympic Club, an ominous sign of things to come.
Woods is still a fan favorite, and no matter what judgment you pass regarding his past transgressions, it's fulfilling to see a man overcome adversity.
Hoping for something won't make it come true, though, and Tiger Woods will eventually step off the 18th green for the final time with less major championship victories to his name than the great Jack Nicklaus.