England: 10 Reasons Three Lions Can Win It All After Sweden Performance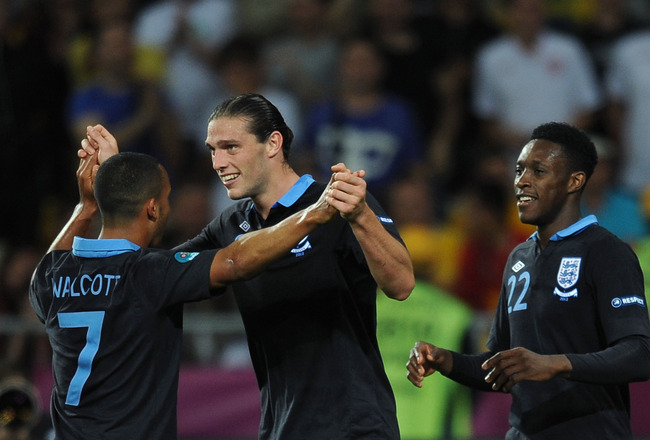 Christopher Lee/Getty Images
Roy Hodgson's men secured a crucial victory against Sweden on Friday in a brilliant encounter which had plenty of goals.
England scored the first goal through Andy Carroll's towering header and they went into halftime with their lead intact. However, Sweden hit back with two goals in less than 15 minutes, which prompted the England manager to make the swift substitution of Theo Walcott to his side. Walcott changed the outlook of the game, scoring from the edge of the box to equalize for the Three Lions.
The Arsenal winger then utilized his speed and trickery to good effect as he got to the byline before finding Manchester United's Danny Welbeck with a good pass. Welbeck's clever flick could not be saved by Andreas Isaksson, the Sweden goalkeeper, and England were able to hold on to their lead as they won the game 3-2.
The win puts England in a great position to qualify for the next stage. They only need to draw against co-hosts Ukraine in order to book a berth in the quarter-finals.
After their disappointments under Fabio Capello, England have entered this tournament with realistic expectations and Roy Hodgson has encouraged the team to play with less pressure. Though there is still a long way to go in this tournament, there is evidence that this England team has the ingredients to go all the way and win the Euro Championship.
The Return of Wayne Rooney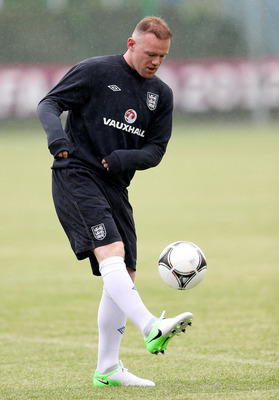 Scott Heavey/Getty Images
Wayne Rooney is arguably England's most talented attacking player. It has been difficult for England without the suspended striker. The Manchester United forward has the ability to unlock defenses and could be a huge asset to the England team.
There was plenty of anxiety when he was sent off against Montenegro about whether England's chances of qualifying to the quarter-finals would be an uphill task without the striker. As things stand, the Three Lions are in a good position with Rooney available for their game against Ukraine.
Under Hodgson, England have been conservative to some extent and have showed a good work rate. Against France in particular, England looked to contain and nullify the attacking threat of the French team and hit them on the break.
Rooney could be very vital in securing the breakthrough in tight games and also shares an excellent understanding with Danny Welbeck and Ashley Young, who also play for Manchester United. England with Rooney in their side will certainly be more threatening in attack and he could prove to be the trump card for Hodgson.
Squad Solidarity and Rapport with the Manager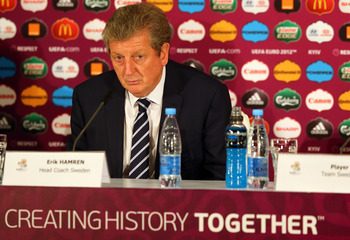 Handout/Getty Images
The English teams have been accused of not showing enough fight in the past, but this team has shown excellent solidarity and unity. Their spirit was brilliant against Sweden,especially after they went behind the Swedes.
The manager along with Gary Neville have looked at ease with the squad and with all the staff being English, they should understand the mentalities of the players, many of whom have suffered from a lack of confidence.
Also, the England camp looks relaxed, which is the key to them performing well. Hodgson has been realistic in his approach and has not asked them to play a swashbuckling style of football, which is not really England's style.
He has made England play to their strengths and has not been afraid of using the height and physicality of the England strikers. Also, the manager has been confident in his approach. The players' unity is good for the Three Lions, not only for this tournament but also bodes well for the future of this team.
Encouragement of the Young Players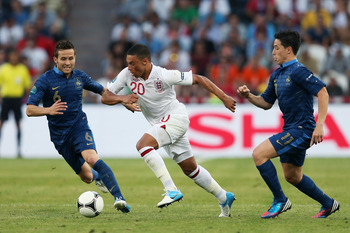 Julian Finney/Getty Images
Roy Hodgson was expected to be orthodox in his methods, and while most of his methods are old-school, he has provided great support for the younger players. And though the Arsenal midfielder was not spectacular, he did show glimpses of his immense talent. This experience will greatly benefit him. Also, Welbeck has been superb under Hodgson and has performed very well for the Three Lions.
The important thing is that they do not look to be burdened by the pressure of playing for England and have shown what they can do when they are on form.
Andy Carroll is another example of good man-management by Hodgson. Though the Liverpool striker has had an indifferent season for his club, the former Fulham and West Brom manager has shown the confidence in the big striker and he duly delivered by scoring a towering header to open the scoring against Sweden.
These young players could well form the core of the team in the future. With Hodgson as the manager, they could effectively develop to form a superb team.
Tactically Astute Approach from England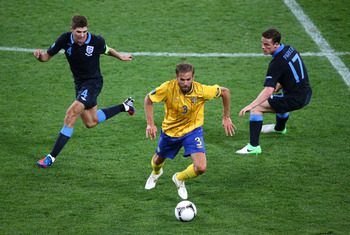 Martin Rose/Getty Images
Roy Hodgson has been good at managing mid-table teams in the Premiership and has helped many of them regularly punch above their weight. The manager has worked in different countries and has vast experience at managing football teams.
Most importantly, he has worked with international teams and knows the continental style of play. England have not been at their best in the last couple of major tournaments, but Hodgson could find a way to help the team play to its strengths. The players do have a lot of responsibility to deliver and they will be helped by Hodgson regarding tactics.
From the last two games, it is clear that the players do understand their instructions and do implement the tactics from the coach. Though England were not good in defending set-pieces against Sweden, it is something they will work on and improve on in the tournament. Also, it is important to maintain their shape against top teams in the world. England has looked like an organized unit under Hodgson, which is very important in International football.
Squad Depth and Plenty of Options for Roy Hodgson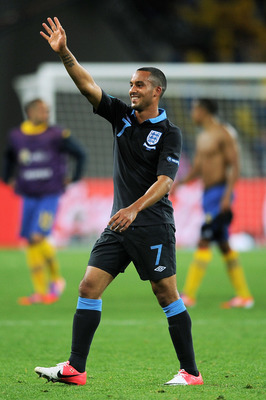 Christopher Lee/Getty Images
England have suffered injury blows to some important players such as Frank Lampard and Gareth Barry, but what they do not lack is the wealth of options on the bench.
Carroll did play quite well against Sweden, but with Rooney returning, he might well find himself on the bench. The likes of Walcott and Alex Oxlade-Chamberlain provide dynamic options should England be in search of a goal. They also have good players to fill in other positions if required.
Hodgson has also included some versatile players such as Phil Jones on the squad, and the Manchester United defender can fill at right back, centre back or even play as a defensive midfielder.
Hodgson has the experience to get things right and he has used his options well so far in the tournament. After a long and grueling Premier League season, it is important that these players and their training regime are managed properly. Having a member like Gary Neville, who retired only recently, will help in this regard.
Barring the goalkeeper slot, where Joe Hart is irreplaceable, England do have pretty good players who can fill in if needed. Hodgson will look to make the best use of the options available to him.
England Defensively Strong and Organized Under Roy Hodgson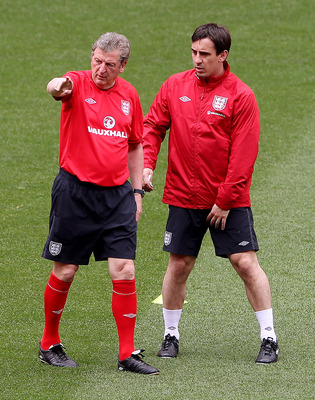 Scott Heavey/Getty Images
England have not been flamboyant under the new manager, but they have been defensively solid under Roy Hodgson, who has worked on their defensive stability and organization.
The addition of Gary Neville will also help as he can also impart some important tips to the players who are young and facing the pressure of representing their country for the first time in a major tournament. This England team looks a well-drilled unit. Though not always attractive to watch, they can do the job effectively for the manager.
It was surprising that England did concede two goals against Sweden, but the manager will surely make them more organized when dealing with set-pieces.
Every member of the team has shown a good work-rate and is aware of his defensive duties. They do have the individual talent to cause damage when they go forward, but they are also good at maintaining their defensive shape when they lose possession.
The pace and the dynamism of the attacking players in the England team such as Welbeck and Young help them greatly in counter-attacks, which can help them score goals in this tournament.
Confidence and Belief in Their Ability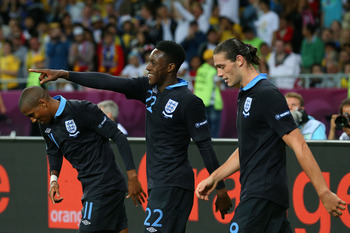 Alex Livesey/Getty Images
This England side are clearly focused on playing to their strengths and have done so in the early stages of this tournament. It is good to see the players playing without the fear of failure, which is the reason why many of the English youngsters have made their mark in the tournament.
The likes of Alex Oxlade-Chamberlain and Welbeck do not seem to be fazed by the pressure of this tournament. Hodgson has clearly helped them believe in their own ability as well as the system employed by the England team. The body language of the English players is good compared to what it was in South Africa. It is good to see the unity and spirit of this team.
Also, the confidence of the England team is helped by the fact that they have had a good run of success since their massive disappointment at the World Cup. Even under Fabio Capello, the England team had a good run, which helped in their qualification for the Euro Championship, which was smoothly achieved. They have yet to lose a game under Roy Hodgson. That will also give them confidence heading into the tough games they might have to face later in the tournament.
England Has One of the Best Goalkeepers in the World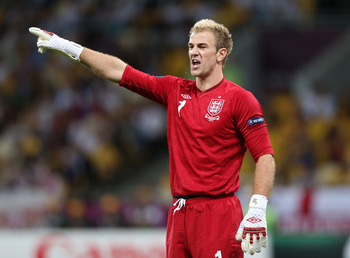 Scott Heavey/Getty Images
Robert Green's howler against the USA was one of the low points of the 2010 World Cup, and it did prove to be costly as England only managed to finish second in their group, which is why they faced Germany in the Round of 16.
The Three Lions have not had a commanding, solid keeper since David Seaman at his peak. It was one of the major problems in the 2010 World Cup. Fabio Capello was reluctant to give the then-inexperienced keeper Hart the No.1 role for England. However, Hart has not only established himself as Manchester City's No.1 but also as one of the world's best keepers.
Hart is an automatic choice for Hodgson and has solved one of the most important problems facing England in recent years. Though his backup is still a problem, England should have no problems if Hart is not injured. Hart is an excellent keeper with good reflexes combined with great command and authority in the box.
A good keeper is a priority for all the top teams and, finally, the Three Lions have a world-class keeper who can really help them progress a long way in this tournament.
Chance to Bury Past Disappointments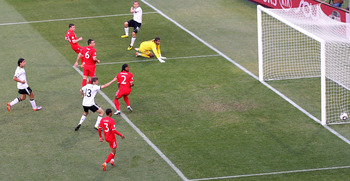 Cameron Spencer/Getty Images
Many players in this current England squad were also a part of the squad that were humiliated by Germany in the World Cup and will look to perform much better in this tournament.
Their past performances at many important tournaments have left the England fans with more realistic expectations for this tournament. The likes of Steven Gerrard, Ashley Cole and John Terry have played in many international tournaments and have not had much international success.
They would want to repeat for their country the achievements and successes they've experienced with their clubs. They do have the desire to set the record straight after some underwhelming performances at the 2010 World Cup in South Africa.
It is also a chance for the likes of James Milner and Wayne Rooney to show what they can do for England after their disappointing performances at the World Cup. Also, it is a great opportunity for those who are new to the squad to show their quality and establish themselves as regulars in Hodgson's England set-up.
Every single player will have their own objectives, but will also have a huge ambition to play an important part of England achieving its dream.
If Chelsea Can Win Champions League, Why Can't England Win the Euros?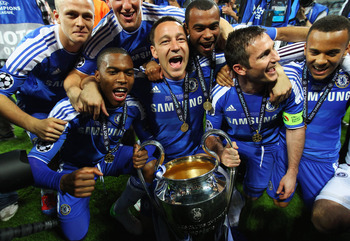 Alex Livesey/Getty Images
Chelsea, who finished sixth in the Premier League last season, were certainly not the favourites to win the Champions League but they were able to beat big teams such as FC Barcelona and Bayern Munich to win the trophy. The combination of determination and spirit from the players and good tactics from the manager helped them attain this success.
Like England missing out in major tournaments, Chelsea had never won the Champions League before and they created history this season. It shows that the team that wins a tournament might not necessarily have to be the team with the best talents playing.
It requires immense fighting spirit and determination to hang on till the last minute and never give up on the dream. England have the players who can provide great quality, but they also need to show their steely side in order to achieve success at the Euro Championships.
They might have to face sides who are technically better like Germany and Spain, but they must believe that they can defeat any side as long as they stick to their game plan. It requires great effort from every player in the squad, but as Chelsea proved, it is possible to win any Cup as long as the players are determined, ambitious and show immense fighting spirit.
Keep Reading

England (National Football): Like this team?