Roberto Luongo: 7 Places the Vancouver Canucks Can't Send Him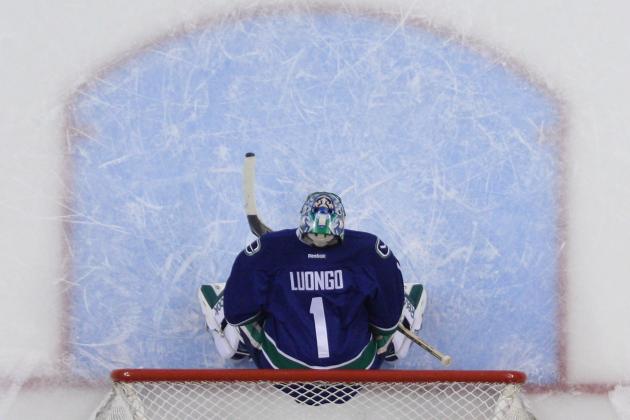 Derek Leung/Getty Images

Not too long ago, I published an article listing seven reasons that Roberto Luongo is tradeable. One of my reasons that he could be traded is that there is demand for a No. 1 goalie this summer.
The teams mentioned were Chicago, Toronto, Columbus, Tampa Bay, Edmonton, New Jersey, Florida and Colorado.
While these teams will be looking for a starting goaltender, most will be looking elsewhere before considering Luongo.
The following are seven teams from the list above which the Canucks cannot trade Luongo to as of now. Of course, as goalies are signed and trades are made, some of these teams will once again be an option.
Begin Slideshow

»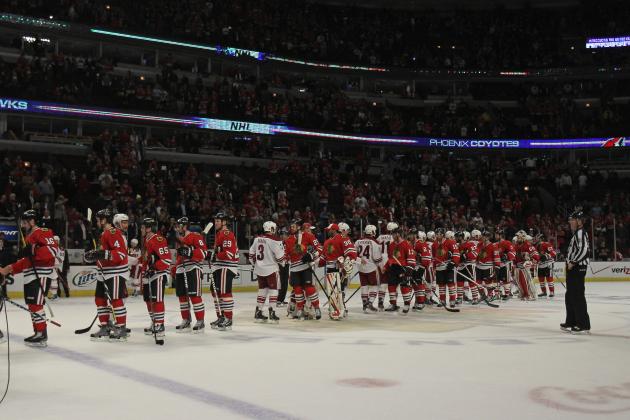 Jonathan Daniel/Getty Images

After the season and playoffs Corey Crawford had, many Chicago fans were left calling for a new starting goaltender, and some even for Luongo.
While I do believe an experienced goalie (such as Johan Hedberg or Scott Clemmensen) to work with Crawford would benefit the team, Crawford is still the goaltender of the future for the Blackhawks. The former second-round pick still has strong potential despite a shaky campaign last year.
In addition, Luongo has had his fair share of playoff struggles in the past few seasons. Two of these seasons saw the Blackhawks benefit, as they beat the Canucks in back-to-back seasons with high-scoring, series-ending games.
Chicago knows better than anyone how much Luongo's issues can get to him in the postseason, so it would make no sense for the Hawks to put their faith in him long term.
It doesn't help that Vancouver and Chicago have a vested hatred toward each other either.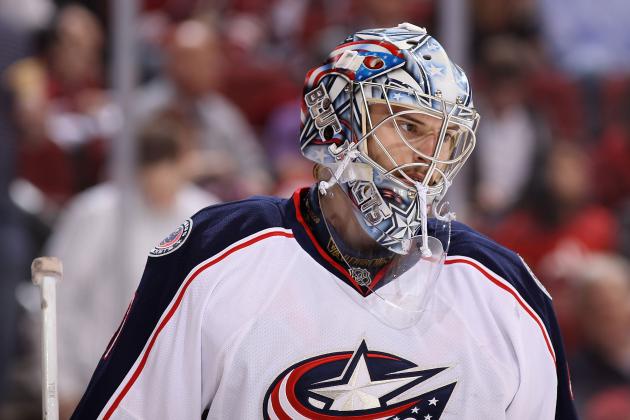 Christian Petersen/Getty Images

The Columbus Blue Jackets have every reason to pursue Roberto Luongo. They need a goaltender who can help them get to the playoffs, they are in a state of rebuilding, and they are desperate need of a new look and have attractive pieces to go the other way.
In addition, the Columbus fanbase would present a better environment for Luongo's mental issues.
Whether or not it's time to give up on Steve Mason is very debatable.
The issue is that it's rare for players to choose Columbus if given the choice—which is another reason the team has never really found an identity since entering the league.
Luongo has a no-trade clause, and therefore, the final say on any trades that may be on the horizon. It is believed that he has given a list of five cities he'd like to play, and it's doubtful that Columbus is on it.
It's not horrible news for Columbus, however, as the availability of Rick Nash will present the team with numerous options to pick up some missing pieces.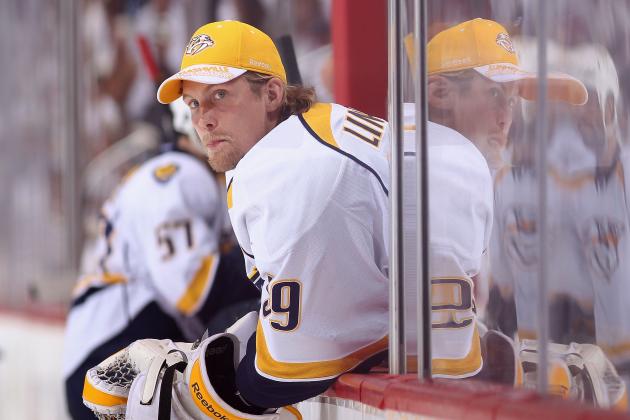 Christian Petersen/Getty Images

Earlier in the season, I saw Tampa Bay as the most fitting destination for Roberto. His wife and kids live in Florida, the market is more appealing, they have a ton of potential and the Lightning's starting goaltender is turning 85 this year.
As the season went on, it became clearer and clearer that if a deal was to happen between the two, the Canucks would have to take Vincent Lecavalier's massive contract in return. A third center making big money is not what the Canucks are looking for.
If that wasn't convincing enough, Steve Yzerman then said that he plans to acquire a goaltender through a trade at the draft or free agency, and also noted that the Bolts were after a younger goalie.
The nail in the coffin came on Friday, when the Lightning acquired Anders Lindback from the Nashville Predators. It's safe to say that Tampa Bay is no longer in contention for Luongo's services.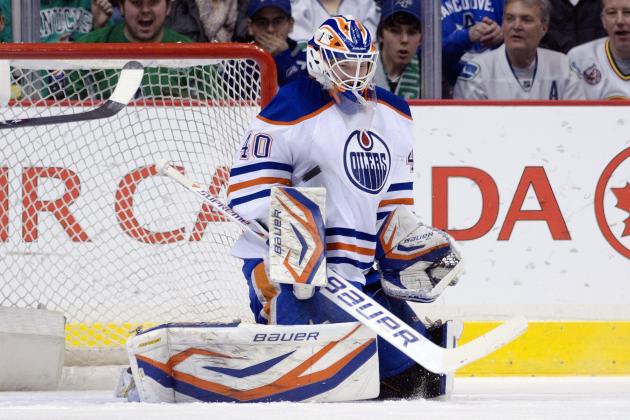 Rich Lam/Getty Images

As the young Edmonton Oilers continue to grow toward their potential, they will become one of the most offensively talented teams in the league.
But offense only takes you so far.
Devan Dubnyk has shown solid play recently, but he's still not the defined No. 1 of the future.
While the Oilers may be looking at goalies this summer, it won't be Luongo. Luongo's contract would force them to officially give up on Dubnyk.
Additionally, Luongo's hefty contract could create a conflict in the future when Edmonton needs to re-sign its young stars.
On the Canucks' side, it wouldn't make sense to trade Luongo to a team that will be contending with them for top place in the Northwest Division very, very soon.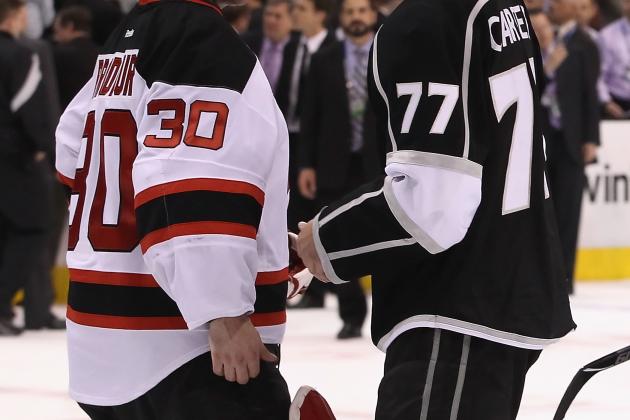 Christian Petersen/Getty Images

If the Zach Parise talks were going south and Brodeur announced his retirement, then the New Jersey Devils could be a top contender to snag Roberto Luongo.
But that isn't the case.
If Brodeur wishes to stay, which is very likely, the Devils will have no issues with re-signing him...and why would they? After all, the 40-year-old was arguably the best player on the team during its incredible run at the Stanley Cup.
Zach Parise is another player who impacts the Devils and Luongo. As long as there is a possibility of re-signing him, the Devils will be keeping their wallet full.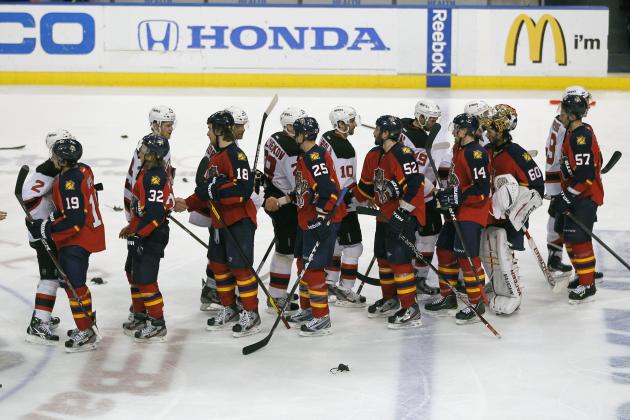 Joel Auerbach/Getty Images

Truth be told, I'm surprised there hasn't at least been a comment from Dale Tallon regarding Roberto Luongo.
The Panthers can afford Luongo, do not have a defined No. 1 goalie and have a long history of being trade partners with the Vancouver Canucks. And there's also the Florida connection with Luongo, as previously mentioned.
That said, I'm not saying the Panthers should be acquiring "Lu."
A long, high-paying contract for a goaltender wouldn't make sense with a star in the making like Jacob Markström in the system.
However, if the Panthers had no interest in a trade, you'd imagine Tallon would make it known.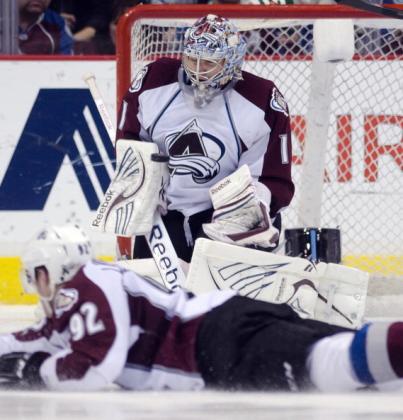 Rich Lam/Getty Images

The Colorado Avalanche are much like the Edmonton Oilers. They have a young goalie (Semyon Varlamov) who may be the goaltender of the future, but maybe not.
They also have a number of young stars who need to be re-signed. A Luongo contract would only set them back in that sense.
Also like Edmonton, the Canucks would be taking a big risk making such a big trade with Colorado, which will be contending in the Northwest in a matter of years.
It's one thing to make a bad trade, but it's another to make a bad trade and have to play against the guy you gave away six times per year.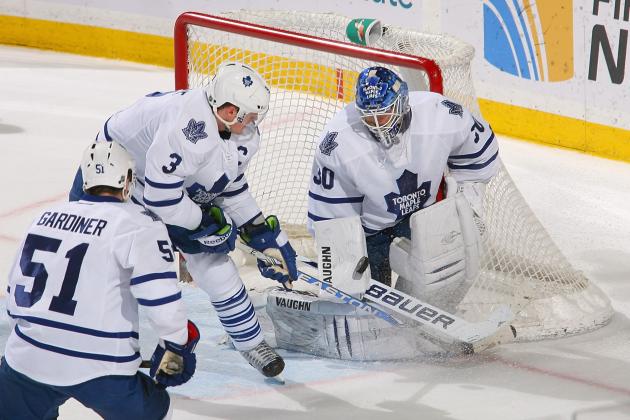 Rick Stewart/Getty Images

So what does this all mean?
It means that leading up to the 2012 draft on Friday—a date that could very well see Luongo traded—the Toronto Maple Leafs remain the lone team that could go for Luongo.
If this doesn't happen and Luongo remains a Canuck, things could surely change.
As time goes on and available goalies are signed, these teams that aren't looking at Luongo could get desperate.
So far, Lindback and Vokoun are the pieces to go, with more on the way. But for the time being, Toronto is the team to watch.