Penn State Scandal: McQueary's Redemption and the Culture That Enabled a Monster
June 15, 2012

Patrick Smith/Getty Images
In the eight months since the Jerry Sandusky child molestation scandal rocked Penn State University to its core, one man has been exposed to an unfair amount of outrage—former Penn State quarterback and assistant coach Mike McQueary.
McQueary, of course was the then a graduate assistant who allegedly walked in on Sandusky raping a small boy in the shower room of the Lasch Building on Penn State's campus.
The story for these past eight months has been that McQueary was in the building late one night doing extra coaching work and reviewing game films after being inspired by the movie Rudy.
As he was retrieving sneakers from his locker he heard the showers running and the
"rhythmic slapping of skin on skin," according to The Morning Call.
He looked into the shower and saw the famed former Penn State defensive coordinator, the architect of the defenses for two National Championship teams at the university, having sex with a child.
He ran out of the building and called his father, who told him to call Penn State head coach Joe Paterno. McQueary went to visit the next morning, and that was it.
During the time between Sandusky's arrest and the ensuing media onslaught of details into what lead to the grand jury indictment, McQueary has been silent, and many people, including this guy, questioned how McQueary could live with himself doing the bare minimum after witnessing such a horrific act.
Jeff Swensen/Getty Images
How could he not have stopped what was going on? How could he not have grabbed the child and ran with him from the building into the nearest hospital or police station?
In hindsight, it's easy for people (especially this guy) to say what they would've done in that situation. But no one really knows how one would act when coming face to face with something so shockingly awful, so unmistakably evil, when they weren't there.
On Tuesday June 12, Mike McQueary, himself a father, took the witness stand in the Jerry Sandusky Child Molestation trial and took full advantage to do his best in making sure an alleged serial child molester was locked up for the rest of his natural life. And he made sure to set the record straight about his own actions.
Leading up to the trial, McQueary was being painted as a bad witness who could sink the prosecution's case because he told friends a story that didn't match his Grand Jury testimony.
McQueary wrote a series of emails to friends saying he did stop Sandusky. According to emails obtained by The Morning Call, he wrote:
"I did stop it, not physically, but made sure it was stopped when I left that locker room."

"No one can imagine my thoughts or wants to be in my shoes for those 30-45 seconds. Trust me."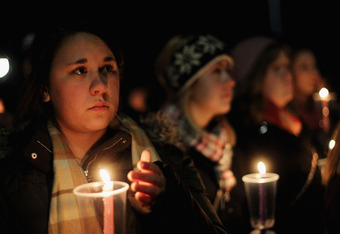 Mario Tama/Getty Images
Under oath Tuesday, McQueary testified to seeing Sandusky engaging in "an extreme sexual position" with a young boy in a reflection in a locker room mirror. He loudly slammed his locker shut; he then looked into the shower directly and saw Sandusky and the boy both standing looking back at him.
McQueary may not have physically stopped it, he may not have removed the boy to safety, he may not have acted violently against Sandusky—but he did stop Sandusky.
For anyone to say they'd have reacted any differently in that situation is just not fair.
McQueary did call his father, who suggested he contact coach Paterno.
McQueary was a kid who grew up in the shadow of Penn State, who dreamed of playing for Penn State—a dream he achieved as the team's starting quarterback in the mid and late 1990s—and after his playing days were over, dreamed of coaching at Penn State.
It is through the prism of those dreams that McQueary's next actions must now be viewed.
Like many Penn Staters—players, fans, faculty—McQueary looked at Joe Paterno with a reverence that was indicative of the rot that set in on the university during the coach's 60-plus-year tender. If most people were to witness such a heinous act, their first response would be to reach out to the police.
But McQueary viewed coach Paterno as being above the authorities. He wasn't alone.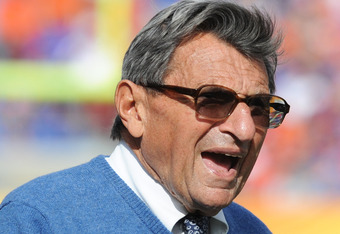 Al Messerschmidt/Getty Images
Paterno, in a mind-boggling act of passing the buck that rightly cost him his job, called his superiors, university president Graham Spanier and Athletic Director Tim Curley, who would eventually ask McQueary to tell his tale of horror a full week after he witnessed it.
But as NBC News and the York (PA) Daily Record are reporting, McQueary's story probably didn't come as a surprise to Spanier and Curley, or the vice president and head of university police Gary Schultz, who apparently had a whole file of Sandusky's shady activities with children on campus.
Schultz and Curley told a grand jury that McQueary was not specific in what he reported seeing and he was not clear enough for the two alleged men to take his story of witnessing one of their football program's legendary coaches raping a child in the shower of one of their athletic buildings seriously.
This was apparently also a lie as emails exchanged between the two show that they looked into possible legal actions against Sandusky before concluding it would be "humane" as NBC and The York (PA) Daily Record report, not to inform the authorities about the actions of their former coach.
Of course, why not look the other way? Sandusky was a major part of two national championships for the school and you wouldn't want to do something that would be "inhumane" to him. Especially when the only people who may have been getting hurt were poor, voiceless kids from broken homes.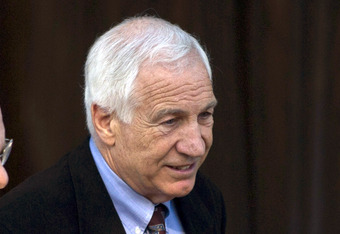 Jeff Swensen/Getty Images
McQueary said during his testimony that as far as he knew, he did talk to the police, according to Yahoo! Sports' Dan Wetzel:
"In my mind, Mr. Schultz represented the police, without a doubt," McQueary testified. "I thought he was very much like a district attorney for the university."
But what McQueary did not know was how corrupt the powers that be at the university he loved truly were.
In addition to Spanier, Schultz and Curly, who apparently knew something was very, very wrong with Sandusky, Esquire Magazine uncovered something very interesting in the Paterno Library.
You will find that he [Joe Paterno] was a very reliable man. When he planned to do something, he would do it. In fact, if you look at his agenda from 1998, you'll see that he almost always kept to his schedule, and that his only cancellations fall within a very narrow window of time.

The first cancellation is on May 15, two days after police listen in on Sandusky's half-confession to the mother of a young boy. That evening, Paterno cuts short a fundraising trip to Valley Forge, then cancels a four-day-long personal vacation he had been planning to take from May 16 to 19, to his summer home in Avalon, New Jersey. He resumes his scheduled fundraising trips in June, about a week after the investigation against Sandusky is dropped. He doesn't miss any more events for the remainder of the year.

The following season, Sandusky abruptly and unexpectedly announces his retirement.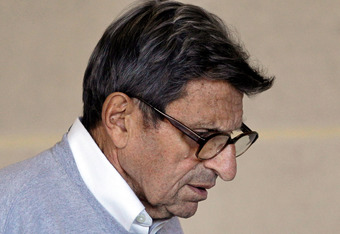 Rob Carr/Getty Images
This is not conclusive proof that Paterno knew about the 1998 investigation into Sandusky's inappropriate conduct with young boys, but it raises some questions.
Sure, McQueary could've gone outside the insular world of State College to the Pennsylvania State Troopers or even the FBI, but why would he?
These men he turned to were men McQueary looked up to and saw as people who stood for all that was good in his world. I mean, even people of questionable character usually put their foot down when it comes to the issue of child molestation.
But for the next 10 years after witnessing Sandusky's monstrous behavior, McQueary had to live and work on a campus that gave the alleged child rapist free reign.
How could McQueary stomach it? How could he stay around when Sandusky, who still had access to the football program's buildings, would come around sometimes with boys from his Second Mile charity in tow?
Fact is he couldn't.
McQueary testified he never again spoke to Sandusky and that any time the former coach entered a room McQueary would hastily exit. McQueary's disdain for Sandusky became so obvious that other
people questioned him on it.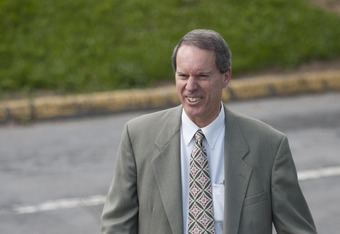 Jeff Swensen/Getty Images
When questioned, McQueary would just say he witnessed something awful and never wanted to see Sandusky again. Eventually, he started asking why Sandusky still had access to campus facilities.
McQueary, who was feared to be a poor witness for the prosecution, turned out to be a boon for it.
He intensely testified, refused to let the cross examination focus on little, insignificant issues and refuted assertions that he took part in a charity event for Sandusky's Second Mile Charity (turns out it was an Easter Seals charity event). He also told the defense not to put words in his mouth and firmly stuck to his story of what he saw.
He also expressed regret for not doing more at the time. But now given a second chance, he's standing up to Sandusky and for the victims. Try as they may to introduce dubious suspicions of a conspiracy amongst the victims who may be out for money in civil suits, the defense can't answer what McQueary testified to witnessing.
After all, he had nothing to gain. He already had his dream job; coming forward could only jeopardize that.
He was asked why he didn't quit after seeing Sandusky still lurking about campus.
His answer: "I would never resign from Penn State."
To do so would be to admit to himself that something he believed in his entire life was flawed and was not what he believed it to be. That people he put his faith in ultimately enabled a monster to abuse children within their walls—allegedly, of course.
It was this conflict that basically paralyzed McQueary from doing more, and yet to this day, he testified he still wants to be a football coach at Penn State—something that he lost the chance to do by coming forward, as he was put on leave last November.
His faith in what Penn State, and its football program, stood for is still that strong.
You find this same conflict with Catholics who have not lost their faith despite the mind-numbingly horrific things an alarming segment of their clergy have done to so many children over the years and how Church authorities looked the other way on some of these detestable acts and swept others under the rug.  
But Catholicism, like all religions to their faithful, is ultimately about God, creation, finding a meaning to existence, the human condition, mankind's place in the universe, eternal life, physical and spiritual salvation.
Penn State is just a university. Its beloved football program is just basically a platform to play entertaining games once a week every fall.
Nothing more important than that—just games.
And Joe Paterno was not God, no matter what his faithful will still tell you.