Boston Celtics: Breaking Down Pros and Cons of Re-Signing Kevin Garnett
June 15, 2012

Mike Ehrmann/Getty Images
A week ago, with a 3-2 lead in the Eastern Conference finals against the Miami Heat, Kevin Garnett and the Boston Celtics didn't expect to be spectators for the NBA Finals.
Instead of competing to win a championship, both KG and Danny Ainge must decide if another year in a Celtics uniform is a good fit for both sides.
There are pros and cons either way you look at it. While Garnett may still have value as an NBA player, it could be best if Ainge turns the page and gets ready for the next chapter of Celtics basketball.
Here's a look at the pros and cons as it relates to KG's potential future as a Boston Celtic.
Pros
It probably wasn't the plan before the season for Ainge and the Celtics, but bringing Garnett back wouldn't be the worst thing in the world right now.
Boston has no frontcourt depth, and KG showed that he still has productive basketball left by averaging 19.2 points and 10.4 rebounds during the Celtics' playoff run. Once Doc Rivers moved Garnett to the 5 this season, it gave KG new life and his production started to increase.
In addition to still producing at a high level, Garnett can serve as a mentor to Boston's young big men, as Boston is expected to use at least one of their two first-round picks on a big.
Garnett is a guy who only cares about winning. He doesn't care about how many shots he takes or how many points he scores. He just wants to win. There aren't many players in the game with that attitude anymore, and it's an asset.
Finally, and probably most importantly to the Celtics, KG won't eat up too much salary-cap space. Garnett won't command anywhere near the $21.2 million he earned this season. If an affordable deal can please both sides, then it is almost a no-brainer to bring KG back for another year or two.
He's a leader, a culture changer and a tone setter, even at his age. Those type of guys don't grow on trees.
Cons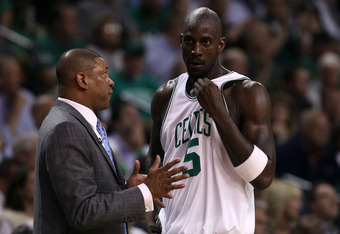 Elsa/Getty Images
First the obvious, and that's the fact that he's 36 and has been in the NBA 17 years. There's a lot of mileage on those knees, and it looked like KG started to wear down during Games 6 and 7 of the Eastern Conference finals.
Next, Garnett will want to see what improvements the Celtics make before deciding to re-sign. That could put Ainge in a tough spot to potentially throw some unnecessary money around and overpay for players.
KG won't be waiting around all day, and it will force Ainge to maybe act quicker than he would normally like. While Ainge likely wants to re-sign KG, so do plenty of other teams, and he doesn't want to get into a bidding war for Garnett's services.
However, the question still comes down to age and production. He looked good this season, but one day, even the greats are unable to do it at the high level they are used to. No one can defeat father time, and KG won't be an exception.
Reality has to come into play for Ainge, and he knows that, eventually, it's his job to make the tough decisions and rebuild this team. It may be an unpopular opinion, but in reality, the Celtics weren't a championship team with KG this year. Does bringing him back a year older make them any better?
While KG won't command $21 million, he likely won't come cheap. Does Ainge want a commitment for a couple years that will tie up valuable cap space? A rebuild is inevitable, and it may be best for both parties if the Celtics just move on without KG and prepare to start over.
Ainge has money to play with, so the Celtics won't be bad, but it make more sense to acquire younger talent and turn the page on the Big Three.
Follow Matt Shetler on Twitter for news, reaction and analysis from around the NBA.