NBA Podcast: Finals Game 3 Prediction, Draft Buzz, Free Agency News
June 15, 2012

Ronald Martinez/Getty Images
As the 2012 NBA Finals shift to a pivotal three-game stretch in South Beach, the young Oklahoma City Thunder have yet another mountain to climb.
In this episode of Basketball by Association, NBA Featured Columnist Joel C. Cordes and NBA Assistant Editor Ethan Norof discuss the key adjustments the Thunder must make, and why the Heat are still in somewhat of a precarious position.
If the embedded player fails to load, you can find the episode here.
LeBron James has been stellar through the first two games, largely making up for solid, if somewhat inconsistent efforts from Dwyane Wade and Chris Bosh.
Outside of a suddenly sweet-shooting Shane Battier, the Miami Heat are once again wondering whether Mario Chalmers can produce more than one good game in a row, and whether their bench even has a pulse.
The Thunder have some major pace and rotational adjustments to make if they want to capitalize on what got them this far in the first place.
The 2012 NBA draft combine numbers are in, and there are a number of players whose stock has risen or fallen. Whose expectations are now out of proportion with reality? Which suddenly underrated names will be high-value picks?
In NBA free agency news, Brandon Bass and Gerald Wallace are in perfect positions to leverage the Boston Celtics and Brooklyn Nets, respectively. But will they? There are some interesting outside fits for these multi-dimensional forwards.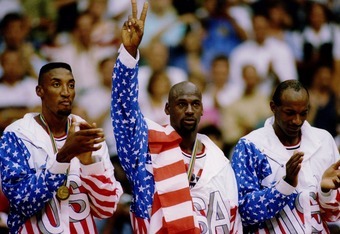 Mike Powell/Getty Images
Finally, did Isiah Thomas really deserve to be on the 1992 Dream Team? Should David Stern fine himself for the ridiculous comment he made on Jim Rome's radio show?
Basketball by Association is your final destination for all things NBA on Bleacher Report.