Kansas City Royals: 3 Players That Need to Step Up Big the Rest of the Year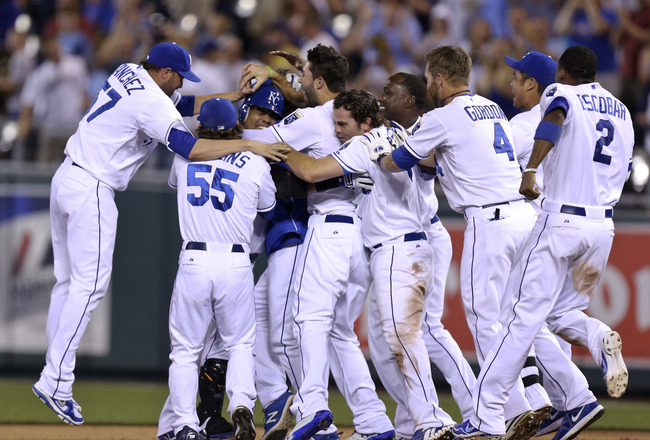 Ed Zurga/Getty Images
This season was deemed as the last step before finally becoming relevant again in 2013, but the Kansas City Royals have digressed to the point that some fans are magnifying their concerns of the blueprint laid out by general manager Dayton Moore.
Following yet another dismal start (3-14 through the first 17 games), the Royals have actually put together a solid run, going 24-20 since. Luckily the Royals call the American League Central home and currently sit just six games out of first place.
Although a 12-game losing streak earlier in the year seemed to derail the season before the first month could expire, the Royals are a healthy stretch of victories away from being a .500 team and possibly (hopefully) becoming buyers as the trade deadline approaches.
The Royals will need contribution from the entire roster to turn the season around, but here are three players that need to step up to salvage the 2012 campaign.
Luke Hochevar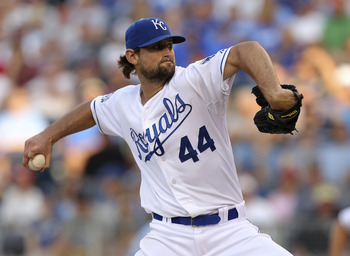 Ed Zurga/Getty Images
Luke Hochevar was drafted No. 1 overall in 2006 by the Kansas City Royals, and while hindsight is always twenty-twenty, it has become obvious that he was indeed the wrong choice.
Not only has his own performance sealed his fate as a bust around Kansas City, but the players selected after Hochevar in that draft (Evan Longoria, Clayton Kershaw, Drew Stubbs and Tim Lincecum to name a few) have made the Royals' decision even more laughable.
However, Hochevar has put together stretches that hint at a smidgen of competency as a capable starting pitcher.
Since the Royals are still void of a top-of-the-rotation arm, Hochevar is one of two constants (Bruce Chen) on the starting staff that the team can rely on over the course of a season.
Eric Hosmer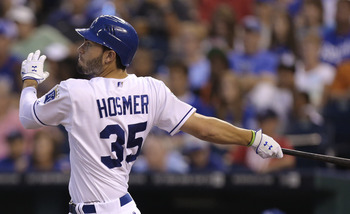 Ed Zurga/Getty Images
Eric Hosmer is the face of this particular youth movement for the Kansas City Royals, leading the charge as the team fights to become relevant in the American League again.
After a spectacular debut campaign, finishing third in Rookie of the Year voting, Hosmer has been mired in a season-long slump so far in 2012--only recently showing signs that last year was no fluke.
As Dayton Moore methodically sprinkles the organization's talented young players onto the big league roster, Hosmer will always be viewed as the anchor for this particular era of baseball in Kansas City.
If the Royals' time is indeed 2013, it is imperative that Hosmer use the rest of this season to prepare to be the king in Kansas City.
Alex Gordon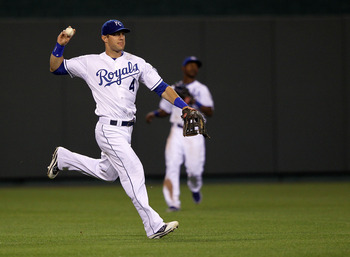 Jamie Squire/Getty Images
Alex Gordon is to Kansas City Royals position players as Luke Hochevar is to its pitchers, except Gordon has been able to harness his abilities and positively contribute over an entire season.
Gordon was unfairly thrust onto the scene in Kansas City, being tabbed as the next George Brett. No one will ever be George Brett again. And everyone knew that, except Gordon.
As his career in Kansas City was on its last gasp, Gordon settled into the leadoff spot in the Royals' lineup in 2011 and put together his best season as a pro, batting .303/.376/.502 with 23 home runs, 87 RBI, 101 runs scored, 45 doubles and 17 stolen bases.
That success hasn't exactly carried over into this season, but Gordon is no longer the guy that wanted to be George Brett. He is just fine with being Alex Gordon. That means being the veteran leader on a team full of talent, but with little experience.
If Gordon's role is as the team leader and a solid contributor at the top of the lineup for Kansas City, while provide stellar defense in left field, that could be all the Royals need from him to turn the 2012 season around.
Contact Jeremy at jeremy@popflyboys.com, on Twitter @KCPopFlyBoy and at popflyboys.com.
Keep Reading

Kansas City Royals: Like this team?