Auburn Football Recruiting: Robert Nkemdiche's Choice Great News for the Tigers
June 15, 2012

When it comes to recruiting, hearing that a rival missed out on a big-time recruit is just as good as landing one of your own.
That is the case of the Auburn Tigers and Robert Nkemdiche. 
According to Rivals.com, Nkemdiche has chosen the Clemson Tigers over numerous powerhouse schools, including Alabama and LSU.
So, how is this good news for the Auburn Tigers?
It's quite simple, really. 
Auburn was not in the running at all for Nkemdiche. The race for his services had boiled down to Alabama, LSU, Georgia, Clemson and possibly one of Mississippi's Division I schools. 
Since Auburn wasn't being by considered by Nkemdiche, it can only be good news that he didn't select one of their rivals, Alabama and LSU, whom Auburn faces each and every year. 
Here is a breakdown of why Nkemdiche's commitment to Clemson is good news for Auburn based on the impact he could have had for Auburn's opponents. 
Alabama
The Tigers have to face Alabama in the Iron Bowl every year and at the very end of the season. More often than not, it is the toughest game of the season for both opponents—look no further than the 2009 and 2010 editions of the Iron Bowl for evidence.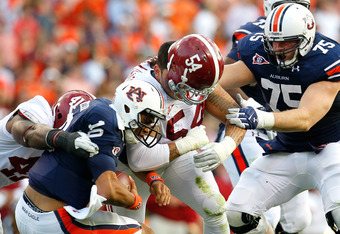 Kevin C. Cox/Getty Images
Under Nick Saban, Alabama has been a deadly foe against all opponents, Auburn included. Even without Nkemdiche, the Tide are a serious threat to the Tigers every year. 
Assuming Nkemdiche lives up to his hype, Alabama's already ridiculous defense each year would be even more suffocating. 
LSU
Like Alabama, Auburn must face LSU each year. Though it isn't the Iron Bowl, this showdown will be just as contested. 
LSU is a national powerhouse at the moment, and it looks to remain so over the next several years with Les Miles at the helm. 
The Louisiana version of the Tigers can be just as dominating as any team in Alabama, be it Tuscaloosa or Auburn. The LSU defense has been monstrous in recent years and will continue to be so in coming seasons. 
Adding Nkemdiche to LSU's roster would make Auburn's return to dominance even more difficult. 
Georgia
Georgia is another team that was in the running for Nkemdiche, and his commitment to the Bulldogs would have been a terrible blow to Auburn. 
The Bulldogs don't play in the same SEC division as Auburn, but they play each other every year and will likely continue to do so in coming years despite the changes to the SEC. 
In addition, Georgia is one of the powerhouses of the SEC East, including past, present and future.
If Auburn was to make it to the SEC Championship Game, the odds of facing Georgia would be pretty high. 
And the chances of Auburn facing a team with Robert Nkemdiche have gone from certain to highly unlikely. 
Ole Miss and Mississippi State
Mississippi State was in the running to get Nkemdiche's services, but it seemed like a long shot. 
Ole Miss, however, looked like it had a serious underdog's chance to land him since his brother, Denzel Nkemdiche, plays there. 
Both of these teams are far from being at the top of the SEC, but both of them head into every game with hopes of an upset. 
Mississippi State has proven to be a difficult opponent against favored teams, and Ole Miss is desperately seeking its return to power in the SEC like it had a few years ago. 
Nkemdiche will be at neither of these schools, and though Auburn will go to great lengths to prepare for these showdowns, the games will prove to be a walk in the park for the Tigers. 
Conclusion
The nation's No. 1 recruit didn't commit to Auburn, so it's really no concern of Auburn's. 
But he also didn't commit to its rivals. 
The Tigers will head into every season with high expectations, and they will often achieve some lengthy goals. Those goals will be so much easier to attain when they don't have to face a ferocious player like Robert Nkemdiche one or more times every year.