Ireland Deserve to Go, but Can Euro 2012 Keep Their Fans, Please?
June 14, 2012

Jasper Juinen/Getty Images
Thursday night saw the Republic of Ireland consigned to being the first nation officially eliminated from Euro 2012 after they were drubbed by Spain in Gdansk, but their fans deserve a trophy.
The tournament can cheerily bid good riddance to Giovanni Trapattoni's players, who were meekly booted out after failing to earn a point from their first two games, yet their supports' spirited backing has put every other nation to shame.
That may sound like the sort of condescending cliché typically bestowed upon the Irish team by an Englishman, but the supporters who have had to travel the furthest to get behind their team have been a timely example of what is good about football.
Off the pitch the tournament has been marred by fan violence, bigotry and racism. From the Russian thugs who battled with Polish hooligans in the streets of Warsaw to the small pocket of Spanish supporters who directed monkey chants at Italian striker Mario Balotelli, this tournament has been in dire need of some positive vibes emanating from the stands to match the thrilling, high-quality fare being routinely served up on the pitch.
England have only brought a handful of fans across Europe this time around, but even when they bring the strongest travelling contingent of any nation to a tournament, as they regularly do, their presence is nothing like the edifying one of those who hail from the island just to their west.
It has been left to Ireland to provide (another cliché alert) a splash of colour to these finals, their first for a decade, and they have done so with aplomb.
Even Spain manager Vicente del Bosque was moved to say in his post-match press conference: "The Irish fans have shown us what football really is."
The internet is already clogged up with websites and blogs dissecting the tactics of Spain's performances, comparing and contrasting data of how they fared with a false nine in their first game compared to an actual No.9 in their second, but the human element of football is just as essential though unquantifiable.
My colleague at Eurosport, Sean Fay, has been travelling around Poland with the Irish fans, and he has told stories in his brilliantly-titled blog "Lord of Gdansk" of how every town they have visited and every group of rival fans they have encountered have been greeted and treated as old friends.
The cheap beer helps, of course, but the Irish have brought their infectious good humour to a tournament in dire need of it. Just one example is this picture, which did the rounds on Twitter ahead of the Group C opener against Croatia in Poznan, of two Irishman standing in front of a phalanx of Polish riot police bearing hand-written signs saying "Careful now" and "Down with this sort of thing", an ingenious reconstruction of a scene from classic Irish sitcom Father Ted.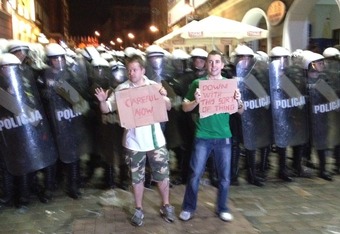 Ironically, Giovanni Trapattoni's team have probably been the worst in Poland and Ukraine thus far. In the first half, Ireland captain and striker Robbie Keane touched the ball a total of nine times. After the break, they conceded a goal within five minutes of the start of a half for the third time in the tournament. The final completed pass count read 788 to 178, with Xavi breaking European Championship records for both passes attempted (136) and completed (127).
But even as Cesc Fabregas smashed home the final goal of the defending champions' comfortable 4-0 win in the closing stages of the game, the Irish fans rang out a loud and stirring rendition of Fields of Athenry that ensured the insipid performance of the Boys In Green on the pitch was not reflected on the country as a whole.
On Spanish television there was a mix-up with the sound during the post-match coverage. Instead of the usual punditry and interviews that follow the final whistle, all that could be heard for a short time was the sounds of Irish fans, mixed in peacefully with the Spain supporters, singing proudly as though it was their side who had just won 4-0. It was a perfect metaphor for the mark they have left on the tournament.
Their players have one last chance to follow suit, against Italy in Poznan in Monday. Even if, as is likely, that feat is beyond them, at least the fans are sure to leave their mark.