Boston Red Sox: Theo Epstein's Mistakes Admission Is Too Little, Too Late
June 14, 2012

Jonathan Daniel/Getty Images
As he admitted in a radio interview with Boston's 98.5 The Sports Hub yesterday, former Red Sox general manager Theo Epstein admitted to compromising the long-term health of the franchise and "giving in to the need to be good next year" late in his tenure with the team.
This was not exactly earth-shattering news to anyone who has watched the Red Sox this season.
Epstein was a bit more candid with The Boston Globe's Dan Shaughnessy in an interview published this morning, acknowledging that he and his group "were best at drafting and developing young talent and finding some undervalued players" rather than signing free agents.
He also told Shaughnessy that he "really [does]" feel bad about saddling the team with so many crippling contracts on his way out of town, but notes that the team's strong drafts will also "impact the franchise in a great way."
Sifting through these two stories, one thing becomes clear: By his own admission, the Epstein era in Boston is tainted by the poor state in which he left the Sox.
Whether he knew just how catastrophically things were going to unfold is anyone's guess. After weathering last September's collapse, though, Epstein clearly saw that the Sox were a team headed in the wrong direction. When the Cubs came after him with an $18 million offer, there was no reason for him to stay.
Epstein will forever be revered in Boston as a man who ended the so-called "curse" and constructed two World Series championship teams. While it's true that much of this credit is indeed due to him, it also must be acknowledged that many of his decisions backfired horrifically.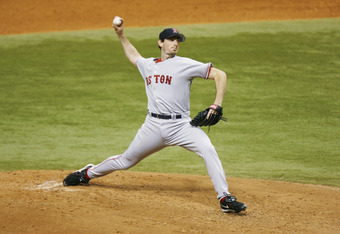 Eliot J. Schechter/Getty Images
His list of free-agent signings is a veritable "who's who" of baseball washouts. While any GM is bound to botch a couple signings, few have ever done so with the amount of money on the line that Epstein did.
Epstein's most disastrous signings (a group comprised of Bobby Jenks, Carl Crawford, Daisuke Matsuzaka, Edgar Renteria, J.D. Drew, John Lackey, Julio Lugo, Matt Clement and Mike Cameron) will end up costing the Red Sox a total of $526.5 million. These players, all supposed to fill significant holes on the roster, were/are, at best, marginally useful.
While it's certainly refreshing for fans to hear a new voice sharing the blame for the Sox's woeful start to 2012, Epstein's interviews do nothing to ease the sting of watching a team with a $170 million payroll flounder in last place. His accountability may seem like a noble trait, but anyone can hold themselves to the flame for past mistakes when they're safely entrenched in a more powerful and lucrative position.
Epstein is enjoying the benefit of hindsight without having to worry himself with the consequences of his actions.
Ben Cherington, Epstein's close friend and successor, has instead been given the unenviable task of weathering the on- and off-field disaster this team has become. While it may be convenient to blame the novice GM for his conservative approach to this season, he has been burdened needlessly with Epstein's many botched attempts to turn this patchwork team into a champion.
Although scapegoating is a particularly beloved pastime amongst Sox fans, in this case it will do absolutely no good. Fans, the media and perhaps even members of the Sox organization were blinded by Theo hero-worship and allowed things like the Renteria disaster to be "corrected" by the Lugo apocalypse.
It's perfectly fair to wonder if Epstein had been held more accountable for his mistakes during his time here, would things be unfolding as they did last September and in 2012.
Because nobody thought it was necessary to question the GM's tactics and decisions, the Red Sox Nation "monster" Epstein described to The Sports Hub has nobody to blame for this debacle but themselves.