Can We Please Stop Talking About Tim Tebow's Role with the New York Jets?
June 14, 2012

Mike Stobe/Getty Images
Tim Tebow's role with the Jets is one of the most popular topics this offseason. For the most part, the answers have been the same from the Jets coaching staff and management. 
Yet for some reason, the subject of Tebow's role with the Jets continues to be pummeled worse than Private Pyle.
According to Rex Ryan, per Pro Football Talk:
Is he behind [Mark] Sanchez on the depth chart? Yes. Just like every team has a guy behind their starting quarterback. But he brings so much more to the table. Obviously we talked about the Wildcat deal, we talked about the personal protector.

In a lot of ways, he's replacing a guy that I love, who was Brad Smith, and everybody knows that, and we were very effective running the Wildcat, and he's basically replacing Brad in that role. He's also your backup quarterback, No. 2 quarterback, and he's also your personal protector, as was Brad Smith.
First of all, it's not absurd for Ryan to point out what Tebow's role will be with the Jets. In fact, I admire the "every team has a guy behind their starting quarterback" line. It's just that it's been discussed again and again and again. Even the subject of Tebow specifically as a pseudo-Brad Smith isn't a new one.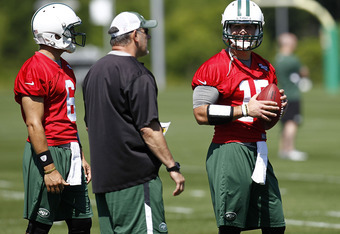 Jeff Zelevansky/Getty Images
Can't blame them, though; they're just answering the questions.
Blame those asking the questions then.
At this point, do we really need more sound bytes on Tebow's role? Let it be understood that he is part-Wildcat quarterback, part-personal protector, part-backup quarterback. There's nothing wrong with saying that because right now, that's all that's expected of him. Or at least that's all that should be expected of him.
Anyone who wants or expects more than that is expecting Sanchez to fail.
Tebow is the backup, after all.
Secondly, how many times does he have to say that Sanchez is the starting quarterback of the team before people get it? Sure, when Sanchez throws a pick or two (or five), there will probably be people calling for Tebow. For Rex to address that now would be sending an awful message to his starting quarterback and to his team as a whole.
Because it's not about what's good enough to satisfy the expectations or the hype. It's about what's good enough to help the team win. Right now, the best-case scenario is for Sanchez to perform well enough that those calls for Tebow never come to fruition.
For once, it looks like Rex is the one who actually gets it.
Erik Frenz is the AFC East lead blogger for Bleacher Report. Be sure to follow Erik on Twitter and "like" the AFC East blog on Facebook to keep up with all the updates.