What Will Happen with These 5 (and a Half) Green Bay Packers in Contract Years?
June 14, 2012

Nick Laham/Getty Images
As I perused the list of Green Bay Packer contracts, I thought maybe they were going to get off lightly next offseason.
Each of the other teams in the division have some pretty significantly vital players in the final year of their contract, and midway through the list, the Packers weren't facing that problem.
Then I hit the midway point, and that changed.
It turns out that there is one very major player up for renewal and several others who could play an important role in 2011.
Greg Jennings—6/23/2009: Signed a four-year, $26.885 million contract; 2012: $3.885 million; 2013: Free Agent
I was surprised by the silence around this, but in a way, that's pure Packers.
Of COURSE they're quiet on this. That's how Jennings is and that's how the team prefers it.
It would be hard to believe they'd let Jennings go next season, but the Packers don't overspend, they don't chase the market and they have incredible wide receiver depth.
Here are XX things which will factor into this very heavily.
First, what does he want? Jennings isn't elite in a Calvin Johnson or Andre Johnson way, but he is a top-tier wide receiver. He can get some serious bank out there from another team.
So how much will it take to keep him a Packer?
Part of that might be determined by number two: How does he do in 2012? We all know the way this goes—if he gets hurt or has a down year, the team gets him for a bargain rate. If he blows up or has an otherwise very good year, it will cost more.
That's how it goes. Will he take a hometown discount? Will he want the moon?
His available choices are dictated by how he plays—what he does with them is hard to speculate. He's had a great run on a team which is a Super Bowl contender year in and year out.
How much that's worth to him is hard to say.
Finally, how do the other receivers do? Was Jordy Nelson a flash in the pan? Will James Jones have a big year? Will Randall Cobb step up?
The answer to those questions will determine what he can and can't expect, as well.
Ultimately, they should work this out. Both sides are better with each other than without.
T.J. Lang—7/7/2009: Signed a four-year, $2.253 million contract, the deal included a $502,500 signing bonus; 2012: $1.26 million; 2013: Free Agent
T.J. Lang is good enough to start, but barring a ridiculous season, he's not good enough to pay a lot for. If Marshall Newhouse doesn't implode, Derek Sherrod will be looking for a new home—why not left guard?
This isn't to say the Packers won't try to bring Lang back—just that they may not have to. The team excels at letting go of veterans when they can be replaced—this could be another case of that as I do feel that Sherrod could step in, or Newhouse shift over***.
A great season will help Lang, sure—maybe help him right out of Green Bay.
Charlie Peprah—3/4/2011: Signed a two-year, $2.25 million contract.
Sam Shields—4/26/2010: Signed a three-year, $1.223 million contract.
Peprah hits free agency next year, while Shields will be a restricted free agent.
It should be an intriguing year for both.
Matthew Stockman/Getty Images
As of today, Peprah will be the starting free safety, but rookie Jerron McMillian is right behind him. Peprah had five interceptions last season but was burned long more than once. He'll be helped if the Packers have a pass rush to speak of, but this truly is a make-or-break season.
If he loses his job, he may lose his spot or else get a contract offer way below what he may hope for.
Shields is a restricted free agent, and to me, what price tag the team puts on him will be interesting. He's their primary slot corner and there isn't much depth behind him—a fact which could keep both he and Peprah around another year or so even if they play below average.
However, how much are you really going to spend on a player who comes off the bench? Even if he improves from last year—which was good, especially by this secondary's standards for 2011—the team won't put the price too high, because why would they pay him a wagon full of money?
Donald Driver—5/29/2012: Signed a one-year, $2.3 million contract; 2013: Free Agent
I love Double D. He's a great teammate, an upstanding guy off the field and a fantastic presence in a locker room. I lobbied hard for him to go back to Green Bay.
That said, I don't think there will be yet another last hurrah for him.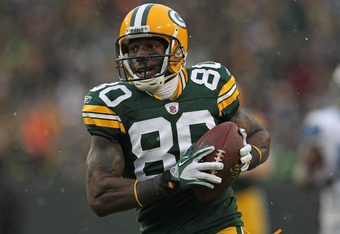 Jonathan Daniel/Getty Images
With the talent on the roster, there just isn't room, and while having him around will help with a few of the younger players, they'll all be a year better by next year, so it just won't make sense to have him back.
I expect them to sign him to a contract just so he can retire a Packer, but that's about all, even if he has a season for the ages.
Anthony Hargrove—3/29/2012: Signed a one-year, $825,000 contract
Hargrove could have been a big free-agent addition—the sort of move the Packers seem to pull off every once in a while. Getting a veteran who can be productive on the cheap is always good—maybe even if he's serving an eight-game suspension for something done long before he signed a contract with you.
Hargrove can still have a big impact on this defense when he shows up after the suspension. However, the hope should be that he doesn't have to.
Jarius Wynn will probably get early reps at Hargrove's spot, but Jerel Worthy is the guy we'll be watching closest.
If he takes off the way I'm betting he can, Hargrove won't just be less valuable—he'll be superfluous.
***This line has apparently been a point of contention with several people, including the player himself. It is an overstatement, perhaps, even though the average NFL career is 6 years. As a fourth round draft pick, one could argue Lang is closer to the end than the beginning. That said, it is an overstatement and in order to not lose my point, have altered it. Otherwise, I do stand by what I wrote.
Check out the B/R NFC North Facebook page - like us and keep up with everything NFC North on Bleacher Report!