MMA: The Top 30 Fighters Halfway Through 2012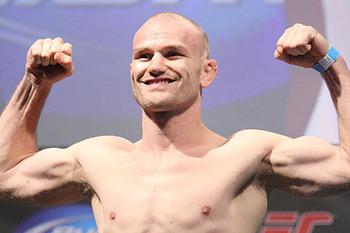 mmaweekly.com
2012 has proven to be a very entertaining year for fight fans. A couple of champions emerged, flyweights entered the Octagon, Jon Jones is human after all, and the heavyweights took center stage for an entire PPV.
After all the fights a number of fighters have risen above the rest. These guys have fought through adversity and have overcome the difficult challenge of not only staying healthy in training but facing the dangers of their opponents as well.
These men have amazed fans with impressive finishes, winning streaks and even the resurrection of a career. No matter where they are placed, it's clear they are MMA's cream of the crop halfway into 2012.
Alan Belcher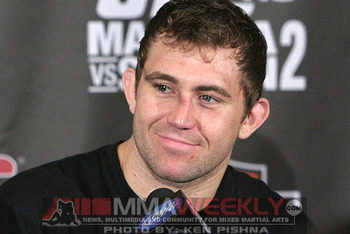 mmaweekly.com
Alan Belcher continued the feel-good story of his return to MMA by defeating the talented Rousimar Palhares in May.
Belcher had thoughts of securing a submission victory in the weeks leading up to the bout, but eventually had to settle for a TKO victory. Belcher showed great submission defense and even attempted a few exotic submissions of his own.
Belcher is one of the best fighters people seem to forget about, and hasn't lost since UFC 100.
Ben Rothwell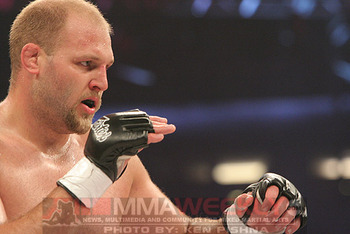 mmaweekly.com
Many MMA fans were beginning to think it was the end of the road for Ben Rothwell after he began his UFC career with a 1-2 record. A young Brendan Schaub was looking to rebound and was a popular pick when the two men met at UFC 145.
Rothwell showed he had taken his training to a new level, as he didn't look as lethargic in previous appearances. He eventually secured a KO on Schaub that would earn him Knockout of the Night honors.
After effectively resurrecting his MMA career, Rothwell looks to continue his winning ways when he takes on top prospect Travis Browne later this year.
Hatsu Hioki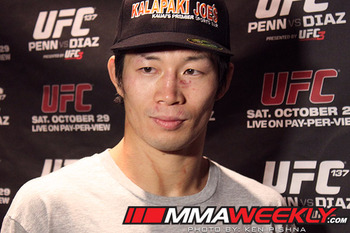 mmaweekly.com
A rocky UFC debut didn't do Hatsu Hioki any favors with MMA fans. Hioki was brought in to give a fresh face to challenge Jose Aldo but questions still remained after his fight against George Roop.
Hioki answered those questions by putting on a clinic against Bart Palaszewski at UFC 144. Hioki was able to use numerous takedowns to control the fight and threatened Palaszewski with some submission attempts.
The elite featherweight passed on a title shot and will now face Ricardo Lamas later this month.
Ryan Bader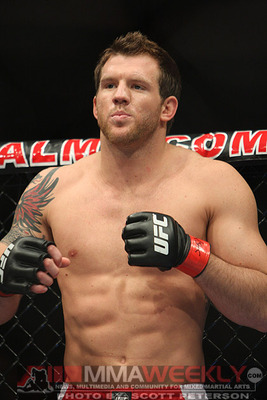 mmaweekly.com
After saving his UFC career by defeating Jason Brilz to cap off 2011, Ryan Bader faced his toughest test in Quinton Jackson at UFC 144. The fight was marred by controversy, as Jackson came in over the weight limit, an incident Jackson credited to not being able to get his "road work" in.
Bader's focus would not be affected as he came out and dominated Jackson in every minute of the fight. Aside from a classic "Rampage slam," Bader faced little opposition from Jackson.
The former Arizona State standout will have a chance to continue his rise to the top when he faces former UFC champion in August.
Michael McDonald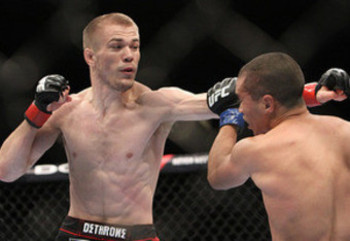 mmaweekly.com
At 21 years of age, Michael McDonald has the best years of his career ahead of him. Yet, McDonald has accomplished more than some fighters who've competed their entire lives.
McDonald wowed UFC fans with a thunderous KO of Alex Soto last November, and took a huge step up in competition when he faced Miguel Angel Torres at UFC 145. Not only did the young McDonald defeat the former champion, but he viciously KO'd Torres.
McDonald was among three possible replacements for the interim bantamweight title shot, which bodes well for "Mayday."
Fabricio Werdum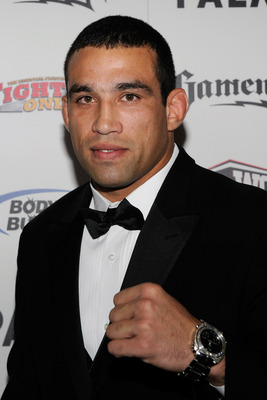 Ethan Miller/Getty Images
Fabricio Werdum made a triumphant return to the Octagon in 2012. After a promising Strikeforce career that ended with a loss to Alistair Overeem, Werdum needed to make a statement in his first UFC appearance since being KO'd by a young Junior dos Santos.
Werdum would make a statement indeed at the expense of Roy Nelson. The Brazilian showed vast improvements in his striking and battered the durable Nelson with knees from the Muay Thai plum.
"Vai Cavalo" wasn't able to secure the finish, but that's nothing to be ashamed of, as those knees would've stopped a lesser man.
Werdum will be stepping back into the Octagon at UFC 147 against Mike Russow.
Chan-Sung Jung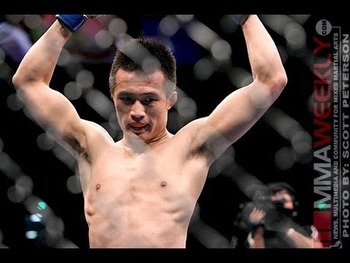 mmaweekly.com
Chan-Sung Jung has been one of the most popular fighters since competing inside the WEC. After a huge KO of Mark Hominick to close out 2011, "The Korean Zombie" seemed back on his way to title contention.
Jung faced the exciting prospect Dustin Poirier in May in what many fight fans are calling the Fight of the Year thus far. Jung survived the back-and-forth bout and emerged victorious by way of submission.
"The Korean Zombie" will now have a tough choice between waiting for his title shot or choosing to stay active, as featherweight champion Jose Aldo will be on the sidelines for a while.
Vitor Belfort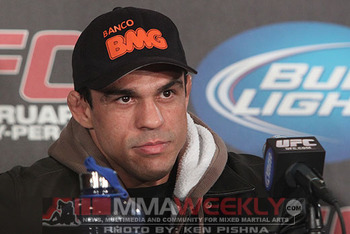 mmaweekly.com
Vitor Belfort deserves credit for being a true competitor. After the disaster that was Anthony Johnson at the UFC 142 weigh-ins, Belfort didn't stir up a storm. Instead, the Brazilian went about his business and agreed to a catchweight bout.
Belfort survived an early onslaught by Johnson and would eventually secure a rear-naked choke to take home the victory.
Belfort was originally scheduled to face off against Wanderlei Silva after their time on The Ultimate Fighter: Brazil, but a broken hand forced Belfort out of the bout.
Demetrious Johnson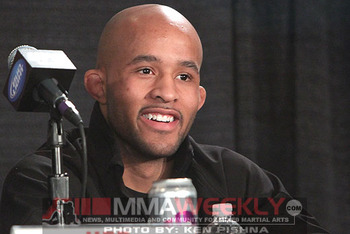 mmaweekly.com
The flyweight division seemed to be tailor-made for a guy like Demetrious Johnson. While a successful bantamweight in his own right, it was clear that Johnson was simply too small to compete with the elite bantamweights of the world.
Competing in the flyweight tournament, Johnson faced Ian McCall in March. The entertaining fight was originally announced as a win for Johnson, but would be later revealed to be a draw.
The subsequent rematch saw Johnson look the best he ever has, and set him up for a showdown with Joseph Benavidez for the first UFC Flyweight title later in 2012.
Joseph Benavidez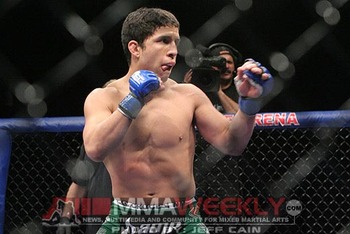 mmaweekly.com
Joseph Benavidez entered 2012 as one of the top flyweights in the world after having a very successful run at bantamweight. Benavidez was named as a participant in the UFC flyweight tournament.
Benavidez faced Yasuhiro Urushitani in March. Benavidez would win via TKO, his first KO victory since 2009. The win also earned Benavidez Knockout of the Night honors.
The Team Alpha Male fighter will now face Demetrious Johnson to determine the first UFC Flyweight champion later this year.
Renan Barao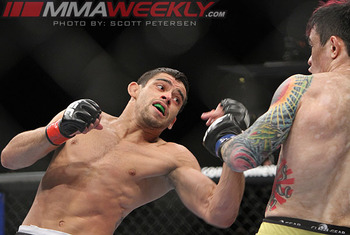 mmaweekly.com
The undefeated streak of Renan Barao continued as the Brazilian proved he was for real in his one 2012 appearance thus far.
Barao dominated former title contender Scott Jorgenson in February at the UFC 143 event. Prior to this Barao had the biggest win of his career as he submitted Brad Pickett at UFC 138.
Now with Dominick Cruz sidelined for quite some time, Barao will compete against Urijah Faber at UFC 149 for the interim UFC Bantamweight title.
Anthony Pettis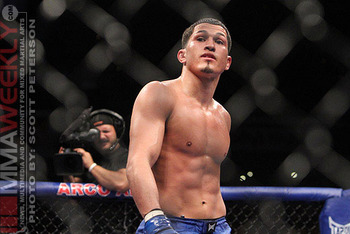 mmaweekly.com
Anthony Pettis finally earned his first UFC win to end a 2011 campaign in the Octagon. However, it would be Pettis' performance at UFC 144 that would put him back "in the mix."
Pettis squared off against UFC stalwart Joe Lauzon. In a little over a minute, Pettis dropped Lauzon with a head kick and finished him with a series of punches. The knockout also earned Pettis Knockout of the Night honors.
With the victory Pettis clouded the lightweight title picture even further, but it seems he will still have to sit on the sidelines, with Benson Henderson rematching Frankie Edgar, and Nick Diaz receiving the next title shot.
Nate Diaz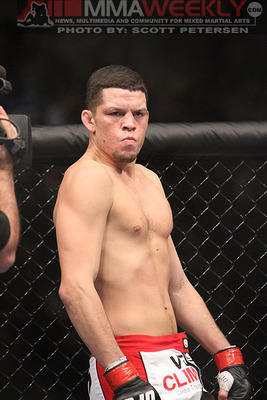 mmaweekly.com
Perhaps no fighter turned his career around in more impressive fashion than Nate Diaz did in 2011. It wasn't enough, however, as Diaz has gone on a roll before, only to be stopped once he faced upper-level talent.
Diaz wouldn't falter this time as he used his boxing skills to bruise up Jim Miller at the UFC on Fox 3 event. Diaz's striking forced Miller into a takedown, but Diaz countered with a guillotine choke that forced Miller to tap.
The win set Diaz up for a title shot and was his third victory in a row.
Alexander Gustafsson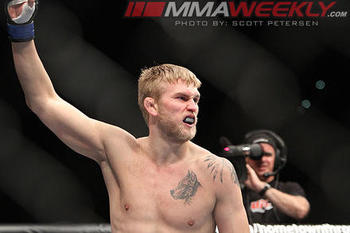 mmaweekly.com
The Swede Alexander Gustafsson saw his stock improve mightily after going 3-0 in 2011. Gustafsson faced a large amount of pressure due to increased expectations and his headlining the UFC's first trip to Sweden.
It wouldn't be easy as Gustafsson faced a returning Thiago Silva, but the Swede was able to use his reach to keep the Brazilian at bay.
Gustafsson is being heralded by a handful of MMA fans as the guy to dethrone Jon Jones due to his physical gifts and fighting skill. He'll have the chance to put himself "in the mix" with another impressive showing later this year.
Lavar Johnson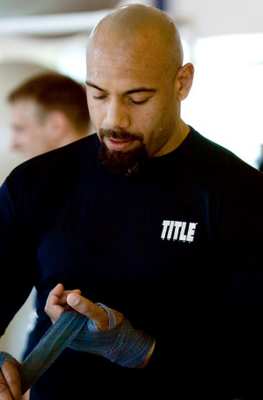 mmaweekly.com
Lavar Johnson's recent UFC appearance didn't go his way, but fans shouldn't forget how 2012 kicked off for the AKA product.
Johnson made his UFC debut at the UFC on Fox event in January, and became the first man to KO Joey Beltran. Next, Johnson floored the popular Pat Barry in his second UFC appearance.
Johnson would step in on short notice against Stefan Struve, but showed he still needs to work on his submission defense.
The loss completely stopped Johnson's momentum, but two Knockout of the Night awards in three Octagon appearances is an impressive feat.
Rick Hawn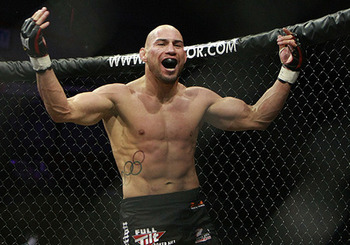 Photo from Sherdog via mmamania.com
2011 didn't end well for Rick Hawn as he lost in the welterweight tournament final to Jay Hieron. Hawn would begin his 2012 campaign at a new weight class as the former Olympian dropped to lightweight for the first time in his career.
The move seems to have paid off, as Hawn has won three-straight fights, with two of them by way of knockout. The victory over Brent Weedman has given Hawn both a big paycheck and a future title shot.
The judoka has displayed both strong throws and heavy hands thus far in his MMA career.
Travis Browne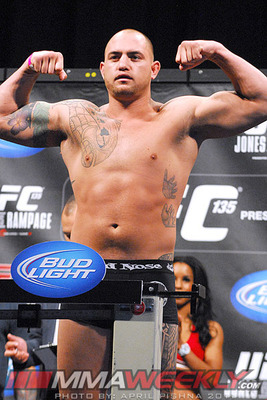 mmaweekly.com
The 6'7" Travis Browne remained undefeated, impressing fans in a big way at UFC 145. Many fans were predicting a victory for Browne against the debuting Chad Griggs, but nobody could've predicted the manner in which Browne won.
Browne utilized a flying knee to stun Griggs and would use his submission skills to secure an arm-triangle submission.
After a good showing in 2011, Browne will look to break away from prospect status and emerge as a true title contender.
Stefan Struve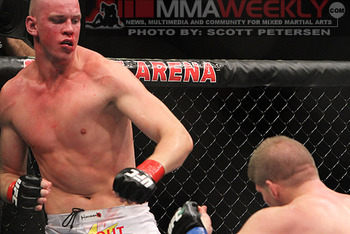 mmaweekly.com
The skyscraper-sized Stefan Struve continued to rack up the wins, as he is undefeated thus far into 2012. Struve opened the 2012 campaign with a TKO victory over the talented Dave Herman in February.
He also picked up another victory by submitting Lavar Johnson at UFC 146. While Johnson has been known to have grappling issues, it was still impressive in that Struve chose to pull guard and secured a slick arm bar from the bottom.
Perhaps 2012 will finally be the year that Struve realizes his potential and gets over the hump that has prevented him from becoming an elite level fighter.
Siyar Bahadurzada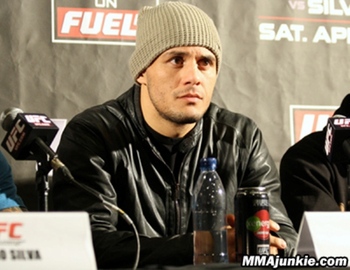 mmajunkie.com
Siyar Bahadurzada became a big name on the European circuit by KO'ing almost all of his opponents. A few complications delayed his Strikeforce debut, but Bahadurzada would eventually find his way to the bright lights of the UFC.
His debut was no "gimme" fight as Bahadurzada faced Paulo Thiago in April. Not only did Bahadurzada win in his UFC debut, but the welterweight would KO Thiago with a single punch in under a minute.
Originally scheduled to meet Yoshihiro Akiyama and then Thiago Alves, Bahadurzada will now face Chris Clements at UFC 149.
Chael Sonnen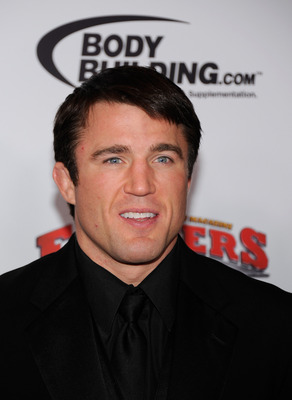 Ethan Miller/Getty Images
Chael Sonnen had a lot of pressure going into the UFC on Fox event in January. He made a successful comeback by taking out Brian Stann in 2011, and was set up to receive a rematch against Anderson Silva.
All that was standing in his way was Michael Bisping. The Englishman wouldn't make it easy as he visibly stunned Sonnen and stopped a number of takedowns.
Eventually Sonnen would win the fight and earn a rematch against Silva. Sonnen continues to add more pressure on his shoulders with his pre-fight talk, but doesn't seem to be fazed by the bright lights.
Rory MacDonald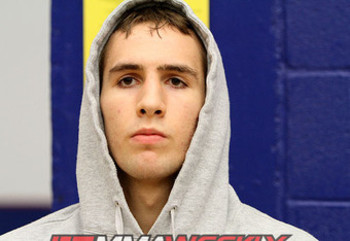 mmaweekly.com
Rory MacDonald was coming off a long layoff prior to stepping into the Octagon at UFC 145. Not only was MacDonald expected to pick up right where he left off, he was expected to do so in impressive fashion against Che Mills.
Despite the UFC's best attempts to build up Mills, MacDonald bulldozed his opponent prior to winning via TKO in the second round. The fight lasted a little over seven minutes, but Mills' face looked like it had been through a five-round war.
MacDonald will have the chance to defeat a legend when he takes on a returning BJ Penn.
Daniel Cormier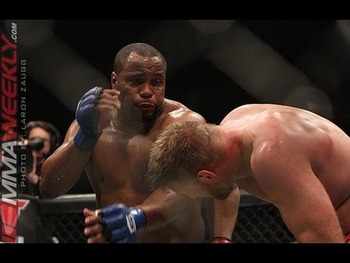 mmaweekly.com
The Cinderella run from tournament alternate to finalist would be complete if Daniel Cormier could get past the crafty veteran Josh Barnett. The two men would finally end the Strikeforce Grand Prix in May.
Cormier left no doubt in the judges' minds as he dominated Barnett from bell to bell. Cormier used solid striking and even a huge suplex to prove he was the better fighter.
The former Olympian has one more fight remaining on his Strikeforce contract, and with a win there's no doubt we will see Cormier in the Octagon very soon.
Cain Velasquez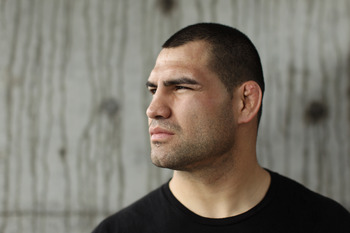 Cameron Spencer/Getty Images
Cain Velasquez has been busy making a claim for a rematch with champion Junior dos Santos. Velasquez bounced back from his first professional loss in a big way.
It seemed Velasquez knew he needed to prove something, as he simply ran through Antonio Silva at UFC 146. A lightning fast knee-tap takedown set up some vicious ground-and-pound from the former champion.
Following the bloody massacre of Silva in the Octagon, Velasquez earned a shot at the UFC Heavyweight title.
Pat Curran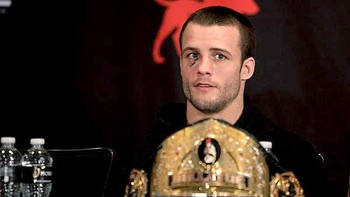 espn.go.com
After completing a great year of fighting in 2011, Pat Curran was primed to win his first MMA title. The only thing stopping Curran from reaching that goal was Joe Warren at Bellator 60.
Curran would go on to defeat Warren in the third round with a series of strikes that were both powerful and gut-wrenching to watch.
The win not only gave Curran his first MMA championship, but also pushed his record in Bellator to a gaudy 7-1.
Martin Kampmann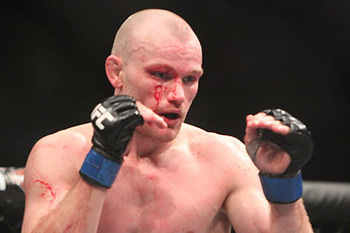 mmaweekly.com
Martin Kampmann might want to change his nickname to "The Comeback Kid."
Kampmann was near a decision loss against Thiago Alves in March, but was able to turn the tide with a guillotine choke.
In his biggest fight to date, Kampmann was stunned by Jake Ellenberger but survived to the second round. After recovering, Kampmann would finish Ellenberger with a flurry of knees.
Kampmann could cap a huge year in his career if he can take out Johnny Hendricks in a potential title-eliminator bout.
Carlos Condit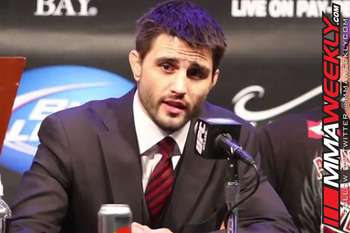 mmaweekly.com
The roller coaster ride of the welterweight title picture finally became a bit clearer as Carlos Condit won the UFC Welterweight title. The Greg Jackson product defeated Nick Diaz to win the title at UFC 143.
Condit did so by executing a perfect game plan against Diaz. The strategy saw Condit use his superior footwork to work angles against Diaz and take the unanimous decision victory.
The welterweight title will finally be unified when Georges St-Pierre returns from his ACL injury and steps back into the Octagon later this year.
Benson Henderson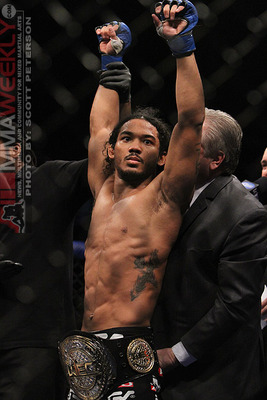 mmaweekly.com
Benson Henderson seemed to be the forgotten man when the WEC merged with the UFC. Although only losing to Anthony Pettis in the WEC, Henderson was forced to work his way back into title contention.
Henderson finally achieved his goal by taking the belt from Frankie Edgar. The lightweight scrap was an entertaining affair that could've gone to either man.
The close decision forced Dana White's hand in terms of who would challenge for the title next, as an immediate rematch was given to Edgar.
Jose Aldo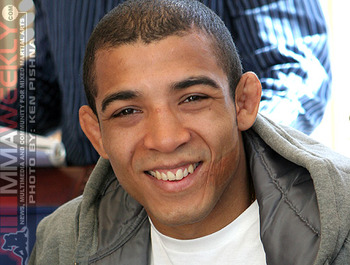 mmaweekly.com
Jose Aldo has only graced the Octagon once this year, but it was still a great showing by the featherweight champion.
Aldo faced Chad Mendes at UFC 142, where the Brazilian showcased his touted takedown defense. Unable to take Aldo down, Mendes met his demise when Aldo landed a knee flush to the face. Mendes dropped, and the bout was stopped.
Aldo was set to defend his belt at UFC 149, but an injury has forced him to back out of his scheduled bout against Erik Koch.
Junior Dos Santos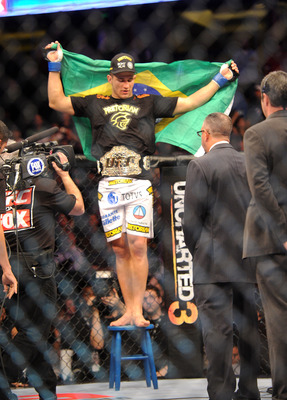 Jason Merritt/Getty Images
Junior dos Santos finally cemented his place at the top of the heavyweight rankings with an impressive showing at UFC 146. Dos Santos' original opponent, Alistair Overeem, was replaced by Frank Mir a few weeks prior to the event.
The change in opponents meant little to the Brazilian as he showed impressive takedown defense against Mir and would eventually flatten Mir with some thunderous punches.
Dos Santos will next be seen in a rematch with the man he took the title from in Cain Velasquez.
Jon Jones
Kevin C. Cox/Getty Images
Jon Jones may be suffering from some out of the cage issues, but the Greg Jackson fighter hasn't missed a beat in his lone UFC appearance in 2012.
It was arguably Jones' biggest fight to date against former teammate (and friend?) Rashad Evans. Not only did Jones defeat his nemesis, he dominated Evans. Through five rounds Jones faced only moments of trouble and shined in his biggest fight to date.
Jones is set to defend his belt later this year against Dan Henderson at UFC 151.
Bob Sapp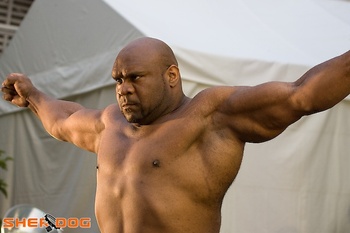 sherdog.com
Keep Reading