Will Lance Armstrong and Other Doping Scandals Ruin the 2012 Tour De France
June 13, 2012

The 99th Tour De France is set to embark this July as the most skilled bikers in the world gather in France to distinguish the best of the best.
This year's tour will be short of some of the big names in biking though, such as Alberto Contador and Lance Armstrong, but the competition will still be there nonetheless.
Since Lance Armstrong's second retirement two years ago, interest in the Tour has dropped considerably.
Many people missed out on a very exciting Tour de France finish last year; they lost interest without a common household name to follow. Even the avid sports fans most likely have no recollection of the winner from last year's Tour since his name was not Lance Armstrong.
From doping scandals to the lack of a dominant biker, people are not paying attention to the Tour De France.
Unknown to most people, Cadel Evans became the oldest biker at 34 and first Australian ever to win the Tour after closely beating runner-up Andy Schleck. Evans took his first lead in the race during the competition's last individual time trial, and his overall win is considered to be one of Australia's greatest sporting achievements.
The reigning winner will be looking for more glory in this year's edition of the Tour, but some of his competitors will be left off the list of bikers because of their indulgence in performance-enhancing drugs.
Most notably, three time "champ" and last year's fifth place finisher, Alberto Contador, will not be participating because he was on a positive test list in September 2010. The ruling for his punishment was that he was to be stripped of his 2010 title and suspended for the next two Tours. Contador blames the incident on contaminated meat that he ate.
After pleading for several years that he was innocent, 2006 Tour winner Floyd Landis finally admitted in 2010 that he had taken multiple illegal substances that boosted his performance. On top of that, he accused Lance Armstrong of doping when they were teammates in 2002 and 2003. Further investigations by the United States Doping Agency are going on about these allegations.
Although the 2012 Tour has rid the bikers who have taken illegal substances, riders who we may know as innocent now may later turn out to have scandals of their own. In a sport whose top athlete list keeps getting thinner and thinner, biking cannot afford for their riders to continue getting caught doping. 
Nobody likes assuming that a sport's greatest athletes could be cheating.
If the Tour de France wants to improve its ratings, they need to find a way to make the sport more interesting to follow.
Gaining interest in the Tour starts with making sure their athletes are likable people that display high amounts of integrity. If viewers know that they are watching fair competition, they will be inclined to invest more attention.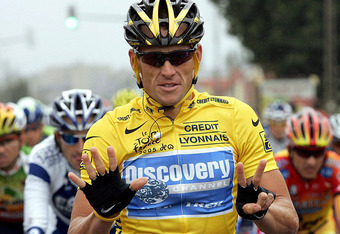 Biking's lack of viewing ability, unlike many popular sports, keeps its interest at the minimal for average sports fans.
That being said, the 2012 Tour de France is sure to be at the same level of excitement as a year ago, and it would be a bad decision for sports fans to miss watching biking at its highest stage. Hopefully, biking will once again return to its popularity from the Armstrong years so that the clean bikers still out there such as Cadel Evans can be truly appreciated.
Follow on Twitter @ZLess1995