The UFC's Rich Franklin: Why He'll Always Be a Fighter to Watch
June 14, 2012

With all the talk of fighters retiring, one begins to look at those who remain and wonder how long they have left.
The world of MMA is a demanding one, and the fighters who attempt to ply their trade on the biggest stage often seem to be forgotten as that stage continues to grow.
Rich Franklin knows this about as well as anyone.
For a time, he was one of the big names, fighting at the top of his division. But amid all the attention and the glory that comes with being a champion, Franklin never lost sense of himself.
He's always been a humble, honest man outside the cage, and inside the cage, the purity of his motives and the clarity of his intent have always been consistent and honest.
He doesn't need bad blood or fabricated storylines to focus his competitive edge; he signs his name to fight, and he fights to the best of his ability, with no excuses.
After he was defeated twice by Anderson Silva, his career seemed set adrift, and still Franklin made the most of it, fighting anyone the UFC put in front of him.
He's always been there for the company and the fans, and he's fought a "who's who" list of champions and top contenders.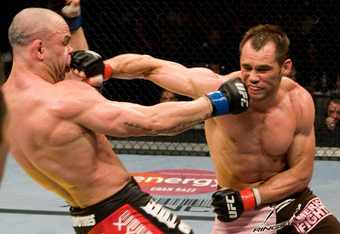 His next fight is against Wanderlei Silva, a fighter beloved by damn near everyone due to his take no prisoners style. Franklin won a tough, exciting bout against Silva years ago, but he's facing a better version of "The Axe Murderer" this time around.
And I have no doubt that Franklin will fight as he always does: with the courage of his convictions.
I can't help but dread the day when Franklin announces his retirement. I love watching him fight, and I love how he conducts himself outside the cage.
When Franklin was one of the bigger faces for the company, he served them well and with the integrity that has always been a constant in his life. Brutal honesty has always been one of Franklin's strongest assets, and he's never failed to call a spade a spade, especially when he aims the light of criticism at himself.
After his losses to Silva, he was brutally honest about the path he was on, and he clearly intended to make the most of it.
He's given us some great fights, and as a coach on the second season of The Ultimate Fighter, he was about as good a trainer and role model as anyone could hope for.
When Rich Franklin finally hangs up his gloves, it seems clear he will do so with no regrets. He's never been wholly defined by his life as a fighter, instead choosing to let his principals and dedication define how he fights.
And that's why he'll always be a fighter to watch. And there are many who would do well to take notes, because there's some damn good stuff there.