What USADA's Charges Mean for Lance Armstrong
June 13, 2012

Bryn Lennon/Getty Images
The U.S. Anti-Doping Agency brought forth formal doping charges against Lance Armstrong, and if proven true, there will be severe ramifications for the seven-time Tour de France winner. 
The breaking news comes from New York Daily News:
#BREAKING: USADA brings formal doping charges against Lance Armstrong; could strip 7 Tour de France titles #BreakingNews

— New York Daily News (@nydailynews) June 13, 2012
Let's take a look at what this means for Armstrong.
Nothing Is Set in Stone Yet
We need to remember nothing is official yet. These are just charges. Nothing is resolved and Armstrong hasn't been convicted of anything. 
Additionally, if Armstrong's response to the USADA is any indication, he is going to fight these charges:
I have never doped, and, unlike many of my accusers, I have competed as an endurance athlete for 25 years with no spike in performance, passed more than 500 drug tests and never failed one. That USADA ignores this fundamental distinction and charges me instead of the admitted dopers says far more about USADA, its lack of fairness and this vendetta than it does about my guilt or innocence.
Someone isn't telling the truth, and while we may not know who is lying, time will likely tell us who is. 
Penalties
For now, until this situation is resolved, Armstrong is banned from any and all triathlons, according to sports lawyer Gabe Feldman:
USADA brings new doping charges against Lance Armstrong. He is banned from competing in triathlons until resolved. wapo.st/LK6fmd

— Gabe Feldman (@SportsLawGuy) June 13, 2012
Armstrong was scheduled to compete in Ironman France later this month (click here for his full schedule), but that, along with the rest of his races, will be put on hold for now. 
But the bigger penalty could be Armstrong's Tour de France titles.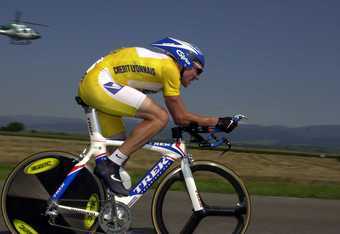 Doug Pensinger/Getty Images
If these charges turn out to be true, Armstrong could be stripped of his seven wins. The American is the only person to ever win the race seven times, as four other cyclists won it five times. 
For him to lose those titles would be a life-altering moment in the sports world. 
Cycling Takes Huge Hit
Not only would these accusations take away Armstrong's titles and reputation, it would kill the sport of cycling.
Armstrong is easily one of the greatest and most famous cyclists in the world, but if he were to be convicted of doping, the sport would lose all credibility. 
It would be like finding out Michael Jordan was paying the refs.
Cycling has already begun to lose its popularity, but it would become completely untrustworthy if its biggest star turned out to be a cheater.