Talking Long-Term RG3 Expectations & More with Redskins Columnist Matthew Brown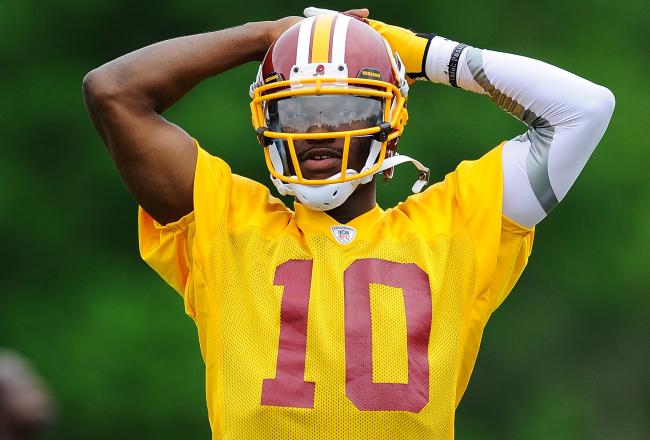 Patrick McDermott/Getty Images
We keep hearing how ready Robert Griffin III looks, which is exciting for Washington Redskins fans and is causing us to believe that RG3 could do some big things as a rookie. But are the enhanced expectations setting the bar extra high for his second season and beyond?
That was one of the things I discussed this morning with Bleacher Report Redskins columnist Matthew Brown.
Bleacher Report: I have a feeling Roy Helu will get the majority of the carries this year, but people are crazy to think Evan Royster and Tim Hightower won't get their fair share of opportunities on a Shanahan team. Does it really matter very much who starts Week 1? These guys are going to go with the hot hand all season, and injuries could be a factor, too.
Matthew Brown: It doesn't matter who starts in the opener, or who gets the most carries in the opener. Mike Shanahan likes to ride the hot hand and mix things up with the diverse skills of his backfield. Health isn't an outright concern, but none of the backs projected for the final roster saw action in all 16 games last season, though Royster was just a practice-squad call-up. The depth at running back should keep everyone fresh for the long haul, and teams have to account for three different running styles.
How many years does RG3 have to make the playoffs before fans get restless?
B/R: We've already spent an unhealthy amount of time discussing expectations for Robert Griffin III's rookie season. Might as well start looking even further ahead with Griffin. How many years can he go without playoff success before 'Skins fans begin to lose patience?
MB: As unreasonable as it may sound, Griffin has to reach the playoffs in his second year to validate the hype and the ransom the Redskins paid to pick him. If you believe the Shanahan hype machine, the Redskins have a solid nucleus built for success, and he's raved about Griffin's comfort with the playbook.
It remains to be seen if they have the right receivers in line or if Kyle Shanahan's play-calling has improved, but if Griffin isn't in the playoffs next season, expect some unrest among the masses. I think visible progress is what is important, but everything Mike Shanahan says points to immediate success and competition in Griffin's rookie year.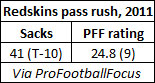 B/R: I think Perry Riley might be about to bust out, and if that happens, watch for this linebacking corps to be one of the best in football. Are you as fired up about this front seven as I am? Do I have burgundy-colored glasses on?
MB: I am psyched for this defense, and the front seven has a lot to do with it. Orakpo and Kerrigan have the ability to put up 30 sacks combined, if not more. Orakpo has been frustrated by what officials have allowed left tackles to do to him with holds and neck grabs, but he's motivated to blow up this year.
London Fletcher is one of the best linebackers in the game, and Perry Riley looked like a beast in replacement of Rocky McIntosh. I'm interested to see how long it takes Jarvis Jenkins to either supplant Adam Carriker or push for heavy playing time. Barry Cofield looked good late in the season and should be a beast from day one this season.
I could go on forever about the front seven, and it will have to show up if the situation with secondary doesn't resolve itself.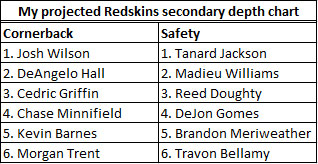 B/R: I also think Raheem Morris' presence could have a tremendous impact on the secondary, which is deep but still loaded with question marks. What say you?
MB: Raheem Morris is great for a unit coach, but he has his work cut out for him, especially with the group of safeties the Redskins have. (Brandon) Merriweather already has a DUI and was let go from New England after a couple of Pro Bowl nods, which should be a red flag. Tanard Jackson needs to prove he's moved on from his substance abuse suspension and regain his former luster.
Madieu Williams will prove to be the London Fletcher of the secondary. He has a reputation as a leader and has plenty of good football left in him. I'm not concerned about the corners, because Josh Wilson is underrated and DeAngelo Hall always manages to turn in solid performances, though he needs to balance the gambling for turnovers with his cover skills.
Morris will at least restore order, even if the personnel isn't the best.
This article is
What is the duplicate article?
Why is this article offensive?
Where is this article plagiarized from?
Why is this article poorly edited?

Washington Redskins: Like this team?