The scheme versatility of the New York Jets defense will be a point of focus during the 2012 season, and that versatility starts with the defensive line. As such, defensive line coach Karl Dunbar's job will likely be the most important of any positional coach on the Jets' staff.
With the Vikings, Dunbar put his talents on display as one of the best defensive line coaches in the game. His lines ranked in the top 10 against the run five straight years, and No. 1 overall three straight years.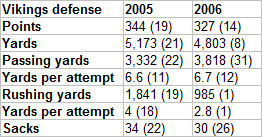 Some will point to the talent-laden line from 2006-11 as a primary reason for Dunbar's success, but his impact might have been felt anyway. Vikings defensive tackles Pat and Kevin Williams may have had a lot to do with the Vikings fielding the third-best run defense of the Super Bowl era (according to Cold Hard Football Facts), but the Williams Wall was in place in '05 when the Vikings ranked a very mediocre 18th in the league on a per-carry basis by letting up four yards per carry.
The sack totals weren't an instant improvement, but that didn't take long, as the Vikings finished eighth in the NFL in sacks in 2007—still a year prior to the arrival of defensive end Jared Allen.
Even those talented defensive linemen credited Dunbar for much of their success. Pat Williams said, via FalconsTalk.com:
Basically, he helped me get a whole lot better. ...I've been going to the Pro Bowl ever since he got here. Reading schemes and stuff, using my hands more; he changed my stance when I got here. I give him credit for everything.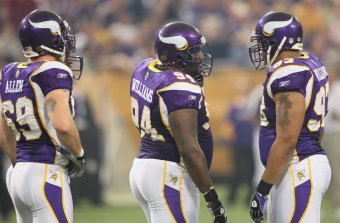 David Sherman/Getty Images
That focus on technique has been a point of high praise from many of Dunbar's pupils.
And he'll get to early work in teaching technique to talented defensive linemen such as Quinton Coples, Muhammad Wilkerson, Sione Pouha, Mike Devito, Calvin Pace et al.
One topic of discussion with Coples has been how the Jets will utilize him, but Dunbar looks forward to his versatility. Per Jenny Vrentas of the Star-Ledger:
Dunbar believes Coples is "an awesome fit" for the 46 defense. He said Coples could line up as a "3-technique," which is over the outside shoulder of the guard, or as a defensive end. He also sees Coples used as a "wide nine," a pure pass-rushing spot outside the tight end.
We know Coples has the tools, it's the motor and the technique that could be concerns. If he's happy to be there and has Dunbar in his ear, he'll be much better off.
The teaching of technique isn't the only aspect of his coaching style that should reap benefits for the Jets. Their defense will be much more scheme-versatile, as Dunbar brings 4-3 principles with him. The Jets aren't going to completely abandon their defensive gameplan from year's past, though.
Dunbar said, per the Star-Ledger:
We're going to play a lot of that 46 defense. You get in that 46 defense, you're going to get a lot of one-on-one blocks, and when we put athletic guys on the field, bad things happen for the offense." ...As much as our guys do well in it, you're going to see it. ...[Head coach Rex Ryan] was telling the front we still call it the 46 because of his daddy, and we're going to play it the way his daddy taught it.
Dunbar's 4-3 philosophies of penetrating the line and getting up the field will fit right in with the free-for-all 46 defense, where the primary job for defensive linemen is to attack the gaps one-on-one.
But his fit with the Jets goes beyond all the X's and O's and fundamentals. In fact, Dunbar's fun-loving style of coaching should fit right in with the Jets. Allen said, via FalconsTalk.com:
When you can come to work and joke around, and you have a relationship with your coach and your teammates that's all cohesive, and you're having fun doing it, that's when you get the most out of your players. If you come to work and you're like, damn, I really don't want to listen to this dude talk, you're not going to be productive.
That Dunbar was the catalyst for such drastic improvement on the Vikings defense would bring confidence in his ability to improve the Jets defense regardless of the level of talent he worked with in Minnesota.
The fact that he has a wealth of talent at his disposal with the Jets should only serve as another reason to believe he can help the Jets field a dominant defense in 2012.
Erik Frenz is the AFC East lead blogger for Bleacher Report. Be sure to follow Erik on Twitter and "like" the AFC East blog on Facebook to keep up with all the updates.