NBA Finals 2012: Oklahoma City Thunder vs. Miami Heat Game 2 Preview
June 13, 2012
Kevin Durant and Russell Westbrook passed the first NBA Finals test of their young careers with flying colors on Tuesday night in Oklahoma City. 
Durant was too much for the Heat, especially in the fourth quarter. He scored 17 points in the period and left LeBron James in his wake. James looked fatigued while trying to guard Durant. The Thunder did a great job of setting hard picks on James, which clearly wore him down. James just didn't have enough left in the tank to fight through screens late in the game.
James scored 30 points of his own, but it was not nearly enough. Durant was the main defender on James, holding him to just 2-for-6 shooting in the fourth quarter.
The Heat must know James needs to be taking more than six shots in the final quarter of a close NBA Finals game, especially on the road. This has been one of the knocks on James throughout his career. He lacks that killer instinct, that need to score the basketball when it matters most. His fourth quarter shot total is a very telling stat.
Dwyane Wade shot 7-for-19 from the field, having one of his usual slow starts in the game. Wade looked as tired as James.
The effects of a long Conference Finals are showing. 
Russell Westbrook's third quarter set the table for Durant to take over in the fourth. The duo outscored the Heat as a team 41-40 in the second half. Heat coach Erik Spoelstra knows how dangerous Westbrook can be. "The thing about Westbrook," Spoelstra said, "is he'll just keep coming, so it doesn't matter, time, score of the game or what just happened in the play before. He's going to continue to be relentless."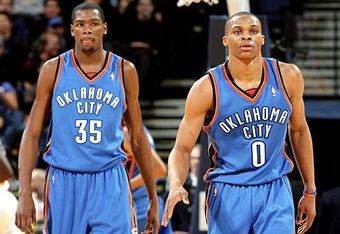 The Thunder are counting on it.
Game 2 will take place Thursday night in OKC. Loud City will be in full effect, and the Thunder's young legs will be ready to run again. The Heat will need to figure something out to try to contain the Thunder's two superstars.
James and Wade need to play better in order for the Heat to have a chance. They were both clearly gassed by the fourth quarter. Neither player was sticking to his man on defense or getting through screens.
Wade needs to take better shots early in games. He is forcing his offense, much like Chris Bosh. The Heat have great talent, but are not anywhere near being in rhythm. 
When the Heat are out of sync, their big three take one-on-one shots, which are oftentimes contested. They are at their best when James runs the point and gets their half-court offense going himself. He needs to be more selfish late in the game. Six shot attempts is not going to cut it.
The Heat would like that number to be closer to 12. 
For the Thunder, they need to keep doing what has gotten them this far in the first place: taking good shots and getting out on the fast break. The Heat are tired, and the Thunder will try to expose that right away in Game 2. 
I expect Game 2 to be a closer game and I expect LeBron James to go for 45 points or more.
But I don't see the Heat walking away from this game with a victory.
Durant and Westbrook are too much for the aging Heat to keep up with. Thunder super-reserve, James Harden, scored just five points in Game 1. He will get his scoring going more in Game 2. He'll be one more weapon the Heat won't be able to handle.