Jeremy Lin: Breaking Down What His Bird Rights Battle Means for N.Y. Knicks
June 13, 2012

The eyes of every New York Knicks fan should be tuned to Wednesday's arbitration hearing about waived players' Bird rights as it effects the future of not only point guard Jeremy Lin, but the Knicks franchise as well.
For those that haven't been paying attention as of late, here's the short version.
Billy Hunter and the players' union will be arguing against the league to attempt to restore the Bird rights of waived players. Typically, the Bird rights are retained if a player is traded, but never has it been the case if a player is waived.
While other teams will have their eyes on this decision, as players such as Chauncey Billups and J.J. Hickson were picked up off waivers, this decision mostly affects the Knicks, who claimed Lin and forward Steve Novak off waivers this season.
Here's a complete breakdown of how this arbitrator's decision will affect the Knicks.
Ruling Goes in Favor of the Players
This is the only outcome that benefits the Knicks.
What it means is that the club can re-sign Lin and Novak without having to use its $5 million mid-level exception.
That MLE can then be used to improve the team in other areas, as the Knicks will need a backup point guard, frontcourt depth, or really on anything they want.
Names like Steve Nash and Ray Allen have popped up in rumors, but regardless of who the Knicks want to bring in, the point is that they will have options to add depth.
In addition to being able to use the MLE, general manager Glen Grunwald will have a $1.98 million bi-annual exception to use as well, which could also be used on a backup guard on size.
By the time he's done spending all of that, the Knicks should have a legitimate 10 players (if J.R. Smith chooses to opt in) once Iman Shumpert returns from injury.
Add a couple of guys for the veteran's minimum, and the Knicks will be ready to compete in 2013.
Ruling Goes in Favor of the League
If this happens, the Knicks will be in a very tough spot.
They will have to use their MLE in an attempt to re-sign Lin, and Novak will be all but gone.
But here's where things get tricky for the Knicks.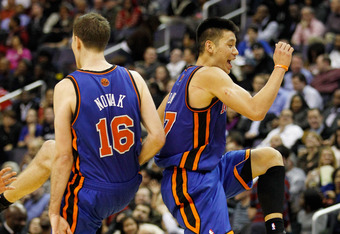 Rob Carr/Getty Images
Even though they have the $5 million MLE to offer, they need Lin to sign for no more than $3 million of that, which isn't going to happen.
By spending more than $3 million on Lin, the Knicks become a tax-paying team, as per the new CBA signed before the season began. Because they are already over the cap, the Knicks could be looking at a hard cap of around $74 million.
What that does is basically prohibit the Knicks from making any moves during the season that will take them a single penny over that number.
With the MLE used on Lin, Grunwald would still have that bi-annual exception to use, if it wouldn't put him over the hard cap.
So, basically, if the Knicks have to use their entire MLE to re-sign Lin, what you will be looking at is a bench consisting of J.R Smith (if he opts in), Josh Harrleson, whoever they draft with the No. 48 pick and a collection of guys making the league minimum.
That's not a recipe for winning.
Even worse is the fact that without Lin's Bird rights, his long-term contract will count toward the cap every season, so the franchise will likely be in this tough spot every offseason for the future.
There's also the possibility of another team offering Lin more than the Knicks can afford to match.
No team can offer him more than $5 million for the first season of his contract, but a team can backload a contract how it sees fit, and given the Knicks' cap situation, that may not be something that they can afford to do.
So while the draft is still 15 days away, and we have 17 days until the start of free agency, Wednesday's hearing is hands down the biggest day of the Knicks' entire offseason.