The UFC's Supposed Testosterone Epidemic: Critics Living in the Past
June 13, 2012

Jon Kopaloff/Getty Images
Last year Peyton Manning flew to Europe on a private jet, not for tea and crumpets or to see the Louvre, but for an experimental stem-cell treatment on his injured neck.
The procedure, one that isn't even legal in the United States, allegedly took his own fat cells and used them to try to regrow damaged neck tissue:
"There are many proposed therapies that are being tested in clinical trials, and there are more to come," Dr. Lawrence Goldstein, director of the stem cell program at the University of California, San Diego, told ABC News. "But in the absence of reliable evidence, it is impossible to know whether the 'treatment' will make Manning better or worse or merely financially poorer."
The NFL doesn't have any rules specifically banning illegal procedures that an athlete can have done in foreign locales. Kobe Bryant, the NBA's aging lion, had similarly cutting-edge treatment on his arthritic knee in Germany. It's called "Biologic Medicine," and in addition to Bryant, super-agent Ari Emanuel and the late Pope John Paul II were ardent believers.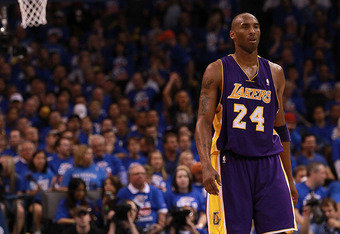 Ronald Martinez/Getty Images
There are a ton of controversial treatments possible where science collides with loose regulation. Bone marrow injections filled with those miracle-working stem cells can be injected into the body. Blood can be heated up, spun and spun in an incubator, the healing agents isolated and injected. The 34-year-old Bryant felt like a new man after first undergoing the procedure, like Manning's one not approved by the FDA:
He even recommended the treatment to Alex Rodriguez, which led the baseball star to undergo the same treatment on his knee late last year. Bryant hasn't commented publicly on the treatment, but A-Rod has described the feelings of his friend.

Bryant "was really adamant about how great the procedure was for him," Rodriguez told reporters."I know that he was hurting before, almost even thinking about retirement, that's how much pain he was under. And then he said after he went to Germany he felt like a 27-year-old again. I was still a little apprehensive about it, and he kept staying on me about it."
Athletes at the highest levels will do almost anything to maintain that edge—to feel younger, sprier and as explosive as they did in their primes. And with the right money and resources, they are extending their careers further than any of their predecessors would have dared dream. Is it any wonder athletes in mixed martial arts are doing the same?
In that sport, some of the UFC's top aging stars have undergone Testosterone Replacement Therapy (TRT), looking to bring their bodies' natural level of testosterone back to the levels they enjoyed in their 20s. Top contenders like Dan Henderson (41), Chael Sonnen (35) and Frank Mir (33) have all undergone the procedure. Former middleweight champion Rich Franklin (37) is considering it.
Unlike the illegal and medically unsound procedures endured by athletes like Bryant and Manning, TRT is perfectly legal. In fact, its use is growing among men in all walks of life. When administered properly, it simply levels the playing field. Although some rabid critics have compared it to steroid abuse, TRT under a doctor's care never actually increases the level of testosterone over what is normal in the human body.
So, what is all the fuss about?
Critics point to the scourge of steroids, all but accusing athletes on TRT of abusing them. And it's true that past steroid use can cause the body to stop producing testosterone naturally. So can certain problems with the pituitary gland, injuries to the testicles, use of certain drugs and extended periods of cutting weight for sports like wrestling, among a host of other reasons, including the natural aging process. 
But even assuming these athletes at one point or another abused steroids, why should that eliminate their later use of TRT?
One study shows six percent of all high school seniors used anabolic steroids. That's an estimated 192,000 every year. Should all these youthful offenders be given what amounts to a lifetime ban from high-level athletics if their body stops producing testosterone naturally?
That's a lot of potential athletes to capriciously eliminate from your sport—all in the name of preventing a treatment that doesn't in itself give anyone an unfair advantage.
The idea MMA has a "testosterone crisis" is ludicrous on its face. Not only is the process legal and provided under a doctor's care, UFC fighters aren't even using it in unusually high numbers. About two percent of adult males in their 30s will need TRT to function normally. There are four UFC fighters using the treatment, out of a roster of more than 200. Those numbers are within the national average for use. Again, where is this "epidemic"?
Exceptional athletes doing whatever it takes to extend their career. Our highest-profile stars are undergoing risky procedures in far-off lands—to little fanfare.
The extended to-do about TRT is ridiculous. Not only is it legal and carefully scrutinized by doctors and the athletic commissions, it doesn't tip a level playing field. As a sport, it's time to focus on other, more important issues.