Heat vs. Thunder: Game 2 TV Schedule, Live Stream, Spread Info and More
June 13, 2012

Ronald Martinez/Getty Images
The Miami Heat showed in Game 1 of the NBA Finals that they just may not be able to beat the Oklahoma City Thunder.
Not if Miami has continued breakdowns on defense.
Not if Russell Westbrook and Kevin Durant outscore the entire Heat team in the second half like the did in Game 1.
Not if LeBron James goes 2-of-6 from the floor in the fourth quarter.
Not if Miami allows Oklahoma City to score on 21 of their final 29 possessions.
And certainly not if Durant and Westbrook severely outplay James and Dwyane Wade.
All of that happened in the Thunder's Game 1 victory, and to get back in the series Erik Spoelstra and the Heat have some serious adjustments to make. However, despite losing on Tuesday, the Heat still only need to win one of the first two games to take away home-court advantage from the Thunder.
Judging by their Game 1 performance though, that will be a tall task for the Heat. 
Can Miami get it done or will the Thunder cruise to a 2-0 series lead? Here's a look at everything you need to know about this pivotal NBA Finals matchup.
When: Thursday, June 14 at 9:00 p.m. EDT
Where: Chesapeake Energy Arena in Oklahoma City, Oklahoma
Watch: ABC
Live Stream: ESPN3
Betting Line: Oklahoma City (-4.5) via 5Dimes
Heat Key Injuries (via CBS Sports)
No Key Injuries Reported
Thunder Key Injuries (via CBS Sports)
No Key Injuries Reported
What They're Saying
LeBron, who had his best NBA Finals performance of his career with 30 points and nine rebounds, was a non-factor down the stretch and we've heard that story before.
ESPN's Marc Stein writes that no one will remember LeBron had a pretty good overall game, thanks to a fantastic second-half performance from the Thunder.
It will be recorded as the best NBA Finals game that LeBron James, to this point, has ever played in his life. It just won't be remembered that way.

By anyone.

The Oklahoma City Thunder made sure of that Tuesday night, uncorking their latest second-half clinic on the biggest stage of them all. The Thunder clamped down on James when it mattered most, ushered an out-of-sorts Wade further away from his 2006 peak than he's ever been and, by the end of this 105-94 triumph in Game 1 of the NBA Finals, almost made you forget that they were ever down 13 in the first half.
The big story of Game 1 was the performance of Durant, who scored 17 of his 36 points in the fourth quarter.
ESPN's Henry Abbott writes that the best part of Durant's graceful Game 1 performance is that he does it all without the drama that some players bring.
That's how it goes when I watch the NBA's best scorer. He always has more points than I think he does. Every time I notice him on offense, he's doing something professional, unfussy and slick. But often he's so professional, unfussy and slick that the bucket is scored before anything about the play has really registered. 

The Finals are the NBA's biggest stage. And stages were built to show drama. 

And while Durant brings tons of great basketball, one of the secrets of his game is that he brings very little drama. 

Think about the most memorable plays you have ever seen. Allen Iverson slicing through the tall trees in the lane, John Starks dunking over the whole Bulls team, Michael Jordan flying. In every one of them, there's a massive dose of human struggle. Here's a human doing something that ought not be possible. Here are long odds -- overcome. 

The way Durant chooses to play, bless him, the odds are in his favor. From his hands, the ball has no battles to wage. It simply heads home, as if running downhill, to the bucket. Once he catches it, the most likely thing is that Spalding will scurry home in double time. 

Speed is a big part of it. A huge bunch of his points come from touching the ball for less than a second. He catches. He shoots. Bucket. Not much time for memorable things to happen, but more than enough time to make work for the scorekeeper. 

 
Most Important Player to Watch: Dwyane Wade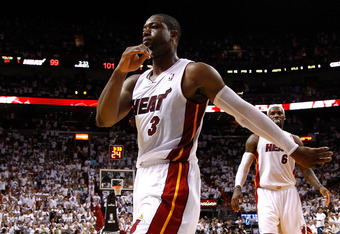 Mike Ehrmann/Getty Images
What the Heat need from Wade is less postgame excuses from Wade and more production instead.
Sure, he's playing banged up, but if Miami doesn't get All-Star like performances the rest of the way from the eight-time All-Star, then this will be a very quick series.
He scored only 19 points on 7-of-19 shooting, and while he's turned in a good performance every now and then, every Heat loss this postseason has one thing in common and that's the fact that Wade has struggled.
Scott Brooks will use Thabo Sefolosha on him for most of the game to stop him from getting in a rhythm, and Wade is simply going to have to find a way to get going offensively on a consistent basis.
If he doesn't, the Thunder are three games away from being crowned champs.
Key Matchup: LeBron James vs. Thabo Sefolosha
James had success early on, but from the time he threw down a dunk with 2:34 remaining in the third quarter, LBJ went 2-of-8 from the floor the rest of the way, including a less-than-spectacular 2-of-6 in the fourth quarter.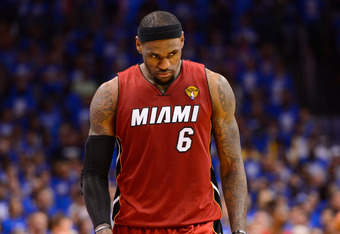 Ronald Martinez/Getty Images
James scored only seven points in the fourth quarter once Brooks put Sefolosha on him and the last 14-plus minutes of the game was primarily a jump shooter.
Stop me if you heard this before.
More importantly, that look in his eye that he had in the final two games of the Eastern Conference final, that look of intensity was replaced with a look of frustration, and that's not good for the Heat.
When Brooks turns to Sefolosha to guard LeBron (probably in the fourth quarter) it's going to be interesting to see how LBJ responds.
It's very doubtful that the Heat will get 29 combined points from the likes of Shane Battier and Mario Chalmers and if Miami gets only 29 combined points from Dwyane Wade and Chris Bosh, then LeBron is going to have to put this team on him back.
He's capable, but so is Durant, and I just don't think the Heat can get contributions from enough other people.
Prediction
Thunder 101, Heat 97