NL Worst of the Night: Rockies' Jeremy Guthrie Gives Up 7 Runs to Punchless A's
June 13, 2012

Is it becoming an old bit to keep selecting Jeremy Guthrie for "Worst of the Night" honors? I'm starting to feel kind of bad about this, like I'm picking on the guy. But he's the worst pitcher in the National League almost every time he takes the mound this season.
Facing the Oakland Athletics, Guthrie gave up seven runs for the second consecutive start on Tuesday night. In five innings, he allowed eight hits, three of them home runs.
This didn't happen against a powerhouse lineup either. The A's have scored the fewest runs in the American League and the third-fewest in the majors. Only the Pittsburgh Pirates have knocked out fewer hits. Yet Oakland notched eight of them against Guthrie Tuesday night. 
Making matters worse was Guthrie tipping his cap to the Coors Field crowd after a third inning in which he gave up six runs and two homers. Actually, he tipped his cap twice in the game, the first time after getting out of a bases-loaded jam in the first inning. That's not going to endear him to Rockies fans.
So, uh, what was up with that, Jeremy Guthrie?
"Frustration. I understand where the boos come from. Like anybody else I am frustrated," Guthrie said to reporters after the game. "I was frustrated with myself. The fans didn't give up two home runs and six runs."
According to the Denver Post's Troy Renck, Guthrie's first hat tip was directed at the Rockies' dugout, but was truly intended for home plate umpire Brian Knight and his tight strike zone. Guthrie thought he had Oakland's Brandon Moss on a called strike three, but Knight called the pitch a ball. Moss did eventually strike out swinging, however.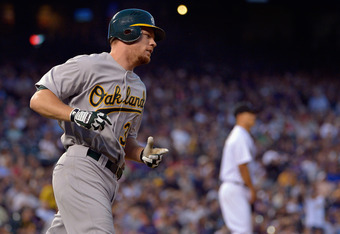 Doug Pensinger/Getty Images
It's safe to say Moss won his matchup with Guthrie, however. The A's first baseman slugged two home runs off Guthrie, one in the third inning and another in the fifth. 
There were plenty of bad performances from NL pitchers on Tuesday night. The Phillies' Kyle Kendrick and D-Backs' Ian Kennedy each gave up six runs. The Braves' Jonny Venters allowed four runs without recording an out. We could even single out a couple of hitters, such as the Marlins' Giancarlo Stanton and Gaby Sanchez, who combined to hit 0-for-8 with seven strikeouts.
But neither of those guys are dealing with the brutal stretch that Guthrie is slogging through right now. He's allowed at least five runs in his past three starts, and in four of his past five outings. In those five appearances, he's served up 48 hits in 26.1 innings. And 11 of those hits were taken out of the ballpark for home runs. 
The typical impulse is to blame Guthrie's troubles on Coors Field—as Renck's Denver Post colleague, Mark Kiszla, did—but these games aren't all being played in Denver. Guthrie was shelled at Chase Field and Great American Ball Park too. Granted, those aren't pitchers parks either. But it's not all about thin air and humidors with Guthrie. Of course, Coors Field can establish some bad habits for pitchers.
Despite those numbers, Rockies manager Jim Tracy is covering his eyes and ears when it comes to discussing whether or not to take Guthrie out of his starting rotation.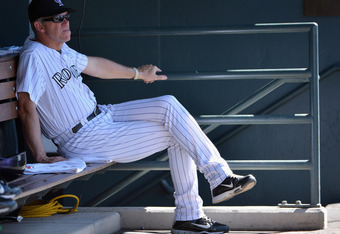 Doug Pensinger/Getty Images
"That's not something I am going to sit here and talk about tonight," Tracy said to Renck. "What we need is for some people to pitch some good innings for us in the early part of the game."
OK, skipper—but reporters, bloggers and fans are going to keep asking about Guthrie as long as he continues to go out there and stink it up. Refusing to talk about it isn't going to make the problem go away. 
Tracy might as well just admit that he keeps pitching Guthrie because he doesn't have much choice. The Rockies' starting pitching is terrible and somebody has to go out there, set an example for the team's young starters, and fight through bad outings.
Unfortunately, Guthrie is the one being saddled with this role. But with the Rockies having no chance to win when he pitches, how much longer can Tracy continue this charade?
Follow @iancass on Twitter