San Diego Chargers: 5 Things Needed to Bounce Back in AFC West and Beyond
June 12, 2012

Donald Miralle/Getty Images

From 2004 to 2009, the San Diego Chargers were constantly referred to as the "most talented team" in the NFL.
This was not merely because of the impressive collection of players assembled by the late John Butler and his successor AJ Smith. It was more often a reminder of unfulfilled potential.
Their talent was constantly mentioned because the team never reached the Super Bowl, let alone won it. They won more games than anyone during that span, except for the Patriots, Steelers and Colts, but had nothing to show for it.
What made their inability to win a championship even more agonizing was that they often doomed themselves with an endless parade of missed field goals, fumbles, penalties and dubious coaching decisions.
Had they ever proven themselves as the NFL's best team, their talent wouldn't have been cited so often.

LaDainian Tomlinson, Darren Sproles and Shawne Merriman, who all served as "faces of the organization" at one point, are all long gone. This past offseason saw the departures of former Pro Bowlers WR Vincent Jackson (signed with Tampa Bay), LT Marcus McNeill (released) and LG Kris Dielman (retired).
Can the Chargers reload with new talent and actually do something with it?
They must first get back to the postseason—something they haven't done for two years. Here are five things they must do in order for that to happen.
1. Philip Rivers must reassert himself as an elite quarterback.
If Rivers actually suffered a sternum injury in Week Two at Foxboro, at least there would be an excuse for what we saw from him a year ago.
Even if you ignore the botched snap on Halloween in Arrowhead—and most Charger fans can't—Rivers looked off the entire year. He not only threw more interceptions than ever before, but tossed a bunch of picks in the red zone. He threw one to Vince Wilfork.
He had two interceptions returned for touchdowns against the then-undefeated Packers. He even threw a pick in Chicago he was trying to hurl it out of bounds.
Rivers was lauded for throwing to a record 17 different receivers in 2010, but what was often forgotten was that he didn't often deliver in those situations in which he had often excelled.
This continued into last season, and I don't think we can blame his ever-growing stable of daughters for it. The accepted explanation appears to be that Rivers put too much pressure on himself in 2012.
Many other things must fall into place to make it easier on him, but he absolutely has to make better decisions than he did a year ago.
A case in point was his forcing a ball to Vincent Jackson on third down against the Jets on October 23. With the Bolts seemingly in field goal range with an opportunity to put the screws to a team that has twice ended their season, his pass was deflected off the blanketed Jackson and picked off by Darrelle Revis.
The momentum of the game, and arguably the season, changed on that play. The six-game losing streak that would keep them out of the playoffs began right there.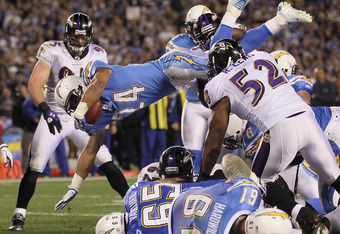 Jeff Gross/Getty Images
2. Ryan Mathews must prove his doubters wrong.
Many of those people are Chargers fans, by the way. Mathews came into his second year admittedly out of shape as a result of less-than-stellar conditioning. This season, he doesn't need to be the second coming of LaDainian Tomlinson, although it would be great if he was.
In fact, it is possible that the days of the "bell cow" running back may be ending altogether. But, he needs to be quicker and more assertive once the ball is in his hands—and do a much better job holding on to it after being hit. During the season, he spoke of staying lower in order to secure the rock.
It appeared to be working until the aforementioned Chicago game. His fumble not only killed a second-half comeback but appeared to deflate the entire team.
Already saddled with memories of Ryan Leaf, Charger fans are always looking for the next bust to be drafted in San Diego. Many fear that AJ Smith has lost his golden touch.
But, Mathews can be special. He can get outside like a young Tomlinson and is a threat to score any time the offense reaches the 10-yard line.
Especially after the departure of Sproles and the plantar fasciitis hobbling Antonio Gates, Mathews should have been given many more shots in that area of the field last season. There were many three down segments when he was replaced entirely by Mike Tolbert, now in Carolina.
There is no accounting for the mind of Norv Turner, but Mathews must prove himself to be a more durable and reliable player in 2012. This would also eliminate what I call the "chuck and suck" offense, which features Rivers blindly hurling the ball to tall targets like Malcom Floyd or Vincent Brown.
3. The offensive line must keep Philip Rivers upright and open up running lanes.
If this sounds like a group that is in need of improvement, it should. When LaDainian Tomlinson left town in 2010, he ruffled more than a few feathers by suggesting that guys up front weren't creating many holes.
They haven't exactly proven him wrong since, even though they've got younger guys trying to hit those holes. After being pulled off the scrap heap in Kansas City, Jared Gaither played like a man trying to reestablish himself in the NFL.
With a new contract under his belt, it will be interesting to see if he plays with the same nasty streak. That kind of toughness is what has so often been lacking in the Chargers.
Le'Ron McLain was also brought in from Gaither's original team, the Ravens, to provide both a physical presence and represent as the first real Charger fullback since Lorenzo Neal.
Gaither replaces Marcus McNeill as the guy solely responsible for protecting Philip Rivers' blind side. Rivers' errant throws became more frequent, since he was under tremendous heat beginning with the opening game against the Vikings.
During the season's first meeting against the Raiders, Rivers was sacked six times and hit on numerous other plays.
Tyronne Green looks to be the successor to Kris Dielman, leaving Nick Hardwick the lone survivor from the standout group who blocked for LT in his salad days. Hardwick himself was close to retirement in the offseason.
This group must win their battles at the line in order to give the Chargers the chance at the balanced, but dangerous attack, they want to run this year.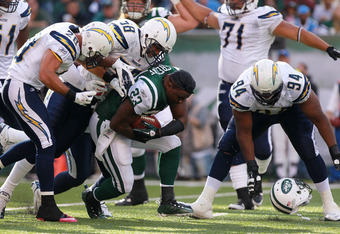 Nick Laham/Getty Images
4. The defense must improve, especially on third down.
Establishing a physical presence and beating the guy in front of them is even more important for the defense. Shaun Phillips was the only thing close to being a difference maker among the front seven last season, and he missed five games due to injury.
Jarret Johnson was signed from Baltimore to give this group some fangs. Melvin Ingram was drafted for the same purpose. Fans were just happy that he wasn't another "AJ" pick from some seemingly obscure school.
But, Corey Liuget also came with similar accolades, albeit to a lesser degree, and was hardly an impact player last season. There were games a year ago—the aforementioned New England game immediately comes to mind—where the scheme was clearly too passive.
But, there were as many games where guys just got beat.
They weren't helped out by the absence of a pass rush, but the secondary was victimized all season long. The Bolts had the worst third down defense in football last season, and the pass coverage had a lot to do with it.
Antoine Cason often looked like the player he was in the second half of 2010. He was victimized for three scores in a game by Plaxico Burress. He was replaced by rookie Marcus Gilchrist, who didn't fare much better in subsequent weeks.
Cason returned to the starting lineup when the Chargers were out of options.
John Pagano stepped in as defensive coordinator after Greg Manusky was fired after one season.
He needs to get better performances out of these guys and put them in positions to make plays. The defense could easily have been on the top of this list, since the Chargers found themselves often playing from behind in crucial games.
5. They must overcome the specter of their head coach.
Many Charger fans believe that Norv Turner makes it impossible for the Chargers to win a Super Bowl anytime soon. The fact that both he and AJ Smith were retained after a second consecutive absence from the playoffs confirmed many Boltheads worst fears that Dean Spanos is not truly committed to winning a championship.
Beyond the mediocrity he appears to represent, or his milquetoast demeanor, Norval has made more than his share of in game blunders. Dean Spanos even alluded to better decisions needing to be made in 2012, although it doesn't seem like any consequences are attached to that statement.
Norv's 2011 legacy was his playing for overtime against Denver. On the same day that the now-late Junior Seau was inducted into the Charger Hall of Fame, Norv went on to play for a long field goal try in OT.
The kick was missed by Nick Novak, and Denver went on to take the division even after three straight losses to end the year.
Over Turner's first two seasons, there was hope that the Chargers had finally developed enough poise to get out of their own way come January.
But, eleven consecutive wins in 2009 and another self-imposed exit reminded Charger fans that first-round meltdowns didn't leave with Marty Schottenheimer. The last two years, the Bolts have dug themselves into such holes that they needed to win nearly all of their games down the stretch just to reach the playoffs.
In both seasons, they lost the one game that would have made the difference—at Cincinnati in 2010 and at Detroit in 2011. Things should never have gotten to that point, but it's worth mentioning failures in those "gut-check" games because they appear to speak volumes about Turner's inability to inspire big wins.
Players like Philip Rivers have been particularly vocal in his support for Turner, but it was their falling flat in crucial spots that made that support necessary.  Nothing Chargers ownership has said or done convinces me that this is really a "make or break" year for Norv.
The best fans can hope for is for the players to coax the best out of him and not the other way around.
With Nate Kaeding being allowed to return, Turner might think twice about playing for long kicks in OT this year. Then again, the Chargers will need to actually return to the postseason to worry about Kaeding.
Here's to hoping.