Necessary Roughness II: The 2012 New Orleans Saints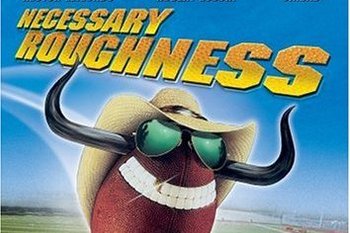 imdb.com
I was feeling nostalgic the other day and decided to put on Necessary Roughness. No, not the show on the USA network, the 1991 (or two years older than Anthony Davis) movie about a college team who faces a scandal in the offseason and plays out the next season under extenuating circumstances.
Sound familiar?
The situations are a bit different, but the overall basis of each other's plight going forward are one in the same.
There are a few pieces missing, but the upcoming Saints team has plenty of personalities to be good enough comparison for the movie. The biggest piece that is missing is someone to play Manumana "the Slender." That role would have been perfect for the recently departed Carl Nicks' colorful character.
Yes, the title might not be the best choice, but it adds a little more ironic lagniappe. And there is definitely no shortage of lagniappe when it comes to Saints fans and dealing with this bounty scandal. Just like in '09, fans have come out with songs, like this one, to support their team.
I didn't add any coaches on here because Sean Payton would not qualify as Coach "Straight Arrow" Genaro, and I would put Joe Vitt as Coach Riggendorf, but he's not even the defensive coordinator.
Let's check out which Texas State Fighting Armadillo lines up well with the current members of the New Orleans Saints.
Armadillo QB Paul Blake: Drew Brees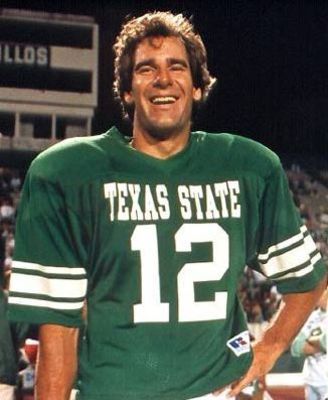 The Fighting Armadillos didn't know it yet, but their team was only going to take it as far as their 30-something quarterback, who missed the start of team activities, would take them.
I can't make this comparisons up.
And, who knows, Drew Brees could be throwing footballs on a farm while he's waiting on his "offer" to play football. He is from Texas, you know.
Blake might have the better arm, but there is no denying that both display superior skills at an elder stage in their careers.
Both of these players have incredible intangibles and are more than capable of carrying a team on their own.
Armadillo D-Line/O-Line Andre Krimm: Cameron Jordan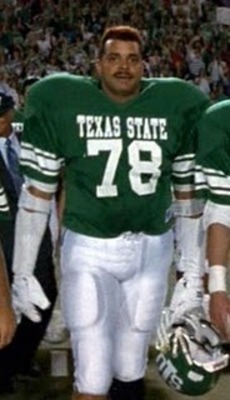 Krimm was a former teacher in the film that had a year left on his eligibility to play college football. Now, I know that doesn't sound like a good comparison for Cameron Jordan, the Saints' second-year defensive end, but their eccentric personalities are an excellent match. They even have the same hairstyle.
Krimm dominated on the defensive side for the lowly Armadillos. Jordan didn't quite play up to that level for the Saints in his rookie year, but with Will Smith's suspension, he is on top of the depth chart and looking to make a big impact.
Hopefully, Jordan makes a huge step up in play, and Who Dat Nation chants "Krimm" when he makes a big play.
Armadillo LB Eric 'Samurai' Hansen: Jonathan Vilma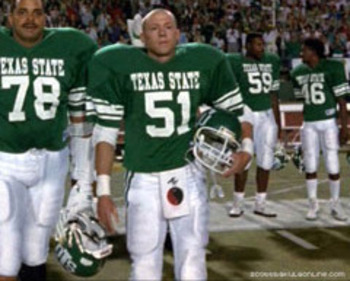 "Samurai" was the leader on defense, and the only one to come onto the field on that side of that ball while the others were playing ironman (both ways) football. Blake was the only other player not going both ways.
Only differences between Samurai and Vilma was the fact that one was playing, and the other, more than likely, will be sitting this season out.
Samurai had plenty of personal fouls due to his dirty play using a variety of karate moves. Vilma might not have had the personal fouls on the field, but he has been accused of plenty of dirty stuff off of it this offseason.
Armadillo WR/DB Featherstone 'Stonehands': Devery Henderson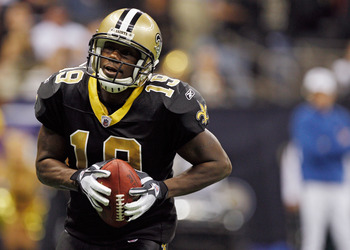 Chris Graythen/Getty Images
Featherstone (Duane Davis) can flat-out burn, but there is a reason that he was called "Stone Hands." Henderson's hands are a little more consistent, but he sure can fly.
His ability to blow the top off of a defense is probably what has kept him in the starting lineup as long as he's been around. Featherstone's starting status is a little different. His team only had 19 players. The odds were in his favor.
Featherstone comes through in the clutch at the end, though, and that has been Henderson's M.O. since he's been a starter: Come up with the difficult catch and drop the easy ones. Very Stone Hands-esque, if you ask me.
Armadillo RB/LB McKenzie: Lance Moore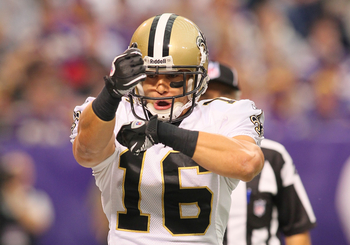 Adam Bettcher/Getty Images
McKenzie (Louis Mandylor) is an Australian-born player who is very tough and even practices without pads until he is knocked out cold. He's also a ladies man and has a frat-boy attitude; that much is evident when the team gets a female kicker.
Lance Moore is a tough little slot receiver who isn't afraid to go over the middle. He shows off his wild personality in his celebratory touchdown dances. He is lusted over by most of the female sector of the Who Dat Nation, mostly because of his "pretty boy" looks.
Armadillo RB/DB Charlie Banks: Pierre Thomas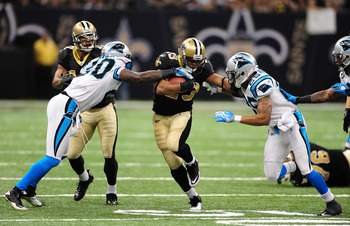 Scott Cunningham/Getty Images
Charlie Banks (Andrew Lauer) plays the classic underdog role. He tried to walk on to the Texas State team that was riddled with scandal the previous year, but never made it. He overcomes huge odds to come up with a big play in an even bigger game.
Pierre Thomas was an undrafted free agent who had to compete against fourth-round pick Antonio Pittman, a player who the team traded up to select, during his rookie camp. Thomas proved Pittman expendable and has been pulling out huge plays when the Saints have needed it.
Armadillo PK Lucy Draper: Garrett Hartley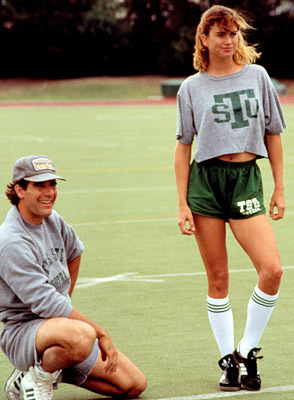 This was too perfect. Hartley's tiger-striped, spiked hairdo on his small frame reminds people of a woman anyway, so why not compare him to a female kicker?
At least he's compared to a very good, clutch kicker. Just like himself, when he's healthy.
Of course, Hartley's not going to win over the male population on this one, but I did get to slide in a picture of the younger Kathy Ireland. That's always a win.
Hartley kicked some of the biggest field goals in Saints history, and when the Armadillo season is over, Lucy comes up with some of the biggest plays in their terrible year.
Both of the players were also found out of nowhere.
Armadillo Announcer: Chuck Niederman: Bobby Hebert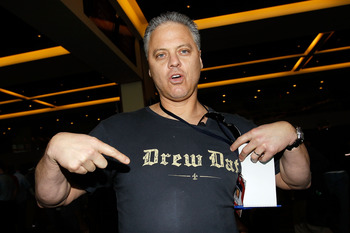 Scott Halleran/Getty Images
Every team needs that eccentric, outlandish radio personality. Texas State had one in Chuck Niederman, played superbly by Rob Schneider, and the Saints have former player Bobby Hebert.
Niederman left us with one-liners every time he was on screen. His phrases "Fumblaya" and "Fumblerooski" will forever live on in the football spectrum. I've even heard people say those phrases without seeing the movie. He always tried to make something positive out of a bad situation, and Lord knows those Armadillos had a bunch of bad situations.
Hebert is the same way. He is a Louisiana native who replaced a legend in the late, great Buddy D, but has filled his shoes ten-fold. This is the man who organized a group of men to wear dresses and march around the Superdome to keep a promise to his predecessor if the Saints won the Super Bowl.
Hebert says exactly what's on his mind and doesn't care about repercussions. That's why he is beloved by Who Dat Nation. He's also the person who brought the phrase "Who Dat Nation" to the national forefront.
Texas State Dean Elias: Roger Goodell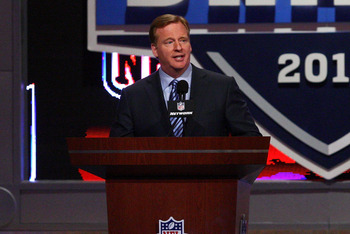 Chris Chambers/Getty Images
These two men are definitely the antagonists in both of the stories.
Dean Elias, played by Larry Miller, thinks wasting the university's resources on a "barbaric" game is preposterous. When the team decides to field an all walk-on team, he starts picking at the roster with infractions that kick most of them off of the team. That is when they decide to play ironman football.
When asked how he expects the coaches to field a team with a limited amount of players due to his "infractions," his answer was "I don't."
I'm sure Goodell would like to see New Orleans take a pass this season and sit out with all of the bad PR heading his way after his suspensions to Payton, Vilma, etc. He is seen as a person who wants this Saints team to feel his wrath even though the majority of people find his "punishments" and "judgements" laughable.
Goodell's actions seem laughable because he disciplines people based on no precedent, and the precedent he is setting can be done by a drunk monkey throwing darts at a board filled with rulings.
Both of these guys seem like they are bitter from being left alone on prom night.
Get over it, folks.
Keep Reading

New Orleans Saints: Like this team?