Pittsburgh Steelers: Why Jerricho Cotchery Is More Important Than You Think
June 12, 2012

Justin K. Aller/Getty Images
Last season, Pittsburgh Steelers fans watched as their ground-and-pound offense was tossed to the scrap pile in favor of the new passing attack. 
Ben Roethlisberger threw for over 4,000 yards for the second time in his career and Pittsburgh saw two 1,000-yard receivers for the first time since 2009. 
And the reason this was all possible was because of the team's three young, stud receivers, known as the "Young Money Family", made up of Mike Wallace, Antonio Brown and Emmanuel Sanders. 
But the Steelers have a major problem lurking at the end of this season. 
All three of the young receivers will be playing on expiring contracts in 2012 and it's unlikely that the team will be able to re-sign all three, especially if the Steelers plan on keeping running back Rashard Mendenhall. 
That's why Steelers fans should re-acquaint themselves with Jerricho Cotchery.
Most should remember Cotchery from his days with the New York Jets, where he recorded at least 50 catches in four consecutive seasons between 2006 and 2009. He's also the last Jets receiver to record a 1,000-yard season, all the way back in 2007.
Cotchery came to the Steelers last season on a one-year deal and—due to numerous injuries between Sanders and the now-retired Hines Ward—found time and made the most of it. Cotchery only caught 16 passes, but scored on two of those receptions. He was also on the receiving end of a 31-yard touchdown strike in the Steelers' loss at Denver in their only playoff game.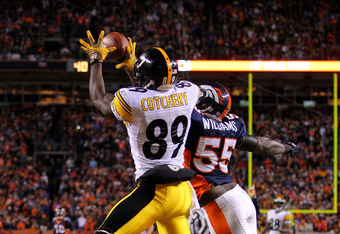 Doug Pensinger/Getty Images
After the season, Steelers officials became worried as teams like the Chiefs and Rams threatened to make a run at Cotchery. But after making some cap space available, the team was able to bring him back on a two-year deal.
Cotchery will turn 30 before the start of the season, making him the veteran of the squad, and he should compete with Sanders for the third receiver role.
But Cotchery's most important contributions could come following the 2012 season.
If Pittsburgh is unable to re-sign two or even one of their three young guns, they're going to need some talent to fill that role.
Cotchery brings the team a Hines-Ward-like receiver who makes his best plays over the middle. He's a good route-runner who finds holes in zone coverages and always seems to get open.
Cotchery also seemed to be a preferred target for Roethlisberger near the goal line, possibly because, at 6'1", he's actually the tallest of the team's top four receivers.
If the Steelers stay healthy at receiver, 2012 probably won't be the year Cotchery lights up the turf at Heinz Field, but he's going to be an important piece to the Pittsburgh puzzle for the next few years.