MLB Trade Talk: Would Boston Swap Jon Lester and Dustin Pedroia for King Felix?
June 12, 2012

Mike Stobe/Getty Images
As the Boston Red Sox continue to fall further and further from first place in the AL East, it's definitely time to start thinking about the future of this team. Is it finally time to sell what they have and begin the rebuilding process?
Boston Globe beat writer Peter Abraham brought up a very interesting point in his daily article. What is going owner John Henry going to decide to do? He also asks who is truly untouchable should Boston decide that it is truly out of the playoff race.
Abraham writes that aside from the bigger contracts on the payroll and the two main building blocks, Will Middlebrooks and Felix Doubront, every player should be available for a trade deadline deal.
The most intriguing option that he mentions is whether it would be crazy to trade Jon Lester and Dustin Pedroia to the Seattle Mariners in exchange for Felix Hernandez.
Obviously Lester and Pedroia are two of the biggest names currently on Boston's roster and it would be tough to see them go, but that might be what has to happen to wake up this team.
Is it a reasonable trade, though? Possibly.
Hernandez is an ace no matter what starting rotation you throw him in. He's a former Cy Young winner who will definitely create favorable matchups against some of the AL East sluggers. The problem with Hernandez in Seattle is that he doesn't get enough run support to produce eye-opening numbers. In 2010 when he won the Cy Young, he was only 13-12 but did lead the league with a 2.27 ERA.
This season, he's 4-4 with a 3.42 ERA in 81.2 innings of work while striking out 81 and only walking 26. He's 0-4 when Seattle scores five runs or less and 4-0 when his offense scores at least six runs. In his career, he's 39-5 with a 3.99 ERA when he gets six runs or more of support.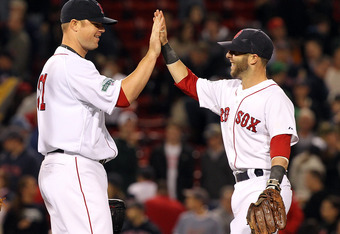 Jim Rogash/Getty Images
Would Boston benefit from acquiring a No. 1 starter like Felix Hernandez? Absolutely.
Would they be willing to give up Lester and Pedroia for him? I'm not so sure.
Jon Lester has been at the top of Boston's starting rotation for the last few seasons and has had pretty good success. This season, however, he's been off his game. He'll most likely set a new career high in ERA this year as it's already at 4.57.
He has good stuff but probably not No. 1 stuff. In any other starting rotation he probably would be a No. 2 or a No. 3. Lester is a good pitcher for the Red Sox, but he isn't really an ace. Felix Hernandez is.
Giving up Dustin Pedroia would be a little different for a couple of reasons.
Pedroia is a leader on and off of the field and mainly in the clubhouse. I look at trades at whether you're ever going to upgrade at the position that you're giving up and in this situation, I'm saying no.
There is no future with Pedroia in the Boston minor league system unless you plan on having one of the many talented shortstops move over. Boston also wouldn't have an immediate fill-in should it let Pedroia go. The most probable option would be to call up Jose Iglesias and move Mike Aviles to second.
The problem is that Seattle really doesn't need another second baseman. The Mariners already have an All-Star second baseman in Dustin Ackley who could move to third base if he had to, but it still wouldn't make a lot of sense. Pedroia would only be marginally better than Ackley for the time being.
The money does line up relatively well should a deal go down.
Hernandez is set to make $58 million over the next three seasons and won't be a free agent until 2015, at the earliest.
Pedroia is under contract until 2014, but there is a team option for 2015. He's set to make $28 million over the next three years with the possibility or earning $39 should his option be exercised.
Lester is signed through the 2013 season but also has a team option on his contract that will earn him a total of $32.25 million over the next three years if it's exercised.
Should Boston pursue a trade such as this or just leave things the way they are now?