Introducing the Buffalo Bills' Most Important Positional Coach: David Lee
June 12, 2012

If Bills quarterback Ryan Fitzpatrick is going to improve and become more consistent, he'll need solid coaching along the way.
Thankfully, he now has quarterbacks coach David Lee on his side.
Lee has coached in the NFL for seven seasons and joins the Bills fresh off a one-and-done tenure with Mississippi as the offensive coordinator/quarterbacks coach.
His first NFL coaching gig came in 2003 with the Dallas Cowboys as the offensive quality control coach, where he remained through the 2006 season, playing a hand in the development of Cowboys quarterback Tony Romo.
Lee returned to the NFL to join the Miami Dolphins in 2008 after two years with the Arizona Razorbacks (and, subsequently, he played a big role in the implementation of the Wildcat offense in Miami).  
He also helped coach quarterback Chad Pennington to one of the most efficient seasons of his career and his best season in six years. Pennington led the league in completion percentage (67.4) while throwing just seven picks and racking up a 97.4 passer rating along the way.
Lee's presence should help Fitzpatrick eliminate some of the problems that have ailed him, especially his mechanics. Early indications are that that's been the point of emphasis at practice.
When asked about the importance of mechanics at the quarterback position, Lee said to Chris Brown of BuffaloBills.com:
Accuracy is the No. 1 critical factor at the quarterback position, and it does come down to your fundamentals. ...If the guy's fundamentals are good and he has a systematic fundamental approach to how he wants to be when he throws the ball, what's happening in the lower body and the upper body at the same time, getting those two in synch increases accuracy and velocity.
In working with Fitzpatrick, Lee will find that there are enough positives to build upon, and correcting the negatives could be all it takes to create consistency in Fitzpatrick's game.
Fitzpatrick knows that his mechanics need work—even the touchdown pass seen here is evidence of bad mechanics. 
But why stop if it works?
Fitzpatrick told The Buffalo News:
I just go out there and throw; that's what I've done my whole life. No one's really ever taught me how to do it. Now for a guy to come in and say, 'This is why you're missing that throw low,' for him to actually have evidence for me to look at and say, 'OK. It looks like that's something I really need to work on,' and for a guy to be as respected as he is, to be as knowledgeable as he is, that's somebody that I'm going to listen to every time.

I knew I had a long way to go with my mechanics, but I just didn't know how to find that person or how to improve at it. He's going to be a very big help for me this year.
At 29 years old, entering his eighth season in the league, I'm going to have to agree with Bleacher Report NFL lead writer Aaron Nagler, who said, "How he got to this point in his career and had not had someone break down his footwork is beyond me."
But if that's all it's going to take for Fitzpatrick to show consistency in the stead of his flashes of brilliance, Lee could hold the key.
ESPN NFL analyst Ron Jaworski told WGR Sportsradio 550 (via BuffaloBills.com) that a lot of Fitzpatrick's mistakes were based on mechanics, and also feels that those mechanics can be fixed by Lee.
In addition to calling the relationship between a quarterback and his quarterbacks coach "critical," Jaworski said:
I watched every ball Ryan Fitzpatrick threw [last season]. You see a lot of great plays, a lot of positive plays. But the negative plays, the majority of them are based on mechanics. Improper mechanics hurt him. His mistakes were made when his feet were not underneath him, when he wasn't balanced. Mechanics are the foundation of playing that position on a consistent basis. What I'm looking forward to is the hard work that he's going to do and seeing a much more consistent quarterback this season.
In a way, Fitzpatrick was consistent this past season. He was consistently good for the first seven games and consistently bad for the final nine.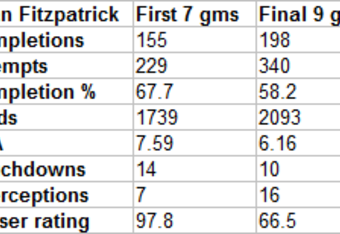 Whether those results had a direct relationship to the cracked ribs he suffered during the season isn't the biggest issue, because Fitzpatrick has had consistency issues throughout his career, having consistently failed to put together a solid front-to-back season.
The coaching of Lee could be just the kick in the pants Fitzpatrick needs.
It's clear that there's work to be done for Fitzpatrick, but the results of that work start with the coaching and guidance provided by Lee.
Erik Frenz is the AFC East lead blogger for Bleacher Report. Be sure to follow Erik on Twitter and "like" the AFC East blog on Facebook to keep up with all the updates.