5 Unheralded Stars Most Important to the Detroit Lions' Success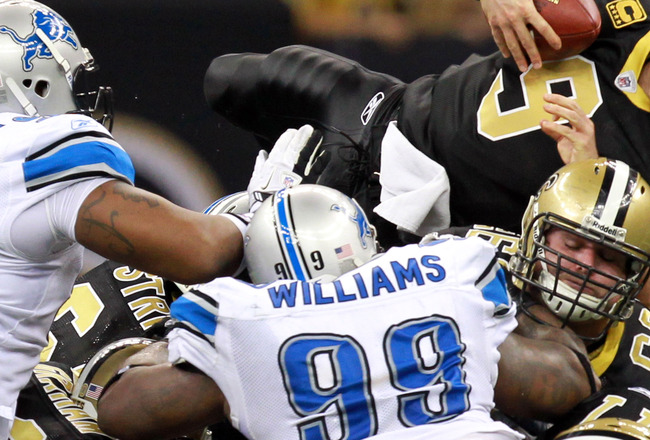 Ronald Martinez/Getty Images
The 2012 Detroit Lions are going to need players that can act as the glue that will hold their team together.
Every NFL team has very important role players that perform well to help their team win games. Generally, these players are not superstars; they are players that perform very well without getting a lot of publicity.
Looking at the teams that have had success recently, you can see that these kinds of players are extremely important. Not every player on the Giants' or Packers' roster is a superstar. They all make up the team, and the team does the winning and losing.
The Lions enter the 2012 season as a team that should contend for a playoff spot. They are going to need their star players to play well, and more importantly, they are going to need solid play out of their role players.
Some of their role players are going to be critical to their success. The following are the role players that stand out more than others.
Corey Williams
Leon Halip/Getty Images
Corey Williams is not a player that most fans do a lot of talking about. He came to the Detroit Lions in 2010 via a trade with the Cleveland Browns. Williams instantly stabilized the interior of their defense along with rookie defensive tackle Ndamukong Suh.
It is no surprise that 2010 is the year the Lions woke up from their deep sleep.
Williams is a very nice player and a great part of the Lions rotation at defensive tackle. A large part of what the Lions do is get pressure from their defensive front without utilizing a blitz. When they get pressure from their front four, they get turnovers and sacks.
When a defensive tackle can command a double-team, it allows for the defensive ends to isolate on an offensive tackle. With the strength the Lions have in their defensive tackles, they can easily create mismatches for their defensive ends.
Williams is a critical component to the Lions' ability to get pressure from the middle of their defense. He also holds up very well against the run.
While he is one of the lesser talked about Lions, Williams is a very important part of their defense.
Rob Sims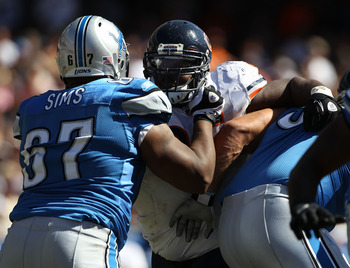 Jonathan Daniel/Getty Images
Rob Sims came to the Detroit Lions from the Seattle Seahawks in a trade in 2010. He filled a major need at the time at left guard, and he bolstered the left side of the line while helping out tackle Jeff Backus.
Sims is a player that you never hear of on a television broadcast, and that is a great thing.
The Lions hopes are tied to the health of quarterback Matt Stafford, and keeping him upright is the highest priority for the Lions. Sims does a nice job in pass protection from the guard position. He is an adequate run blocker and a solid all-around contributor.
The Lions can't afford to lose a player like Sims, as he is too much of a stabilizing force on the left side of their offensive line. It would be a significant blow to their offense for Sims to miss much time.
No one ever talks about Sims, but he is one of the Lions most steady performers.
DeAndre Levy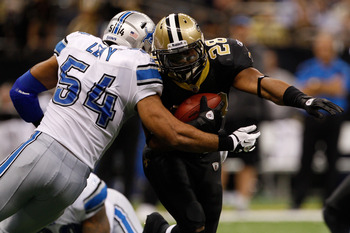 Chris Graythen/Getty Images
DeAndre Levy plays the weak-side linebacker position for the Lions. He is responsible for tracking down ball carriers from behind and dropping into coverage. Levy needs to be one of the most athletic players on the defense, as his position calls for him to do so many things.
Levy was moved inside in 2010, and he played fairly well; well enough that he would get kicked inside if Stephen Tulloch were to get injured. Levy is a very good football player, but he plays without much recognition.
Levy needs to play well for the Lions in 2012, as the Wide-9 defense that the Lions run tends to put pressure on the linebackers to make plays against the run. He is an underrated player on the Lions defense but an important player to their success in 2012.
Amari Spievey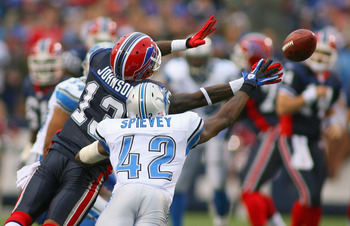 Rick Stewart/Getty Images
Amari Spievey plays the strong safety position for the Detroit Lions. As a strong safety, Spievey is responsible for aggressively stepping up to help out against the run. He also has to defend the pass.
The Lions converted Spievey from cornerback to safety as a rookie in 2010. He has had a nice progression at the safety position. The Lions need him to take a big step forward in his third year. It will mean very good things for the Lions if Spievey can do this.
Every team in the NFL has a weakness, and for the Lions, it is their secondary. Spievey is the kind of player that is a solid, steady producer, and you rarely hear about him. His progression as a player in their secondary is vital, as his emergence could reduce the number of holes they need to fill going forward.
Lawrence Jackson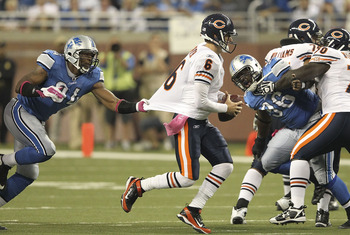 Leon Halip/Getty Images
Lawrence Jackson is a player who doesn't get much attention, but that might all be changing very soon. Jackson is the primary backup to defensive end Cliff Avril, and the threat of Avril's holdout will take Jackson from a backup to a starter. Jackson has the ability to play well in this defense.
Jackson is a talented football player, and he will be able to put up nice numbers as a defensive end playing next to the tackles that the Lions have inside. With Avril's holdout looming, Jackson could be one of the more important players for the Lions in 2012.
The Lions scheme calls for pressure from their front four, and when they do that well, their secondary play is more than adequate. If Jackson can play at a high enough level to make up for the loss of Avril, the Lions will be in good shape from a defensive perspective.
It also helps them significantly in the finance department.
Keep Reading

Detroit Lions: Like this team?