Arsenal Transfer News: Most Recent Buzz Surrounding Gunners
June 12, 2012
Christof Koepsel/Getty Images
For Arsenal Football Club, transfers are just part of business. Over the past few days, some big names, including Andrey Arshavin and Johan Djourou, have made headlines as possible transfers.
Arshavin's transfer looks like a matter of if, not when, according to Metro.
The attacking midfielder dominated the Russian Premier League while playing for Zenit until he came to Arsenal in 2009 for the hefty price tag of 15 million Euros.
The owner of 23 goals in 98 appearances for Arsenal, Arshavin's career as a Gunner took an unexpected turn when the 31-year-old asked to return to Zenit on loan last January.
According to the Metro, that decision has led Arshavin to fall out of favor with coach Arsene Wenger, prompting the thought that Arshavin's career in Arsenal will end this summer.
Since he's returned to Russia, Arshavin's play has been terrific. With his stock on the rise, Metro reports that Zenit plans to hold informal talks with Arsenal over the weekend.
The biggest hurdle in the negotiation comes down to money (doesn't it always seem that way?). 
Metro reports that Zenit values Arshavin at about £5 million, but the Gunners want closer to £8 million in order to recoup some of their big investment.
Another big name rumored to be leaving Arsenal is Djourou. The center-back is a 10-year veteran of the Gunners, but with the arrival of several new defenders, his playing time has dwindled.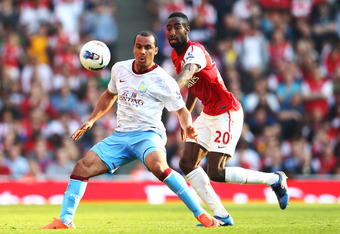 Julian Finney/Getty Images
After joining the Arsenal youth academy at just 15 years old, Djourjou has made 86 appearances for the senior team since 2004.
The 6'4" defender has youth on his side, and Djourjou's national team coach has urged him to find a club where he can secure more playing time.
According to a Yahoo! South Africa report, Djourjou's agent Flavio Ferraria said in an interview with Radio Crc that his client is considering playing for either an Italian or Spanish club team.
Ferraria went on to say in the interview that they have already received an offer for €10 million and that Djourjou wants to play for one of the top five Italian clubs.
For a player with considerable skill, it certainly sounds like Djourjou will be in high demand.
Yet another player who is considering leaving Arsenal is Nicklas Bendtner.
As reported by The Daily Mail, Bendtner confirmed he is seeking out his options with other clubs, but won't make a final decision till after the European Championships.
In 99 appearances with the Gunners, Bendtner has scored 22 goals.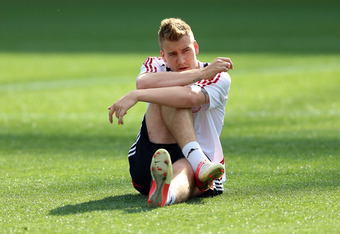 Julian Finney/Getty Images
The 6'5" Danish native signed a five-year contract with Arsenal in 2007, but looks to be at the end of line with the north London team.
In trade talk, Arsenal appears to be interested in swapping Marouane Chamakh for Olivier Giroud, according to a report on Inside Futbol citing French radio station RMC.
According to the report, the Gunners have their eye on the talented Montpellier striker.
The 25-year-old scored 21 goals in 36 Ligue 1 games and led his team to a title last season and would be a welcomed addition to the Arsenal squad.
In exchange for the highly coveted Giroud, Inside Futbol suggests the Gunners could send the struggling Chamakh to Montpellier.
After signing with Arsenal in 2010, he's only scored eight goals in 40 league appearances but is still regarded as a talented scorer in France, according to Inside Futbol.